Family Tackle South Run For Late Son'S Foundation
Enter the Simplyhealth Great South Run at: Greatrun.org/South
The mum and sister of a promising university student who lost his life to Sudden Arrhythmic Death syndrome are to take on a 10 mile running challenge with a team of 20 after setting up a foundation in his name.
Alex Wardle, from Lee-on-the-Solent, collapsed at home and tragically died in March 2016, aged 23.
Having earned a degree in Biomedical Science at the University of the West of England, Alex was studying for his second degree in radiography at the University of Portsmouth and was a fit, healthy and active young man who enjoyed playing rugby.
He had no underlying symptoms and doctors determined the cause of his death to be Sudden Arrhythmic Death Syndrome (SADS) following a post mortem.
Alex's death left a huge hole in his family's life, as he left behind his mum Denise, dad Stephen and 20-year-old sister Gemma.
They were left upset at the fact that the condition meant that it felt like there was no real reason behind Alex's death, as the heart simply stopped beating.
But the family were determined to do something positive for the local community and to continue Alex's legacy, so they established The Alex Wardle Foundation, which aims to raise awareness about SADS and to raise money in order to provide defibrillators locally.
The family decided to sign up to the Simplyhealth Great South Run when it takes place in Portsmouth on Sunday 22 October, as a way of raising funds for the foundation.
Gemma and Denise will join a team of around 20 runners, who consist of university friends, friends from the community pub and work colleagues, on the 10 mile route to help support the foundation and fund cardiac projects in the city.
Gemma, who is also a student at the University of Portsmouth reading Politics and works at Portsmouth Historic Dockyard, said: "Alex passed away in March very suddenly when he went to answer the door to our neighbours.
"He collapsed and was rushed to Southampton General Hospital but he had passed away. One of the things we found quite hard to deal with was that he was alone, however the case with SADS is that realistically we wouldn't have been able to help him.
"Alex completed a degree in Biomedical Sciences and was reading Radiography. He had his whole life ahead of him and was looking forward to working in cancer research when he graduated.
"He was a healthy and active person, when we were younger we both did the Junior Great South Run together. He played rugby and attended air cadets.
"Every week in the UK, 12 people between the age of 18 and 25 die of this condition and we decided to turn our grief into something positive to raise awareness of this in Alex's memory.
"This condition affects so many people and we think it's important to raise awareness about how this could happen to anyone and at any time.
"By distributing defibrillators, research shows that if you have access to one within eight minutes of a cardiac arrest, you have an 80 per cent chance of survival.
"We wanted the foundation to be able to help people understand this condition, help to get them screened and hopefully ensure that more people survive."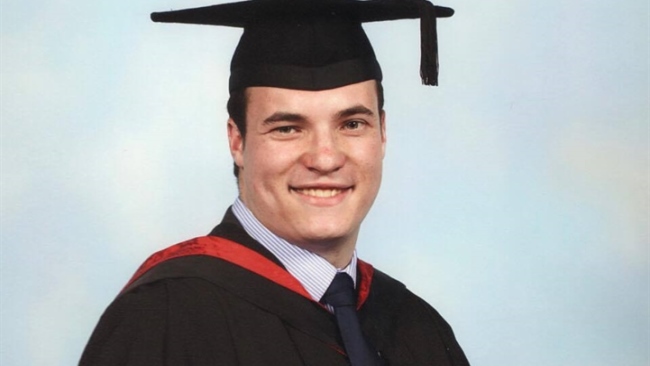 The Alex Wardle Foundation runners will join 20,000 others for the world's leading 10-mile running event, the Simplyhealth Great South Run.
The fast and flat course features a 10-mile tour of Portsmouth and Southsea, taking participants past Spinnaker Tower and through Portsmouth Historic Dockyard, home to HMS Victory and Warrior.
Runners then cross the finish line on the scenic sea front, with beautiful views of the Isle of Wight and the Solent.
Gemma hopes that by supporting the foundation at the event, more people are made aware of the condition, which is surprisingly common.
She added: "It's important that people are aware that with SADS you do not need to have a heart disease for this to happen.
"Alex was really interested in researching medical cases so I think he would be very proud to see us doing something positive in his memory.
"We have been supported along the way by CRY charity, but we really liked the idea of seeing where the money went into the local community so we founded The Alex Wardle Foundation ourselves
"It's been overwhelming to see so many people join us for the Simplyhealth Great South Run. Some of them are even strangers so it is testament to Alex to show how loved he was and how important his legacy will be."
To find out more about the Alex Wardle Foundation, click here.
Enter the Simplyhealth Great South Run at: Greatrun.org/South