Firefighters Set To Join 13,000 People For Bristol 10K
30 firefighters who are running the Simplyhealth Great Bristol 10k this weekend in full fire apparatus while carrying one of their ladders have met with the inspirational schoolgirl with cerebral palsy who they are fundraising for.
The firefighters, from Avon Fire and Rescue Service, are taking on the 10k challenge for three-year-old Daisy Bowyer, who has cerebral palsy and relies on the use of a walking frame and wheelchair.
They hope to raise over £20,000 to pay for a private operation that would allow her to walk unaided. The group will run the 10k course with the six-metre long ladder and fire kit, weighing 30kg per firefighter.
After the event, they'll return to Millennium Square in the city centre to cheer on Daisy and her family, who will take part in the Simplyhealth Great Bristol Family Run to raise awareness about her condition.
The firefighters are among 13,000 people who will rise to the challenge at the Simplyhealth Great Bristol 10k when it returns to the city on Sunday 13 May.
Leading the campaign is Mike Collin, an operational firefighter from Avonmouth, who decided to set the challenge to his colleagues after they successfully funded an operation for a young boy with the same condition as Daisy four years ago.
Mike, 60, said: "Daisy's family approached us in September after I managed to get 60 firefighters to take part in a triathlon in the Cotswolds for a fundraiser.
"We've done numerous fundraising events for charity and I wanted to help Daisy as we had previously successfully raised the money for a boy with the same condition as her back in 2014.
"We have over 30 members, partners and friends running the 10k for her. It's our hope that we can raise enough money to fund the Selective Dorsal Rhizotomy operation that would help improve her muscle stiffness.
"A lot of us will be running in full fire kit including leggings, a tunic and helmet as well as carrying one of our ladders that weighs 60kg which will be a huge challenge."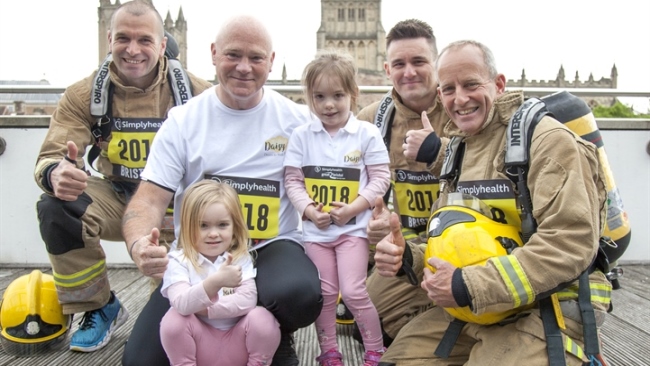 The day also includes the Simplyhealth Great Bristol Family Run, which Daisy, who is from Barry in Wales, will take part in with her Mum Carrie, Dad Kevan and her five siblings.
With support from her family, friends and the group of firefighters, her family is confident that she will be able to complete the mile-long run despite her disability.
Kevan said: "Daisy was diagnosed when she was two years old after we noticed something wrong with her leg movements and that she wasn't reaching her milestones.
"She had an MRI scan which revealed a bleed on her brain and was diagnosed with cerebral palsy. Her muscles are incredibly stiff, she struggles to walk long distances so uses a wheelchair or walking frame a lot.
"We know that time is of the essence with cerebral palsy and her muscles will only get worse, so we decided to fundraise for a private operation that would relieve this.
"The firefighters have been amazing, we are all so grateful to them, the kindness of strangers has been unbelievable. Daisy is really looking forward to spending the day with her family and thanking them for all of their hard work."
13,000 runners are set to be their greatest as they conquer a 10k challenge this Sunday. Starting on Anchor Road near Bristol Cathedral, they'll be set off by 2018 Olympic Winter Medallist Dom Parsons, who took home bronze in the skeleton race this January.
Dom, who is also a former runner and studies at the University of Bath, will join Bristol's Lord Mayor to fire the starting gun.
Runners then head along the historic Bristol Harbour before continuing along Avon Gorge, taking in the iconic Clifton Suspension Bridge and experiencing a variety of cheer points and on-course entertainment.
The return route takes in Spike Island and the Cumberland Basin before finishing on Anchor Road near to Millennium Square.
The Simplyhealth Great Bristol 10k and Family Run is delivered in partnership with Bristol City Council.
Romana Abdin, CEO of Simplyhealth comments: "We never cease to be amazed at the inspiring stories behind why so many people run.
The Simplyhealth Great Bristol 10k has a great family feel and whether you're aiming to run your fastest 10k, or keeping up with the kids in the Family Run, we'll be supporting you every step of the way."
Brand new for this year is the Simplyhealth stretch zone to help kick start the runners' recovery. Support also includes a free post–run massage which will be located in the Event Village. The Action Zone also makes its debut at Bristol and is filled with fun activities for whole family.
Massages can be booked in advance by visiting http://www.greatrun.org/great-bristol-10k/event-info which includes a link to the bookings page.
For all information ahead of the Simplyhealth Great Bristol 10k, visit: Greatrun.org/Bristol10k