Fundraiser Claire Takes On Great South Run In 24 Hours
Entries for the Simplyhealth Great South Run are now open. Enter at: Greatrun.org/south
Inspirational fundraiser Claire Lomas MBE will take part in this year's Simplyhealth Great South Run, aiming to complete the world's leading 10 mile running event in 24 hours.
Claire, from Leicestershire, was paralysed from the chest down in a riding accident in 2007 but became the first person to complete a marathon wearing the revolutionary 'ReWalk' suit in 2012.
Last year, she completed her toughest challenge to date by being the first person to take on the Simplyhealth Great North Run using a bionic suit, taking five days to complete the event.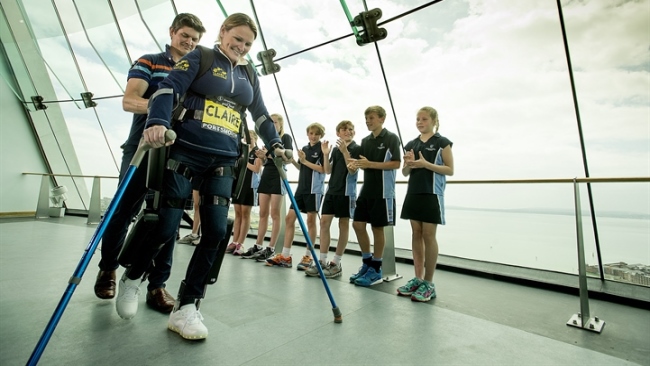 Claire, who took on the event while she was 16 weeks pregnant, has raised more than £500,000 for the Nicholls Spinal Injury Foundation and was awarded an MBE for her fundraising in the Queen's New Year's Honours list.
Claire's Simplyhealth Great South Run journey will take place 10 years on from when she was left paralysed.
She will begin on Saturday 21 October where she will set off from Clarence Esplanade in Southsea, the same day that the Simplyhealth Great South 5k and the Simplyhealth Junior and Mini Great South Run kicks off a packed weekend of sport in the city.
She will complete just under half a mile each hour, taking in the same route as the 20,000 other runners, including passing through Portsmouth Historic Dockyard.
She will continue the challenge overnight with no sleep, stopping only for short breaks.
Claire will reach the final mile on Sunday 22 October in front of the cheering crowds on the scenic seafront as she crosses the finish line.
Organisers are encouraging the people of Portsmouth to come out of their houses and cheer Claire on along the 10 mile route.
Supporters can follow her progress through live tracking and by using the hashtag #10in24.
Claire, 37, said: "I am really looking forward to taking on a new challenge at the Simplyhealth Great South Run.
"After completing the Simplyhealth Great North Run, I wanted to do something that would really push me to the limits.
"It will be a huge task for me to complete 10 miles in 24 hours but a challenge should be tough and something you are not completely sure you will complete.
"I have a young child so staying up in the middle of the night is something that I am now used to but it will still be something that will be extremely hard on my body.
"My husband Dan is from Southampton and has friends in the area so we are hoping that everyone comes out to support us and motivates us on.
"If can get out there and make my way around 10 miles, then it shows you don't have to be a good runner to take on the Simplyhealth Great South Run. It's about keeping active and achieving something positive."
Ten years on from her accident, Claire has rebuilt her life and has discovered new sports as well as becoming a motivational speaker.
During her time in Portsmouth, Claire will speak to children at school assemblies in the area, who will also join in with her fundraising for spinal injury awareness.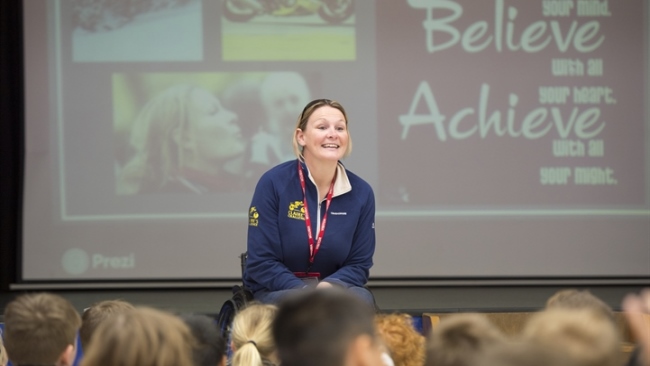 She visited children from Meoncross School in Fareham who are supporting Claire's fundraising through sponsored school activities.
A group of pupils there will also take on the Simplyhealth Junior and Mini Great South Run on the same day that Claire sets off to raise money for the Nicholls Spinal Injury Foundation.
Claire, who has two daughters, six-year-old Maisie and four-month-old Chloe, added: "I always like to visit schools to talk to them about how I dealt with my accident, what I've done since and to encourage them to never give up, so that's what I'm doing again before I take on the Simplyhealth Great South Run.
"Rebuilding my life was the darkest time and the hardest time. Now I'm in a better place, I've got two little girls, so it's very different.
"If I can go into the schools and help one person then it's a brilliant feeling. I feel in a fortunate position to be able to do that.
"The pupils from Meoncross have already been helping me with fundraising and I know a couple of them are going to take on the Simplyhealth Junior and Mini Great South Run for the charity which is amazing."
Although Claire has completed a marathon and the world's biggest half marathon, the ReWalk suit's technology still poses a massive challenge to her.
She said: "The suit moves my legs for me. Obviously I can't do that because I am paralysed from the chest down.
"Even balancing myself in the suit is difficult. I can't feel the ground I'm on. I have to shift my weight for every step at the right time to enable me to take a step, while balancing myself on the crutches.
"Anyone who has walked on crutches with an injury will know that it is not easy.
"Not having my own balance and not being able to feel anything makes it all the more challenging.
"It moves my legs for me but I'm really working the parts of me that work – they're working really hard."
The Simplyhealth Great South Run features a fast and flat 10 mile course through Portsmouth and Southsea.
The course has been graced by world-class athletes, celebrities and fundraisers and gives participants the exclusive opportunity to run through Portsmouth Historic Dockyard, home to HMS Victory.
Runners cross the finish line on the sea front with beautiful views of the Solent and the Isle of Wight.
David Hart, Communications Director at the Great Run Company, said: "Claire is an absolute inspiration. Her sheer courage and determination during the Simplyhealth Great North Run touched the hearts of the entire nation.
"We are delighted to invite her to the Simplyhealth Great South Run and she will be guaranteed the warmest of welcomes during her 24 hour challenge from the people of Portsmouth."
Catherine Petherbridge, Director of Sales and Marketing at The Unlimited Company from Simplyhealth said: "Claire is the embodiment of our own purpose, which is to help people with a disability or mobility issue to spend less time planning to live and more time living.
"We can all learn from her positive approach to life; her sheer strength of mind shows that we can all achieve if we have self-belief."
Entries for the Simplyhealth Great South Run are now open. Enter at: Greatrun.org/south