Great East Run Teams Up With Ipswich Town
The Simplyhealth Great East Run has announced a new partnership with Ipswich Town Football Club ahead of the new half marathon being held in the town on Sunday 24 September.
The partnership allows the exciting opportunity for the finish line of the Simplyhealth Great East Run to be moved into Ipswich Town's practice pitch adjoining the famous Portman Road stadium.
With Ipswich Town's practice pitch allowing room for thousands of spectators, half marathon runners will be able to have their own celebratory finish line moment with their supporters and families.
On the course, runners will start on Russell Road and head out and back along Wherstead Road, passing under the iconic Orwell Bridge.
They will then head back into the town centre and travel around Portman Road stadium, passing the statues of two football legends, Sir Bobby Robson and Sir Alf Ramsey, on the new route before finishing inside the practice pitch.
The pitch will also host a vibrant event village, packed with food and drink stalls, charity marquees and activation stands from the event's sponsors and partners.
Ahead of the announcement, staff from Ipswich Town gathered on the football pitch at Portman Road, along with Councillor Tony Goldson, Cabinet Member for Health at Suffolk County Council.
A team of staff from football club, have signed up to the Simplyhealth Great East Run's Business Challenge, where businesses in the region compete to see who is the fastest.
They include Will Law, Emma Booth, Anne-Marie Williams, Faye Gaffer, Carl Colins, Marcus Leeder, Mark Andrews, Theo Benneworth and Wes Barton, who work in various departments in the club.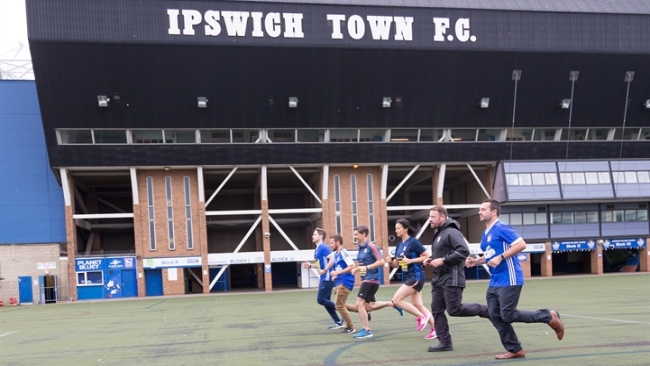 Male, female and mixed teams can take part in the Business Challenge, which is designed to help companies promote a health workforce and to have fun as a team.
Rosie Richardson, Director of Sales at Ipswich Town Football Club, said: "I am delighted we have teamed up with the Great Run Company and the Club forms part of the route.
"Activities and refreshments will be available on the day. We have ITFC staff members running and we shall all look forward to welcoming all the runners back to Portman Road after their 13.1 mile run."
Other companies across the county that have signed up to take part include the Mediterranean Shipping Company and Ashtons Legal Solicitors.
Philippa Morrow, from the Simplyhealth Great East Run, said: "We're delighted to partner with Ipswich Town Football Club to bring this exciting addition to the Simplyhealth Great East Run course.
"The club is a huge part of the town's history and it's fantastic that they are involved in East Anglia's newest running event.
"The new course allows participants to run around Portman Road stadium before heading into the ground to cross the unique finish line inside.
"We're also looking forward to welcoming a team of staff from Ipswich Town who are taking part in the event."
Councillor Tony Goldson, Cabinet Member for Health at Suffolk County Council, said: I'm delighted that Ipswich Town have come on board as a partner to support the Simplyhealth Great East Run and finishing in the stadium grounds will add that little bit extra to the experience for participants.
"This event provides a fantastic opportunity for businesses across the county to get involved and use it to complement their work place health and wellbeing programmes and initiatives.
"It's very encouraging to see high profile local businesses entering the Business Challenge, which can only make a positive contribution to our ambition to become the most active county in England."