Group'S 100 Stone Weight Loss At Great South Run
Entries for the Great South Run are open. Don't miss your chance to be a part of the packed weekend of sport at GreatRun.org/South
The Great South Run's biggest losers gathered at Portsmouth Historic Dockyard today (28 July) to celebrate less than 100 days before the world's leading 10-mile running event returns to Portsmouth for the 26th year.
The inspirational runners have lost an enormous 100 STONE between them, which is the equivalent of a small car.
Every year, thousands of runners take part in the Great South Run as a way of keeping fit and maintaining a healthy lifestyle.
Now that the countdown is in double figures, a group of participants who have lost a whopping 1400lbs met on board HMS M.33 to encourage people to sign up to the event and tackle obesity through running.
The fast and flat course will once again take in iconic landmarks around the south coast including the Portsmouth Historic Dockyard, Spinnaker Tower and Portsmouth Cathedral before finishing on the picturesque sea front with beautiful views of the Isle of Wight.
The weekend has grown into a festival of sport, with nearly 30,000 people taking part in four events across the two days. Among the fat fighting group was Craig Allison, from Portsmouth, who lost a huge 11 stone in weight.
Craig, who admitted he always was big as a child, set his mind to shed the pounds in May 2014.
Just over a year later, Craig managed to lose 11 stone in weight after attending gym classes and running the Great South Run last year for the first time.
He will return to the event this year to celebrate his fantastic achievements and hopes to break another personal best.
Craig said: "I never started to lose weight with a set goal in mind, it was always about just doing that little bit more and that's what I would advise people to think when starting off.
"After running a little bit, I wanted to push myself a little more and signed up to the event last year.
"I finished the Great South Run in a time of 1 hour 31 minutes and this year I am determined to beat my time.
"I would advise people to keep trying and never give up as you never know how capable you are until you push yourself."
The world's leading 10 mile run starts and finishes in Southsea, overlooking the Solent, and gives participants a unique opportunity to run through Portsmouth's Historic Dockyard, passing iconic landmarks such as HMS M.33, HMS Warrior and the Mary Rose.
The weekend also features the Great South 5k,a popular event for first-time runners looking to take their first steps to the longer distance, and the Junior and Mini Great South Run, for the runners of the future!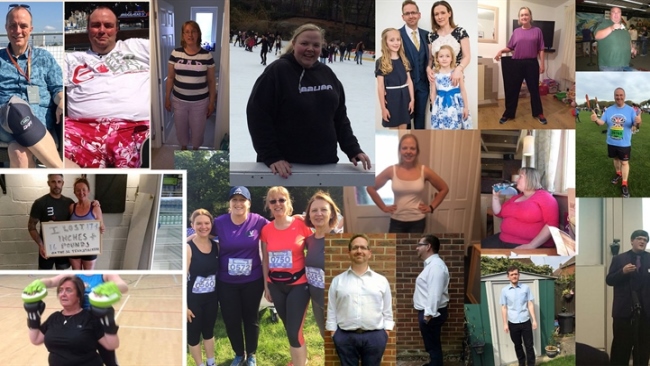 Joining Craig was Gillian Boorn, from Fareham, who lost ten stone after being laughed at by bullies while she was shopping on the high street.
Size 24 Gillian also had a young son and knew that she had to change her lifestyle as being obese shortened a person's life expectancy.
Gillian said: "I decided that I had to lose weight because I was so unhappy. I had very low confidence and self esteem and I couldn't even climb a flight of stairs.
"The worst part of it was going shopping in a store in Southampton and loving all of the fantastic clothes. I had to put up with people laughing at me for being in there because it was very clear that nothing in there would fit me.
"I knew that obesity knocked years off your life and that was a turning point for me, I knew I had to do something. I have lost 10 stone to date and to run in an event like this will top off a fantastic year of achievements."
David Hart, communications director at The Great Run Company said: "Sometimes people feel they have no time to fit in exercise but the greatest achievements start with just one step.
"Walking, jogging and eventually running is an achievable form of exercise for most people, and having an event to work towards like the Great South Run or Great South Run 5k is the best motivator.
"It's great to see such inspirational people involved in Great South Run and we hope that others will follow their example and set themselves a goal of taking part in the event this October."
Entries for the Great South Run are open. Don't miss your chance to be a part of the packed weekend of sport at www.greatrun.org/south