Gurkha Soldiers Join 5,000 For Great North 10K
To find out more and to enter the 2019 Simplyhealth Great North 10k, visit Greatrun.org/north10k
200 Gurkha soldiers were among the thousands of runners at the Simplyhealth Great North 10k Gateshead that is celebrating its 10th anniversary this year.
The North East's biggest 10k run saw 5,000 participants pound the pavements of Gateshead and were joined by the recruits from Catterick Garrison, who run every year as part of their training.
Having started in Sunderland in 2009 before moving to Gateshead in 2011, the 10k now takes runners along the scenic NewcastleGateshead Quayside, passing Sage Gateshead, BALTIC Centre for Contemporary Art and the Gateshead Millennium Bridge.
The route also passed under the Tyne Bridge, an iconic feature of its sister event, the Simplyhealth Great North Run. Over half of the runners who conquered their 10k challenge today are going on to take part in the world's biggest half marathon this September.
The Gurkha soldiers from Catterick Garrison gathered on the start line in their own separate wave and took on the event as part of their armed forces training.
Participants crossed the finish line on the track in the famous Gateshead International Stadium, with their family and friends cheering from the stands.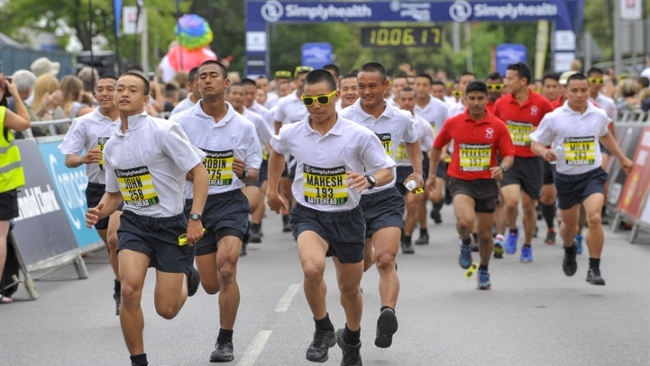 The first male athlete across the line was Chris Steele, who sprinted home in a time of 33:16, closely contested by Conrad Franks from Gateshead Harriers & AC in 33:23 in second place with John Clifford of Evenwood Road Runners clinching third in 34:22.
In the women's race, Gemma Steel claimed victory in 35:22, more than two minutes ahead of Danielle Smythe who followed her across the line in 37:57. Third place was claimed by Mary Ferrier in 39:59.
Families and young runners enjoyed the Simplyhealth Great North Family Run in sunny weather in the afternoon. 400 people and their families took on a one-mile route around the stadium.
Laura Miller, from Simplyhealth, said: "It was fantastic to see so many people making the most of life as they completed the Simplyhealth Great North 10k with smiles on their faces as family and friends cheered them over the line.
"We were there helping runners to kickstart their recovery with our Simplyhealth Stretch Zone and free post-event massage.
"Congratulations to everyone who took part."
The 2019 Simplyhealth Great North 10k Gateshead will take place on Sunday 7 July and entries are now open.
To find out more and to enter the event next year, visit Greatrun.org/north10k