Inspiring Families Gear Up To Take On Bristol 10K
Every runner has a story, it's time to start yours. To enter the Simplyhealth Great Bristol 10K and Family Run visit: Greatrun.org/Bristol10k
Today saw the launch of the Simplyhealth Great Bristol 10K and Family Run at Queen Square in the city.
Four families, who have signed up to take on the event together on Sunday 13 May 2018, met to speak about their inspiring reasons for running.
Shane and Sarah Pritchard, from Portishead in Bristol, are running the event with a team of friends in memory of their brave son Benjamin who passed away in November at eight-years-old.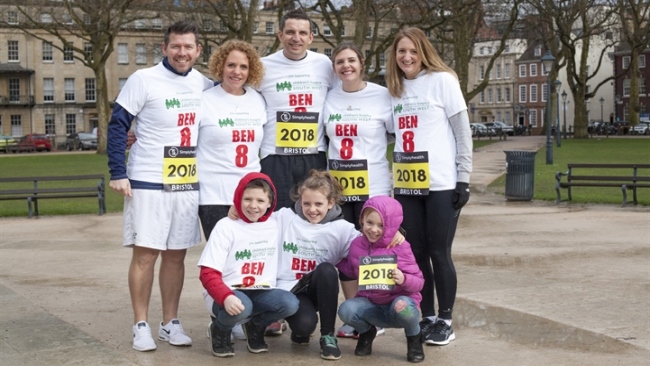 Devoted Bristol City football fan Ben battled a rare and aggressive brain tumour and his courage touched the hearts of the region.
His parents are raising money for Children's Hospice South West, after Ben spent the last eight days of his life at Charlton Farm to enhance the facilities there. They're encouraging people to donate and to #BeMoreBen.
Shane said: "Ben was a fit and healthy young boy, he was popular, was excelling at Portishead Primary School and loved nothing more than playing football and it was rare to see him in anything other than a Bristol City kit.
"He came in from the garden after watching his football team and said he couldn't move his arm properly. He was taken to A&E where tests showed he had a brain tumour called Diffuse Intrinsic Pontine Glioma (DIPG), an extremely rare and aggressive cancer.
"It was inoperable, incurable and we were told at best Ben would have 10 months to a year to live. We are raising money in Ben's name because we stayed at Charlton Farm for the last days of Ben's life.
"Being there with its amazing staff in a beautiful setting meant we were just able to be a family without worrying about medication, appointments, care needs or chores. We have happy memories that will last us a lifetime and Ben was very happy there, despite being very unwell.
"We were well supported by staff there and doing so alone would have been unbearable, but we were never alone and we will be eternally grateful.
"We want to use our experience to further enhance the amazing facilities at Charlton Farm, in particular end of life care."
Jane and Kathy Welham from Bishopston in Bristol, are supporting Mind, the official charity partner of the Simplyhealth Great Run Series.
Jane took on the 10k last year in memory of her sister Hett, who tragically took her own life at just 28-years-old after a long battle with a mental health condition. She will return to run the event again in 2018 with her mum Kathy and sister Alice who are supporting her on the route.
Jane said: "I decided to run the Simplyhealth Great Bristol 10k last year for my sister after she died in 2016 following a really brave battle with mental health issues.
"We chose to remember her by supporting Mind as we wanted to raise awareness about the fact that people can face a daily battle and a daily pain, even if it's not always obvious to see.
"Running is great for your mental health and has really helped me grieve as it's something that can help you without having to use medication and that can help you focus on the here and now.
Husband and wife Mark and Amanda Gibbon, from Newport in Wales, are award-winning slimmers and are taking on the 10k for the first time together as part of their marathon training.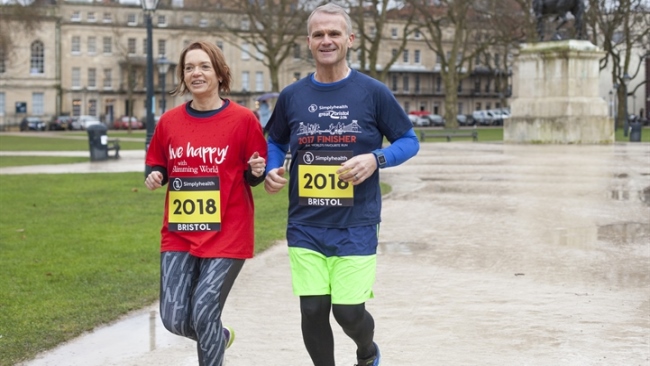 Grandparents Mark and Amanda have lost 11-and-a-half stone between them after taking up running to become more active and signing up to Slimming World to change their eating habits. They also encouraged exercise in their community by starting up walking groups. Their efforts earned them the title of Slimming World's Couple of the Year in 2017.
Mark, who lost over seven stone, said: "It was beyond embarrassing having to ask for a seatbelt extension on a plane and so I joined Slimming World to change my eating habits and support my wife on her journey too.
"We felt like we had a lot more energy and so we started to enjoy running together and our health has improved dramatically. My GP told me that I have added 20 years to my life!
"We love running together as it's great motivation and you're never alone. We can't wait to take part in the 10k together as it's perfect training for the longer distances we are running later in the year."
Jenny Payne, from Shepton Mallet in Somerset, is taking on the Simplyhealth Great Bristol Family Run with her two children Ellie and Tommy.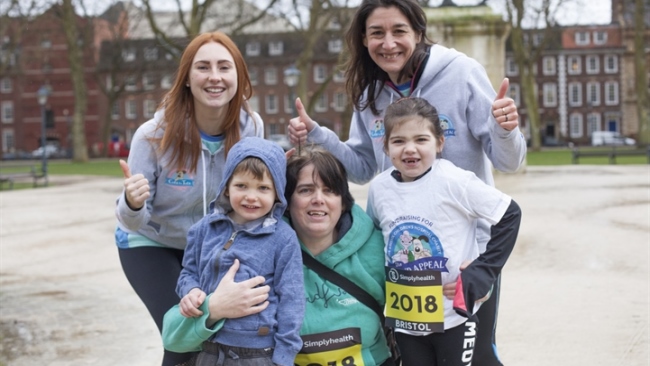 Six-year-old Ellie is a long term cardiac patient at Bristol Children's Hospital and the family are raising money for The Grand Appeal at the event.
Ellie was diagnosed with a congenital heart condition called Common Arterial Trunk at eight weeks old. She has undergone two open heart surgeries in her short life and has spent a lot of her time at the children's hospital.
Jenny said: "With Ellie being a long-term patient of the hospital, I know only too well the incredible work that the staff at Bristol Children's Hospital do night and day, 365 days a year.
"The Simplyhealth Great Bristol Family Run is the perfect opportunity for both Ellie and her brother to get involved, have some fun while also having the chance to help other poorly children from across the South West. We can't wait!"
The Grand Appeal, the Bristol Children's Hospital Charity, is the official local charity of the Simplyhealth Great Bristol 10K and Family Mile.
Suzanne Maverick, Fundraising Manager at The Grand Appeal said: "We're thrilled to be to be the official partner of the Simplyhealth Great Bristol Family Run for a third year.
"The event is a real highlight in our fundraising calendar seeing hundreds of children and parents coming together in support of the young patients and their families at Bristol Children's Hospitals.
Participants who have signed up to the 10k this year can start good and finish greater when they take on the scenic course through Bristol city centre.
The course makes the most of the city's picturesque backdrop, starting on Anchor Road and running parallel to the historic Bristol Harbour before continuing along Avon Gorge.
Runners then return to the city centre, passing Queen Square and finishing back on Anchor Road.
Andy Graffin, project sponsor of the Simplyhealth Great Bristol 10k and Family Run, said: "It's fantastic to kick off the build-up to the 10k and Family Run with such an incredible group of people who are taking part for so many important causes.
"Every year thousands of people conquer a 10k challenge through the awe-inspiring surroundings of Bristol and the addition of a Family Run means that participants of all ages can be their greatest on a fantastic day of sport in the city.
"We're looking forward to welcoming everyone to the start line this May."
Marvin Rees, Mayor of Bristol, said: "We are delighted to welcome the Great Bristol 10k back to the city this year. It is always fantastic to see so many local people and visitors coming together at this event to enjoy themselves through sport, while also supporting some excellent local and national causes.
"The event should help to keep the momentum going to encourage people to take part in physical activity, following our successful year as European City of Sport 2017 and our continuing efforts under Bristol Active City.
"I look forward to being inspired once again by the determination and hard work that so many people put into the Simplyhealth Great Bristol 10k and into raising money to support others."
Every runner has a story, it's time to start yours. To enter the Simplyhealth Great Bristol 10K and Family Run visit: Greatrun.org/Bristol10k