Is Your Company Entered Into The Business Challenge?
To enter your team in the Business Challenge at the Simplyhealth Great Manchester Run now, visit greatrun.org/Manchesterbusiness
MANCHESTER'S businesses will once again return to the city streets in a bid to become the fastest companies.
The Business Challenge is back for 2018 bigger and better with more than 120 businesses challenging 2,200 runners to take on the 10K or half marathon distance at the Simplyhealth Great Manchester Run on Sunday 20 May.
The Business Challenge has become an annual fixture in the calendar of North West businesses, taking place as part of the iconic city centre running event which sees more than 30,000 people run, jog or walk their way through Manchester.
Once again, the 10K event of the Business Challenge will be supported by the Greater Manchester Chamber of Commerce.
Companies can enter male, female or mixed teams of 4-8 runners to compete for the trophy awarded to the fastest small, medium and large businesses across the categories.
Included will be a special prize category for Greater Manchester Chamber members – the Chamber Challenge, awarded to the fastest member business from each category in the 10k.
Who Is Taking Part This Year?
esure
We have 42 'Team esure' runners competing in the Simplyhealth Great Manchester Run; five colleagues competing in the half marathon race, and 37 runners competing in the 10K race!  Our runners are taking on the challenge to support and raise money for the Alzheimer's Society, to help those affected by dementia. One of our runners, Peter Kearns, will also be running the half marathon in fancy dress – dressed as a Manchester Bee! As well as fundraising for the Alzheimer's Society, he's 'buzzing' to take on the race to raise money for the We Love Manchester Emergency Fund, to support victims of last year's Manchester Arena bomb.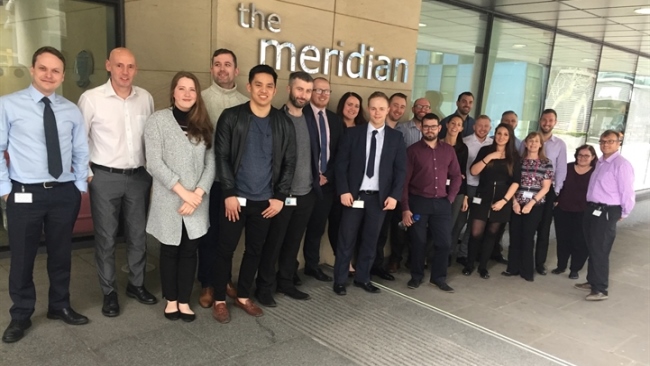 de Poel
Team de Poel have a common goal to take on the challenge of the Great Manchester Run 2018 and raise as much money as possible for our chosen charity Scope so they can, in turn, create opportunities for people with disabilities.
With headquarters in Knutsford, Cheshire, de Poel is an independent recruitment outsourcing specialist. Team de Poel comprises staff and volunteers from across the organisation including Operations, Legal, Finance, HR, Projects, Business Development and Support/Fulfilment.
Excited by the challenge ahead, when we first signed up to Great Manchester Run 2018 we used the opportunity to establish de Poel's first ever Running Club.
We have embraced training together, inspiring each other to keep pushing their limits and providing support through the more testing times – not to mention a series of injuries, ranging from blisters to shin splints and even broken collar bones.
Post-event we intend to keep the club running and credit the Simplyhealth Great Manchester Run for further uniting us as a team.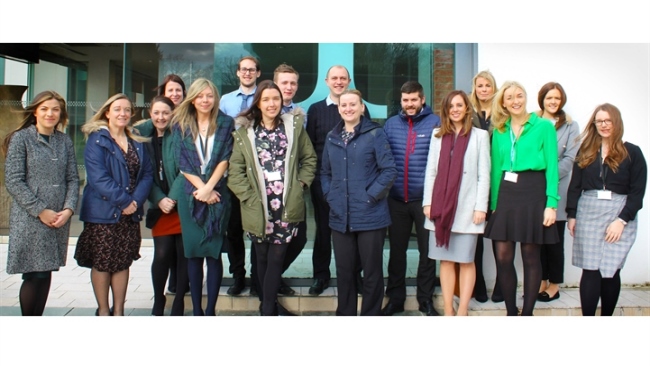 Torevell & Partners
This year marks our company's 21st birthday and, in May, the launch of our new trading name, Torevell & Partners. We will be running a collective 100k in the Manchester Business Challenge to raise money for Great Ormond Street Hospital, demonstrating an example of Torevell & Partners' continued long tradition of working hard to support charities, as well as a number of local causes.
Great Places
Eight runners from Manchester-based housing group, Great Places, will be competing in the run alongside Chief Executive Matthew Harrison. The runners are raising money for Centrepoint, a national charity that supports over 9,000 homeless young people every year. Homelessness is a major issue across the UK and within the regions in which Great Places operates, making this a cause close to our runners' hearts.
boohoo
A total of 76 members of staff across the company's Manchester HQ, Burnley Distribution, and customer service centre will put on their running shoes to raise money for Teenage Cancer Trust in the 10K event.
To date the boohoo staff have raised £74,995.91 for the charity with taking part in the runs, internal events and sample sales. 2018 will see the brand enter its biggest team yet.
boohoo chose to fundraise for The Teenage Cancer Trust as it is the only UK charity dedicated to improving the quality of life and chances of survival of young people diagnosed with cancer every day. It is a charity close to the team's hearts and became part of 'The boohoo Charity Partnership' in 2016.

How To Get Involved
Companies can enter male, female or mixed teams of 4-8 runners to compete for the trophy awarded to the fastest small, medium and large businesses across the categories.
There are prizes to the first three teams in each category (male, female and mixed team). Accumulated first four finishing times in each team will count. Top two male and top two female results in a mixed team will count.
An engraved trophy will be awarded for the winning team in each Business Size category (Small, Medium and Large)
The top three teams in each team type category will receive an engraved plaque, while every company that enters 12 or more employees will receive their own personalised company engraved plaque.
And, even better, if entries are purchased as a business transaction you are able to claim back VAT.
To enter your team in the Business Challenge at the Simplyhealth Great Manchester Run now, visit greatrun.org/Manchesterbusiness