Jess Dyer Proves She'S Not A Quitter
A student, who first took on the Simplyhealth Great Manchester Run to celebrate five years since she last attempted suicide, is continuing to inspire people with how she overcame her battle with depression.

Jess Dyer, 22, from Sale, endured severe bullying at secondary school which led her to self-harm for the first time when she was just 11-years-old.

Currently studying at Manchester Metropolitan University, Jess was diagnosed with clinical depression at the age of 13 and made several suicide attempts over a number of years.
She said: "The last suicide attempt was actually my third in the space of a few years. I wouldn't say it was a defining moment, but there was a period of time where I decided that I actually didn't want to hurt myself anymore and I wanted to change the way I was thinking and get better."
Following support from the NHS's Child and Adolescent Mental Health Services (CAMHS) and a course of Cognitive Behavioural Therapy (CBT), she signed up to the Simplyhealth Great Manchester Run in 2017, at age 20, to raise money for the mental health charity, Mind and celebrate five years since her last suicide attempt.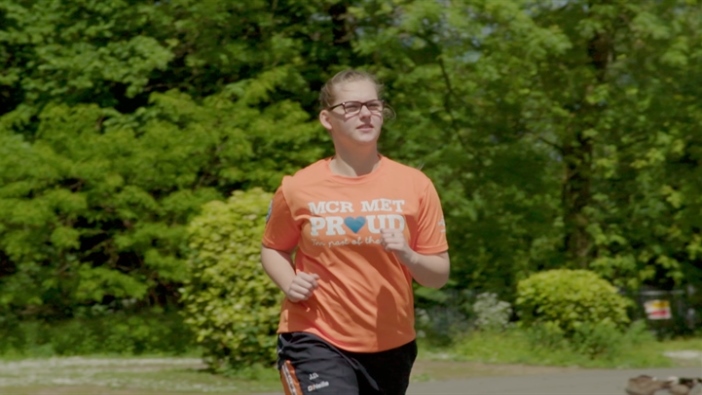 Jess, who described completing her first 10k at the Simplyhealth Great Manchester Run as 'emotional, overwhelming and incredible', has joined other runners and well-known Manchester faces in a new film showcasing an inspirational poem by Tony Walsh, aka Longfella.
Do Something, created by Longfella specifically for the Great Manchester Run, embodies the universal feelings of ambition, motivation and celebration experienced by those who take on the challenge; and the new film sees Longfella's poignant words being spoken by actors, influencers and real runners who connect to them.
Jess joins TV stars Julie Hesmondhalgh and Tony Audenshaw, DJ and musician Clint Boon, and 11-year-old Pride of Britain winner Ella Chadwick, who also feature in the film.
"Do something to prove you're not a quitter…
do something to prove it to yourself."
She said: "The lines of the poem really resonate with me, because I believe that throughout my battle with my mental health, I am continually proving to myself and others that I am not a quitter.
"The fact that I am still here, living, laughing, and running just goes to show that I refuse to give up, even when it felt like the easier option."
Preparing to take on her third Simplyhealth Great Manchester Run on Sunday 19 May, Jess continues to run as a way of channelling her thoughts and to improve her mental health.
She continued: "I wouldn't say running played a part in my recovery when I was younger, but it is a huge part of my life now, and helps me to cope with ongoing mental health struggles.
"When I completed my first Simplyhealth Great Manchester Run, the real sense of accomplishment and triumph as I crossed the finish line was just magnificent. I burst into tears. It was truly overwhelming."
Returning for a 17th year, the Simplyhealth Great Manchester Run gives participants the chance to experience an event like no other in the heart of the city centre, with 10k and half marathon courses known for their buzzing atmosphere and incredible local support.
Do something to show them what you're made of and enter the Simplyhealth Great Manchester Run