Joe'S Run After Almost Losing Wife And Father In Law
A 31-year-old dad will run at Simplyhealth Great East Run to raise awareness of blood and organ donations after it saved the lives of his wife and father-in-law on the same day.
Joe Dunn, from Bury St. Edmunds, almost lost his wife after she gave birth to his son Carter in April.
His wife Laura successfully delivered a baby but wouldn't stop bleeding and lost 2000mls of blood that required four blood transfusions. Luckily hospital had the blood available, which saved her life.
To add to the stress Joe was going through, his father in law Nathan had a kidney transplant the very same day.
Nathan has been on dialysis for two years and was informed that they found a match the same day while his daughter was fighting for her life. He had an operation and the transplant has been a success so far.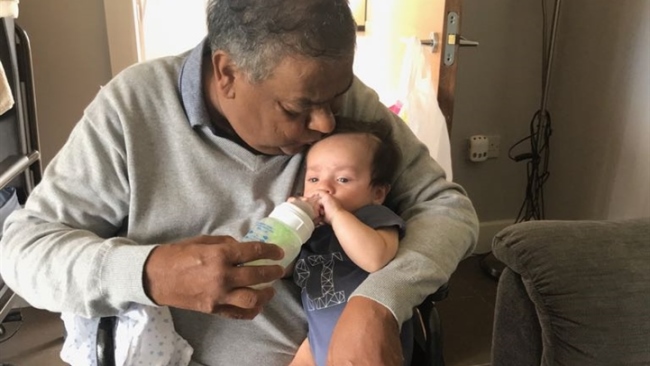 Joe was so relieved that his family were able to return home safe that he decided to raise awareness of blood and organ donations due to this personal experience.
He decided to sign up to the Simplyhealth Great East Run, which takes place in Ipswich on Sunday 16 September.
Joe said: "They couldn't prevent my wife from bleeding, she was taken to theatre and ended up losing 2000mls of blood and needed four blood transfusions. Should the blood not have been available there and then our circumstances could have been very different.
"Laura and her dad are very proud I am running the event and hope that I can raise more awareness so others can have their lives saved the same way they have."
It's the first Simplyhealth Great East Run for Joe and he's also decided to represent cancer research at the event.
He started running when he joined Royal Air Force Regiment two years ago as part of his training and been running since to keep his fitness levels and relieve stress.
The Simplyhealth Great East Run is a sold-out event where runners can take on a 13.1 mile challenge course across a scenic course that starts and finishes in Ipswich town centre.
The course starts and finishes on Russell Road and takes runners through many beautiful landmarks such as Holywells Park, Ipswich waterfront, Orwell Bridge and Ipswich Town FC's Portman Road stadium.
Joe added: "Running is one of my favourite exercises as it helps me to forget about everyday stress. I also run regularly for work to maintain my fitness levels."
For more information about the Simplyhealth Great East Run, visit: Greatrun.org/East