Kate To Knock Out Stereotypes In Portsmouth
To find out more and enter the Great South Run click here
An athlete with Cerebral Palsy, who became an internet sensation after footage of her boxing on her knees went viral, is preparing for her next challenge, walking a mile at the Simplyhealth Great South Run.
Kate Farley, known online as the Girl Boxer with CP, will join thousands of participants in Portsmouth for the final stretch of the iconic 10 mile event on Sunday 21st October.
The 29-year-old fashion journalist from Bournemouth has never walked the distance before and will complete the mile with a walker alongside two of her friends.
This is a big challenge for Kate, who usually exercises by boxing on her knees and hopes to one day make disabled boxing a Paralympic sport.
She said: "I decided to do this because I'm determined to strengthen my legs, along with proving to myself that despite tiring easily through the effort and control it takes to walk, I want to achieve this milestone, hopefully inspiring others along the way.
"This is a very big challenge for me. It'll be testing but with adequate training and lots of determination and motivation, I feel the walk will be achievable."
Kate is raising money for Superpeople, a charity she co-founded with close friends Natalie Betts, 28, Hannah White, 24, and Jake Atkins, 29, which they set up to showcase how disabled and non-disabled people can work together and create social change.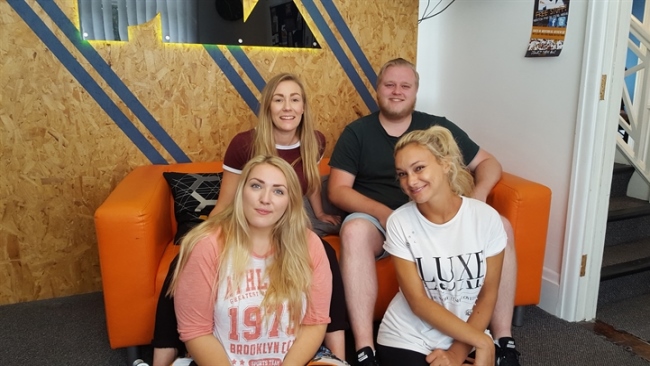 Superpeople
They produce video CVs for those who find it hard to gain employment, create films highlighting accessible clubs and groups that disabled or non-disabled people attend and connect communities to support disabled people to fulfil something that they've always wanted to do.
Whilst Kate will start her challenge at the 9 mile point on Eastney Esplanade in Southsea, her fellow Superpeople colleagues and a group of supporters will take on the full 10 miles to raise money and awareness for the charity.
Natalie said: "It was a no brainer to choose the Simplyhealth Great South Run as our fundraising event.
"I was born and bred in Portsmouth and nothing could motivate me more to keep running than reaching all the event's landmarks such as the Portsmouth Historic Dockyard, South Parade Pier and finally Southsea Castle."
The team will be joined by 20,000 people at the Simplyhealth Great South Run in Portsmouth, which celebrates the historic and iconic sites of the city across a virtually flat 10 mile course.
Kate has been training on a treadmill and hopes to complete the mile in less than 30 minutes. She continued: "This is a completely different challenge for me as I box on my knees, but I hope to enjoy it just as much as when I'm boxing.
"I'm looking forward to taking part amongst everybody else and soaking up the atmosphere. But most of all I am looking forward to proving to myself that I can do something when I put my mind to it, despite having physical restrictions.
"I will feel extremely proud when I cross the finish line and will be proud to pioneer our Superpeople charity and fly the flag for disability."
To find out more and enter the Great South Run click here
To sponsor the Superpeople team click here