Katie Signs Up For Manchester After Cancer Diagnosis
Enter the Simplyhealth Great Manchester Run at: Greatrun.org/Manchester
A woman who was diagnosed with breast cancer will join a team of friends who have also battled the disease to take part in the Simplyhealth Great Manchester Run this spring.
Katie Weeds, from West Didsbury, was diagnosed with breast cancer in January after a routine mammogram.
The mammogram picked up the small lump in December although she had also noticed external dimpling in November.
Fortunately, Katie received a positive prognosis, with the cancer not spreading to any other part of her body. She is currently undergoing radiotherapy and was introduced to Maggie's Cancer Centre at The Christie by her friend and colleague Helen Bacon, who was also diagnosed with breast cancer.
Katie, a member of women's running club Northern Sole Runners, hopes to pick her running back up following her treatment and has signed up to the Simplyhealth Great Manchester Run on Sunday 20 May for an early target to focus on.
Katie, 53, said: "I was recently diagnosed with breast cancer after a small lump was picked up during one of my routine mammograms around Christmas.
"I had noticed some external dimpling on my breast in November, so the timing of the mammogram was extremely fortunate for me.
"Luckily I was given a good prognosis as the lump was small and had not spread yet. This really helped me to put things into context mentally.
"I am undergoing radiotherapy and I have not been able to run for two months so I hope to return very soon.
"I am getting help from a personal trainer and my running club, Northern Sole Runners to return to full fitness.
"I am taking on the Simplyhealth Great Manchester Run with some of my friends who have also been diagnosed with breast cancer as a short term goal to aim towards. I always feel strong and empowered when I run.
"My friend and colleague Helen Bacon has also been diagnosed with cancer and she introduced me to Maggie's support centre. After going there I realised what a lovely and supportive place it is and I've now recommended it to others."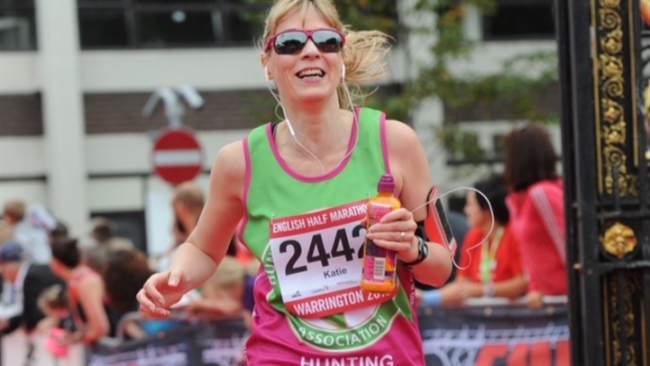 Katie will join a small group of other women at the Simplyhealth Great Manchester Run, where runners will experience an event like no other on the undisputed capital of the north.
The event is known for its buzzing atmosphere, incredible supporters and booming Manchester anthems that rock the city's streets.
She added: "I am really keen to get fit again after my diagnosis and treatment so I thought this would be the perfect thing to aim towards.
"Lots of people who are going through a cancer diagnosis don't know about Maggie's and the support that they provide to the person and their friends and families and they are really missing out on this.
"I hope that by speaking about my experience that the profile and support of Maggie's will go up as it's a very important service to a lot of people."
Support Katie's fundraising by clicking on her fundraising page here.
Enter the Simplyhealth Great Manchester Run at: Greatrun.org/Manchester