Little Maya Is Determined To Run In Portsmouth
A 3-year-old girl from Portsmouth will run the Simplyhealth Mini Great South Run to celebrate how far she's come and to raise much needed funds for charity.
Maya Guinoubi was born with a very rare condition called Tracheoesophageal Fistula & Oesophageal Atresia (TOF & OA) and in her short life has had ten operations, the first when she was just seven hours old.
The condition caused Dextrocardia, where Maya's heart is placed on the opposite side and twisted. She also has an absent right lung and right pulmonary artery and was born unable to swallow or breathe on her own.
After she was born, Maya was transferred from the Queen Alexandra Hospital to the Southampton Children's Hospital intensive care unit to have emergency surgery at just 7-hours-old. This was a 5 hour operation and due to her complex anatomy it made the surgery more complicated and required the surgeon to repeatedly restart Maya's heart by way of massage.
Maya recovered well and was discharged after 8 days in NICU.
However, issues started to arise after a week of being home as Maya started to choke on feeds and made strange noises when she was breathing. She required emergency surgery 10 day later to stretch her oesophagus as the repair site had narrowed.
Unfortunately, two weeks after the operation she became very poorly and went into respiratory arrest. She stayed in hospital for four months where she was placed on life support and had more surgery.
Unfortunately, after being discharged she was readmitted two weeks later and stayed in hospital for a further four weeks.
Maya took another took a drastic turn for the worse, with a very severe case of Tracheomalacia, a condition caused as a result of the TOF. It was soon realised that Maya needed airway intervention surgery. She had an operation at 10 months old and was able to breathe on her own for the first time in many months.
Even though the operation was successful, the complications of TOF are lifelong. Maya requires daily medications, food often gets stuck in the repair site in her oesophagus and the risk of choking becomes part of her daily life.
Maya is now an energetic, fun-loving 3-year-old. She continues to struggle with feeding, suffers with chest infections and requires chest physio and daily medications to keep her out of hospital. However, she doesn't let that get in her way and attends ballet and tap lessons.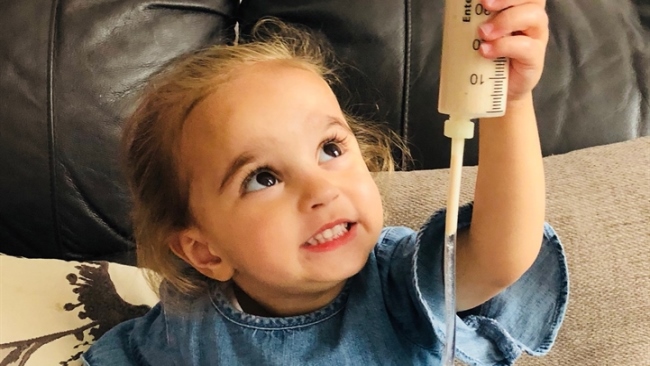 Maya's mother, Naomi, said: "We had to be separated as I remained in hospital where she was born due to having a c-section but her daddy followed the ambulance and was at her side throughout. She actually went into her first surgery just named "female infant" as I hadn't had the chance to see her, touch her or hold her so didn't want to name her until I saw her.
"I eventually got to meet her when she was 27 hours old in PICU, after a successful repair surgery. All I had until that time was a photo my husband had sent but she had so many wires attached you could barely see her face.
"As a parent when you sign the consent form for any surgery you'll always wonder if you've made the right decision and we definitely found this part of the process heart wrenching.
"That first year was very difficult for us as a family, we also had a 20-month-old little girl to take care of and it was a very confusing time for her. Maya's sister was being passed to and from family and friends to care for her so I could stay with Maya and my husband needed to work to support our family. I would get the chance to spend time with our other daughter Lilia at weekends while daddy would stay with Maya.
"We really wouldn't have got through that first year without the support of close friends and family.
"Nothing could've prepared us for that first year especially as we weren't aware of Maya's problems before she was born.
"Seeing your child resuscitated numerous times, physically in pain and unable to tell you how they are feeling, it's truly heart-breaking but we look at Maya now and see how she overcame so many odds and our hearts literally burst with pride."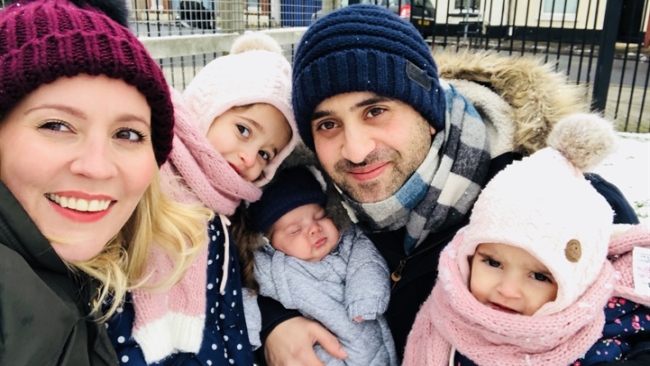 Little Maya is now excited to run at the Simplyhealth Mini Great South Run on Saturday 20 October with her best friend – grandad.
They will be raising money for the TOFS Charity, supporting children born unable to swallow, a particular charity for one of the rare conditions Maya was born with. They link TOF families together all over the world, host yearly conferences with medical professionals and share a lot of information through their website and book. The charity receives no governmental funding and therefore relies on their members and the public to raise funds and spread awareness.
Naomi added: "Maya is excited to get a medal and tells us she will win. As you can imagine she is getting pretty competitive and is currently "training" in the local park to build up her stamina. Everyone comments on how tiny she is but her personality is larger than life, she's our little pocket rocket and we can't wait to cheer her on."
The Simplyhealth Junior & Mini Great South Run returns to Portsmouth on Saturday 20 October, with almost 2,000 budding athletes, school friends and families taking on the 1.5k and 2.5k courses, which start and finish on Clarence Esplanade in Southsea.
It's part of a great weekend of sport in the city, which includes the Simplyhealth Great South 5k and the South's biggest running event, the Simplyhealth Great South Run, which will see over 20,000 people running in aid of fun, fitness and fundraising on Sunday 21 October.
For more information about the event, visit: Greatrun.org/South