Look Out For 7Ft Peppa Pig At The Great Birmingham Run
What would Daddy Pig say? A Midlands charity fundraiser has revealed how he plans to stand out from the crowd at next month's Simplyhealth Great Birmingham Run and Mini Run by taking part in the two events dressed as a 7ft Peppa Pig.
Grandfather Stuart Bailey, from Billbrook, near Wolverhampton, has finished more than 50 running events dressed as everyone from Santa to the Jolly Green Giant to raise more than £20,000 for good causes.
And now Stuart will be donning his popular Peppa Pig outfit to run the Simplyhealth Great Birmingham Mini Run at the Alexander Stadium on Saturday, October 14, before taking part in the Great Birmingham Run half marathon the next day.
The 1.5K Mini Run is open to children of all abilities aged 3-8, while a 2.5K Junior Run is open to 9-15 year-olds. All finishers receive a goody pack, a medal and bottle of water as soon as they cross the finish line.
Entries are still open for the Mini Run, Junior Run and Sunday's Great Birmingham Run half marathon.
Stuart has declared the half marathon will be his last event of 2017 and he plans to go out in style dressed as Peppa Pig, his most popular costume among spectators.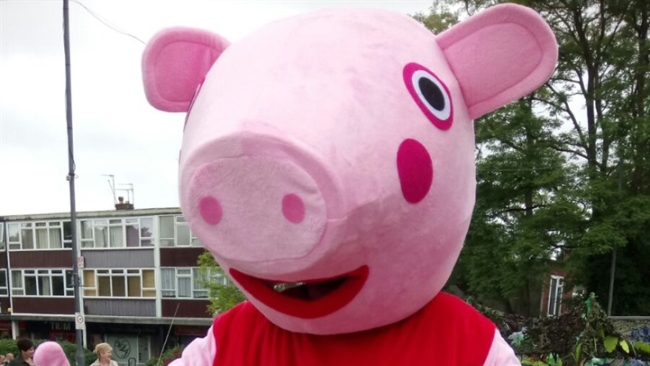 The stores manager is raising funds for The Royal Wolverhampton NHS Trust Charity after they cared for his grandson George who became ill shortly after his birth in 2016.
George is now almost one and improving each day, says Stuart, thanks to the help of Wolverhampton doctors and nurses.
Inspirational Stuart, aged 45, is hoping to raise hundreds of pounds at the Simplyhealth Great Birmingham Run to help Wolverhampton's doctors and nurses continue their life-saving treatment.
The Simplyhealth Great Birmingham Run starts on Jennens Road in Birmingham city centre and passes iconic sights such as Selfridges, Cannon Hill Park and Bournville before participants return to the city centre to finish in front of thousands of cheering spectators.
The half marathon takes place on the same day as the now sold-out inaugural Birmingham International Marathon, which means some 20,000 could be hitting Birmingham's streets to take part in a unique festival of running.
Anyone signing up for the Simplyhealth Great Birmingham Run will get a guaranteed entry window to next year's Birmingham International Marathon, which sold out its 9,000 general entry places for the 2017 run four months before it is due to take place.
Stuart says he is guaranteed a high-five, a wave or cheer from the thousands of Great Birmingham Run well-wishers.
"I have done quite a few events already this year, dressed in themed costumes to entertain the spectators and fellow runners," he says.
"This will be my last event of 2017 before I debut a new costume for 2018.
"I always appreciate the response I get when out running in my costumes. I'll get a smile, a laugh and share as many high-fives as I can along the route.
"I love it when people shout and wave their support when I'm running. It can get really hot in the costumes so this support really does help."
Stuart believes the thousands of people taking part should enjoy the running events, adding: "Enjoy the occasion and smile. Every step is worth it and everyone's is a winner."