Mac Sisters With Blisters Take On Great South Run
To enter the Simplyhealth Great South Run, visit: Greatrun.org/South
A team of nurses from a Palliative Care unit in Christchurch are to take on a 10-mile running challenge to support the unit for its new multimillion-pound building.
14 members of staff connected to the Macmillan unit, who work together on a daily basis, decided that they want to challenge themselves and improve their fitness while supporting a cause that is close to their hearts.
They aptly named themselves the 'Mac Sisters with Blisters.' Angie Brooks, Debbie White, Lisa Hawker, Sharon Downer, Jane Martin, Sara Kenyon, Emma Sergeant, Marie Miller, Rachel Easton, Tracey Ball, Martin Ball, Michelle Lane, Julian Clements and Melanie Crick, a majority work at the Palliative Care unit and wanted to try a new sport that would help their team building as well as improve their lifestyles.
The palliative care centre, which is based in Christchurch Hospital, Dorset and is part of the Macmillan Caring Locally Charity, is hoping to raise £5 million to rebuild the unit and the group hope to raise £10,000 as part of their challenge.
The group, most of which began their challenge as running novices, will take on their first ever- event at the Simplyhealth Great South Run on Sunday 22 October in Portsmouth as part of their fundraising.
Angie Brooks, who works as the Multi-Disciplinary Team Facilitator, said: "The Macmillan Unit is a Palliative Care unit which in need of a rebuild and it is a huge project.
"The new building, while not feeling like a hospital, will be designed to accommodate the needs of patients with life limiting illnesses.
"Here at Macmillan Caring Locally, we have asked our patients and their visitors what they think would make an ideal Palliative Care unit. We want to provide them with all the elements that contribute to a more personal and comfortable experience there.
"We decided to play our part as members of staff at the Palliative Care unit by entering the Simplyhealth Great South Run as a team.
"As a majority of us work together on a daily basis, we decided that it would be important to challenge ourselves and do something that we all would find tough. It will be a huge personal achievement for us all.
"We're all extremely passionate about the charity and we have set ourselves a very ambitious target but we are currently half way there."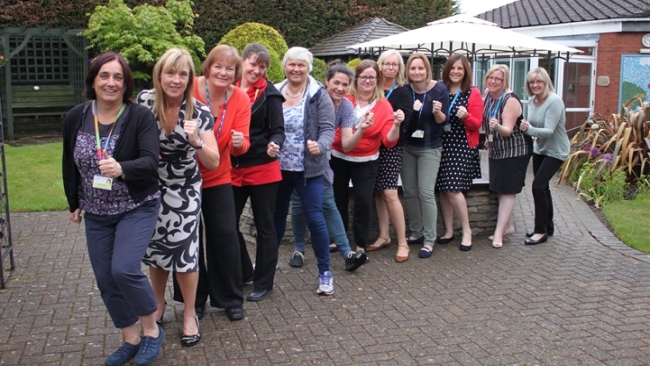 The staff will join over 20,000 others for the Simplyhealth Great South Run, the world's leading 10 mile running event.
The fast and flat course starts and finishes on Portsmouth's scenic sea front, overlooking the Solent and participants are given special access to run through Portsmouth Historic Dockyard, home to HMS Victory and the Mary Rose Museum.
The members of staff from the Macmillan unit have been training together and have even set up a running club to keep them motivated.
Angie added: "This cause is very close to our hearts as it plays such a big part in our day-to-day lives". "The Macmillan Unit includes a community team of nurses, a therapy service, a Day centre, family support services and a large team of volunteers.
"We would like to support the charity to also enable us to continue to provide high quality care to our patients and families into the future.
"Referrals to the palliative care unit at Macmillan Caring Locally have trebled in the last ten years, so there's definitely a need to move to larger premises.
"Some of us started a running club with the help of a personal trainer which gave us a lot more determination to keep going to 10 miles. Some of the novices started with the Couch to 5k which really helped too.
"Running with the Mac Sisters with Blisters has allowed us all to either try a new sport, return to the sport after a gap and improved our health and well-being."
To support the team's fundraising, click here.
To enter the Simplyhealth Great South Run, visit: Greatrun.org/South