Manchester Families Surprised By Sir Mo Farah
To be a part of the city's most loved running event click here 
Two families from the North West who have been chosen to take part in the Simplyhealth Great Manchester Run Family Challenge were given a massive boost to their training when they met Sir Mo Farah this weekend.
The Parry family, from Prestwich in Greater Manchester and the Wilkinson family from Bolton travelled to South-East London where they had a surprise meeting with Great Britain's most successful distance runner.
Sir Mo, the four-time Olympic and six-time World champion, will be competing at the Simplyhealth Great Manchester Run on Sunday, 20 May, and the 34-year-old was on hand to give the families some training advice ahead of their own challenge.
The Family Challenge was launched to set families the goal of improving their health and wellbeing in 2018 by training for and taking part in the Simplyhealth Great Manchester Run events.
Families across the region were asked to let organisers know why they wanted to take part in the challenge which offers training plans, expert led sessions and ongoing advice, to support them in their journey to the start line, whether they were taking on the 10K, Half Marathon or Junior and Mini distance.
The Parry family and the Wilkinson family were surprised by Sir Mo Farah
Sara Parry and her husband Dominic, who are both 42, will take on the 10k, with their children Keira, 14, Fraser, 11, Erica, 10, Heidi, 8 and Skylar, 3, taking on the Simplyhealth Junior and Mini Great Manchester Run.
Sara said: "To meet Mo Farah was absolutely amazing, you could say it was a once in a lifetime experience.
"He is such a positive and motivating person and genuinely kind. The children are still in 'awe' at meeting such a great role model for fitness, family and fun."
The family have set themselves the challenge in order to help manage Erica's asthma and Fraser's autism.
They regularly take part in organised runs together and hope to improve their distance goals by taking on the 10k and kids' events.
11-year-old Fraser, who was diagnosed with Aspergers in 2016, said: "Meeting Mo Farah was incredible.
"I certainly did not expect the star to be Mo! I was thinking maybe it would be Jessica Ennis-Hill.
"I really couldn't believe I was meeting Mo Farah."
His sister Erica added: "I was nervous about meeting a sport star. I had no idea who it would be and I wasn't really sure who it could be.
"I am really happy that I got the opportunity to meet Mo Farah, he was really kind."
Caroline Wilkinson will also take on the 10k challenge with her son Matthew, 11, taking part in the Junior run.
Caroline, from Bolton, said: "Meeting Mo Farah was a real honour. I've seen him so much on TV and cheered him on.
He was very kind and really took the time to answer our questions. It was like meeting a friend."
Matthew, who runs for Bolton Harriers, said: "It was such an amazing experience. I am still in shock that I've met Mo in real life.
"Thank you very much for all the great tips. I can't wait to go back to my running club next week."
During the meeting, the four-time Simplyhealth Great North Run winner answered the families' questions about training and motivation.
He said: "It was nice to meet the families today, advising them in terms of training and other things.
"It's really important to keep active as a family and try to encourage my family to be active. Even my daughter, I try to encourage her to be active every day, or do some sort of exercise like swimming or other stuff.
"It just keeps your mind active."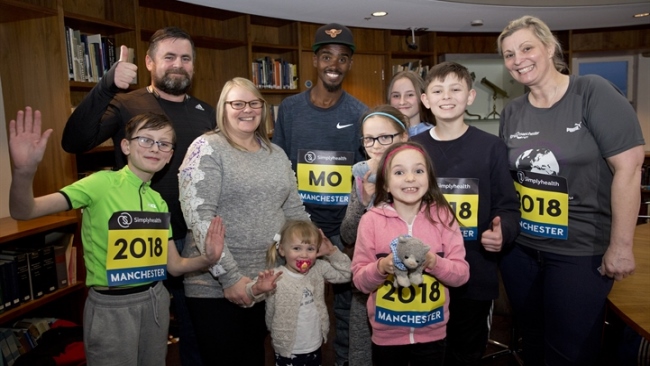 The Simplyhealth Great Manchester Run welcomes people of all ages and abilities to a running celebration in the heart of the city centre. The course goes past Old Trafford, the Imperial War Museum and the Lowry before heading back to the spectator packed finish line in the shadow of Beetham Tower on Deansgate.
The Simplyhealth Mini and Junior Great Manchester Run takes place on the same day as the adult event so young runners and budding athletes can experience the buzz and even share the same start line as their parents.
To be a part of the city's most loved running event click here