Mark'S Great South Run After Receiving Kidney From Wife
Entries for the Simplyhealth Great South Run are open. Enter at: Greatrun.org/south
A man who suffered from kidney failure and received a life saving transplant from his own wife will take on a 10 mile running challenge to thank the hospital that provided him with the operation.
Mark Hamson, from Portsmouth, had his world turned upside down when he was diagnosed with kidney cancer, following a routine medical check.
He and his family were completely shocked by the diagnosis, with him having to undergo an intensive operation to remove one kidney and the tumour.
Although he began to make a recovery, by 2014 Mark began to experience chronic kidney failure and he was advised that he would need to be put on the organ donation register or receive constant dialysis.
As Mark's condition began to deteriorate, the family began to search for a donor. Mark's wife Jackie was one of the people who put her name forward to undergo tests to be a donor and doctors at the Queen Alexandra Hospital in Portsmouth told her she was a match.
After the couple's 25th wedding anniversary in 2015, they both underwent an operation at the hospital's renal unit, where Mark received one of Jackie's kidneys.
Thankfully, following the operation both Mark and Jackie are now doing well, with Mark now thriving.
Following the successful transplant, Mark decided that he wanted to raise awareness about organ donation and to help fund research into at the renal unit.
He decided to lace up his trainers and sign up for the Simplyhealth Great South Run which takes place in Portsmouth on Sunday 22 October.
Mark, 53, said: "The fact that my wife Jackie was willing to donate a kidney to me is such a fantastic, selfless act that I am truly moved every time I think about what she has done.
"My sister Jane and my son Jack who also put themselves forward at the time and were willing to do the same if necessary but Jackie was absolutely insistent that she would be the one to donate a kidney to me.
"Ten months prior she needed a full hysterectomy and also experienced an abnormal mammogram and she still made the effort to undergo the test and volunteered to be my donor.
"On the day of the surgery, she went down first and waved to me as she went past.
"After the operation I felt better almost straight away, although Jackie did feel quite poorly in the aftermath and it just shows what kind of sacrifice she has made!
"Now we are both feeling well which is definitely due to the amazing work of the QA renal unit. "Without my transplant I cannot think of how life would now be.
"Many people manage well with dialysis, but I am also aware that for many dialysis can mean they are unable to work, to socialise, or to really make the most of life, which is why I would encourage any one who is thinking of being an organ donor to go ahead and register."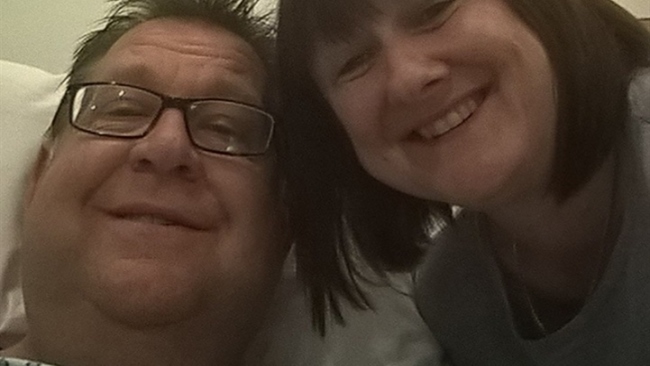 Mark, who works as an International Trade Adviser at the Department for International Trade (South East), will join 20,000 others for the Simplyhealth Great South Run, the world's leading 10 mile running event.
The event features a fast and flat course through Portsmouth and Southsea, with runners being given exclusive access to travel through Portsmouth Historic Dockyard, an active Naval Base.
Participants then cross the finish line on the Southsea coast, with scenic views of the Isle of Wight and the Solent.
Mark has recently joined running group Portsmouth Joggers, who are helping him train to reach the longest distance he has ever ran.
Mark, who is a dad-of-three, added: "Becoming an organ donor is a hugely generous and selfless thing to do and it can make an enormous difference to the lives of others.
"Following my transplant, I really wanted to do something to raise money to help further research at the renal unit.
"Without their fantastic monitoring and management of my condition for over 20 years I would not have been able to even think about doing something like the Simplyhealth Great South Run.
"The furthest I have ever ran was probably for a bus many years ago but I am training with Portsmouth Joggers who have been absolutely brilliant.
"Anything I manage to raise will be donated to support research and hopefully provide facilities for people who are in a position that I once was."
To support Mark's fundraising, click here.
Entries for the Simplyhealth Great South Run are open. Enter at: Greatrun.org/south