Mental Health The Hot Topic For Suffolk Events
Charity runners and swimmers were joined by an Ipswich dignitary and Ipswich Town footballers as the Great East Run and the John West Great East Swim returns to Suffolk in 2020.
Suffolk's most inspiring and popular mass participation swimming and running events were the topic of conversation today as organisers The Great Run Company revealed that this year's events will be the biggest and best yet, with the John West Great East Swim three months away and the ever-popular Great East Run taking place in the autumn.
Ipswich Town players James Norwood and Jack Lankester joined participants of both events alongside mental health charity Suffolk Mind and Suffolk County Council chairman James Finch at the event at Suffolk Food Hall in Wherstead, on the route of the half marathon with picturesque views across the River Orwell, including Orwell Bridge.
With 6,000 people taking part across both events in 2019, they are the biggest mass participation events in the region, with an estimated £200,000 being raised for good causes last year.
Both events are staged in partnership with Suffolk County Council, and Councillor Finch has selected Suffolk Mind as his chosen charity for 2020, with the mental health charity represented today by CEO Jon Neal, alongside two inspiring people who will be taking part in the respective events this year.Katie Roberts, 19, from Lavenham, will be taking on the two-mile distance in the John West Great East Swim on Saturday 20 June, while Craig Bullard will be lacing up his trainers for the Great East Run on Sunday 20 September.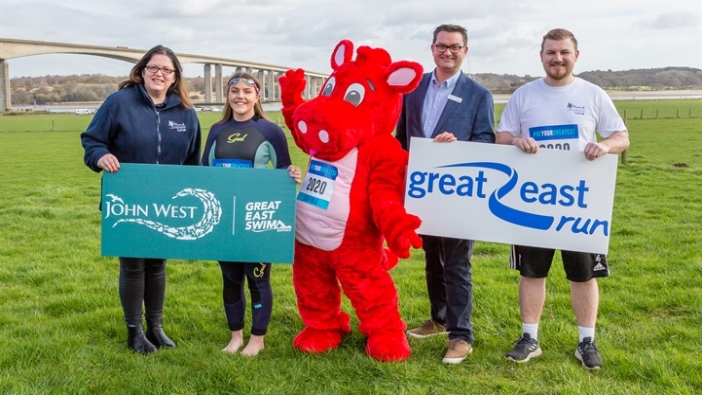 The much-loved events are the highlights in a packed events calendar in the county and are the most popular in East Anglia and support Suffolk's aspirations to become the most active county in England.
For more than a decade, John West Great East Swim has provided thousands of people with exhilarating, challenging and safe open water swimming experiences, with distances to suit all levels and abilities, from the newest and youngest participants up to seasoned marathon swimmers.
Staged at Alton Water in Suffolk on Saturday 20 June, the John West Great East Swim is now in its 12th year and has grown to be a must-do open water swim event, famous for its event village and farmers' market.
Thousands of runners, meanwhile, will soon be preparing to take on a 13.1mile tour of Suffolk on Sunday, 20 September when the Great East Run returns in the autumn.
Last year, 4,000 people took part in the sold-out half marathon and this year's staging is shaping up to be the best yet with exciting new on-course experiences, adding to the electric atmosphere and scenic route that runners know and love.
The route takes runners on a picturesque closed road tour through Ipswich Town Centre, the iconic Ipswich waterfront and into the Suffolk countryside before runners cross the finish line at Ipswich Town Football Club.
The event is staged in partnership with Suffolk County Council, Ipswich Borough Council and Ipswich Jaffa Running Club.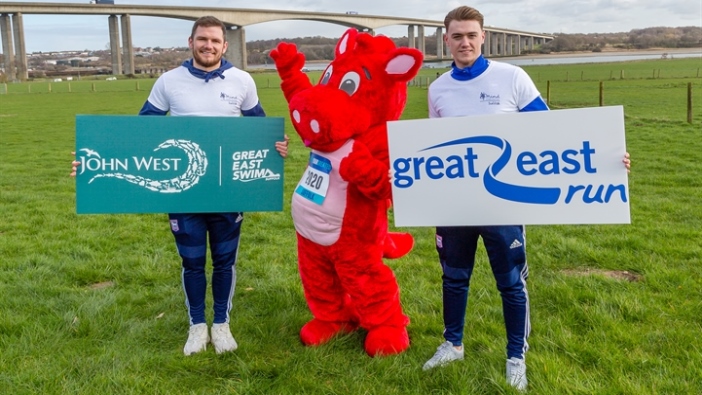 A spokesman for The Great Run Company said: "We're very excited to be coming back to Suffolk in 2020 to stage two of the county's biggest mass participation events. We've been proud partners with Suffolk County Council for more than ten years now and we're thrilled that both events have grown year on year, giving people something to focus on and train for.
"Our participants speak so well of both the Great East Run and John West Great East Swim and have raised a fantastic amount of money for good causes over the years and we're delighted to be bringing both events back to Suffolk this year."
Jon Neal, CEO of Suffolk Mind, said: "We're so pleased to be partnering with Suffolk County Council to offer people the opportunity to take part in two big sporting events for Suffolk Mind.
"Fundraising through activities such as the Great East Swim and the Great East Run helps us in our mission of making Suffolk the best place in the world for talking about and taking care of mental health.
"It can help people who can't afford to wait or go private to access our Healthy Minds Counselling Service and it allows us to run our GreenCare service, providing people the outdoor space to meet others and feel supported."
Coun James Finch, Chairman of Suffolk County Council said: "I'm delighted that Suffolk Mind, which is my nominated charity for my year in office, is partnering with the county council for these two important regional events. Physical activity is so beneficial for people, not just for the body but also for the mind.
"Therefore everyone taking part in these events will not only feel the benefit to their own physical and mental health, but also by raising money and awareness of the important work of Suffolk Mind, they will be directly helping others too."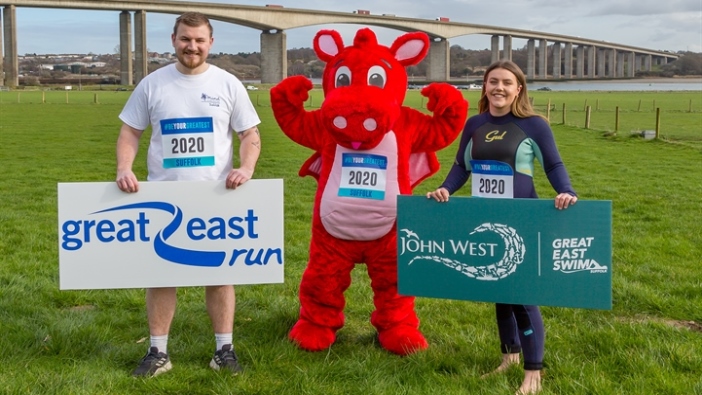 Katie Roberts, who is taking on the Great East Swim in June, decided to sign up and raise money for Suffolk Mind after a challenging 2019 which left her having to temporarily stop playing rugby to a high standard. She decided she would like to fill 2020 with as many positive and exciting experiences as possible.
She said: "People looked at me and thought I was always happy, and I didn't want anyone knowing I was struggling – so having a platform like Suffolk Mind where you can get help and advice straight away, really helped me.
"I wanted to challenge myself to do this for Suffolk Mind, as it is a way of meeting my need for meaning and purpose and I want to support them like they supported me through my tough times."
Craig Bullard, who works at Suffolk Food Hall, began fundraising for Suffolk Mind last year, where he organised and took part in an endurance challenge with a team of work colleagues to run 24 miles a day for 7 days, raising more than £1200.
He said: "Suffolk Mind is close to my heart because over the years, a lot of friends and family have requested their help and I have been able to see some of the great work they do.
"For me personally, as a child, I was quite angry all the time, never to a severe state, but enough to realise as you get older that it is not good for you or those around you. I was forever stressed as a teenager, which felt expected and "normal" from superiors that remind you, you're a teenager. I still felt I couldn't stop that short fuse after my teenage years.
"The guidance given to me from Suffolk Mind allowed me the opportunity to identify the trigger points and how to not let things build up to the point of detonation. I'm still learning that, and using those emotions positively as best I can, because all I want to do is be the best me, I can be."
Alison Beech, of Ipswich Jaffa running club, said: "Ipswich Jaffa is once again delighted to be supporting the Great Run Company with this event, and will be providing marshals for the Run/Swim team event."
Entries for the Great East Run and John West Great East Swim are open. For more information, visit greatrun.org/Suffolk