Mike'S Gutsy Great South Run After Major Surgery
Enter the Simplyhealth Great South Run at: Greatrun.org/South
A man who went through three major operations after he was diagnosed with Ulcerative Colitis has fought back from the debilitating condition and plans to tackle 10 miles while dressed as a giant colostomy bag.
Mike Sharpe, from Southampton, was diagnosed with Ulcerative Colitis and was forced to have three operations to control his condition.
The inflammatory bowel disease currently has no cure and is a condition where the large bowel becomes ulcerated and becomes debilitating for the sufferer.
Having a colectomy two years ago saved Mike's life but meant that he relied on the use of a bag for over a year.
Following unsuccessful drug therapies in 2015, Mike went through the three operations in the space of 18 months at Southampton General Hospital after collapsing due to a flare up of the condition.
During the first operation, Mike had his colon removed, and a stoma bag fitted.
He lived with the stoma bag for over a year, before having the final operation to remove and reverse it.
Although Mike now lives without one of his organs, he remains determined to live as normal life as possible and to raise awareness and funds for research into Inflammatory Bowel Disease.
Mike, who was a keen runner until he stopped due to his condition flaring up, has decided to take up his favourite hobby again and embark on a fundraising challenge for Crohn's and Colitis UK.
After joining an online support group and making friends with someone who created Ostomy bag covers, he had the idea of running a mass participation event while dressed as a colostomy bag.
He will take on the Simplyhealth Great South Run on Sunday 22 October in the bespoke, quirky costume.
Mike, 56, said: "I went through three major operations totalling 16 hours to manage my condition after I was told that I would need to have my colon removed as it may burst at any time.
"I went through the operation to remove it and create a stoma, before having the reversal operation a year later.
"Having the Colectomy saved my life but I was reliant on the use of the stoma bag for 16 months which meant I had to undergo some lifestyle changes.
"When I was diagnosed with Colitis after suffering from really bad stomach problems and weight loss, I realised that there was a huge stigma for people with this condition.
"People generally don't talk about toilet habits and issues, so it can be very awkward for some people to be open about their symptoms for fear of ridicule.
"Some like me don't even go to the doctor until it is too late to have any effective treatment and I decided that I wanted to raise awareness to help others come to terms with their condition.
"This is where my costume idea was born as I was introduced to Lesley Jenking Hughes who makes products and covers for Colostomy Bags that help people come to terms with what has happened to their body.
"She then agreed to design me a colostomy bag costume to run the Simplyhealth Great South Run in."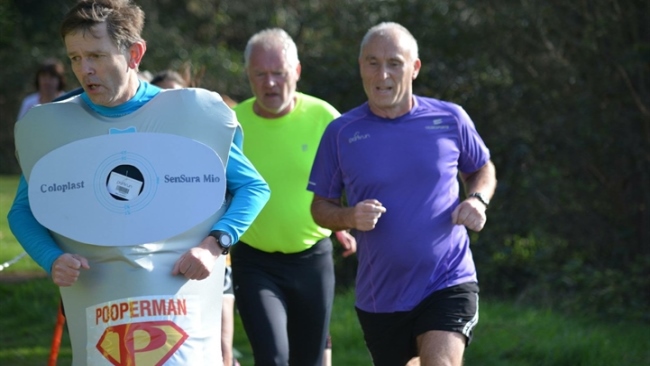 Mike will join over 20,000 others at the Simplyhealth Great South Run, which is the world's leading 10 mile running event.
Participants take on a fast and flat course through Portsmouth and Southsea, through Portsmouth Historic Dockyard, before crossing the finish line on the sea front with beautiful views of the Solent.
Mike is aiming to raise £2,000 for the cause and is well on his way to achieving the total amount.
He added: "I started running when I was 19 but I had to stop because I was suffering from bad stomach problems which later was diagnosed as my Colitis.
"For me I hope the future is relatively normal. I still suffer some issues and have to take antibiotics every day, but I have a positive will do attitude so will not let this beat me."
Support Mike's fundraising here.
Enter the Simplyhealth Great South Run at: Greatrun.org/South