Miracle Erin Runs For Charity That Saved Dad'S Life
Entries for the Simplyhealth Junior and Mini Great Manchester Run are open. Enter at: Greatrun.org/Manchester
The miracle baby daughter of a man who was told that it would be virtually impossible for him to become a dad to take on a running event to raise funds for the hospital that helped make his dream come true.
Adam Irvine, from Droylesden, Tameside, was diagnosed with stage four testicular cancer when he was just 26-years-old.
His prognosis was extremely poor because the cancer was so advanced. He faced gruelling chemotherapy sessions and underwent life saving surgery at The Christie NHS Foundation Trust in Manchester.
After overcoming the odds to beat the disease, Adam and his wife Lisa spent over a year trying for a baby with no success.
Doctors said that it would be almost impossible for them to conceive naturally and so they sought advice from IVF specialists.
But just weeks before their appointment, the couple were shocked to discover that they were expecting a baby.
Four years later, Adam and his miracle daughter Erin will take on a running challenge to offer awareness and hope to other families affected by cancer.
Erin will take on the Simplyhealth Junior and Mini Great Manchester Run on Sunday 28 May when it heads to Manchester city centre on a packed weekend of sport.
Adam will also be taking on the Simplyhealth Great Manchester Run Half Marathon which kicks off on the Sunday morning.
He hopes that by taking on something as a family, that Erin will be aware of how important the charity were in making her Dad better again.
Adam, 35, said: "After the treatment that I received at the Christie, I defied the odds to make it out the other side but doctors warned me that it would be difficult to conceive because of my treatment.
"Once I got the all clear in 2009, we decided we wanted to try for a baby. Lisa and I spent around 18 months trying to conceive but to no avail.
"We decided to start looking into the IVF route as we were willing to try anything to make it happen for us.
"Then just as we were ready to book an appointment, Lisa told me she was pregnant. We couldn't believe it!
"We wanted it so much and after everything we had been through, it was a lovely end to the story.
"I threw myself into fundraising to try and repay the Christie in some way for the amazing help I received.
"I have taken on the Simplyhealth Great Manchester Run 10k before and I am doing the half marathon this year, so we thought it would be fitting to get Erin involved too.
"She helps us with our fundraising because she knows that the hospital helped make her Dad better."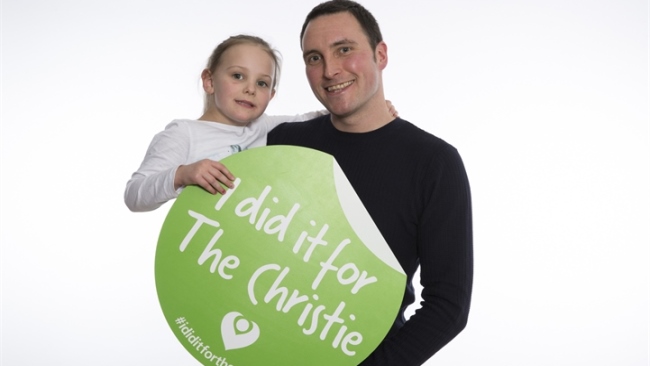 Erin will join 2,000 other children at the Simplyhealth Junior and Mini Great Manchester Run who will be given the chance to follow the same route as elite athletes, celebrities and thousands of 10k runners for last 15 years.
Children will start and finish on Portland Street before the 10k runners, making the event perfect for parents who are taking part in the Simplyhealth Great Manchester Run.
The day also includes the brand new half marathon distance, featuring 8,500 runners.
Adam is taking part in the half marathon distance and also raising money for the Christie.
He and Lisa are also expecting another baby.
Adam, who works as an engineer, added: "Hopefully, our story will offer hope to other couples and we are so grateful to The Christie for the treatment I received.
"It's down to them that I'm still here and we're in this position. I went in broke and they fixed me, I owe them everything."
Entries for the Simplyhealth Junior and Mini Great Manchester Run are open. Enter at: Greatrun.org/Manchester