Mum And Dad To Run In Portsmouth For Their Daughter
A Bosham couple are preparing to run 10 miles for their daughter who has been fighting cancer for the last year.
Michael and Polly Neville will take on the Simplyhealth Great South Run in Portsmouth on Sunday 21 October to raise funds for three cancer charities, The Sussex Snowdrop Trust, CLIC Sargent and Sarcoma UK.
Their 5-year-old daughter Snowy was diagnosed with Rhabdomyosarcoma in September 2017. On her first day of primary school her parents noticed a swelling above her eye which developed into a large lump within a few days.
Snowy had to undergo surgery to remove the tumour and then completed nine rounds of intensive chemotherapy.  The family also spent two months in the USA where she underwent Proton Beam Therapy.
Luckily, treatment concluded in May and Snowy is now back at school.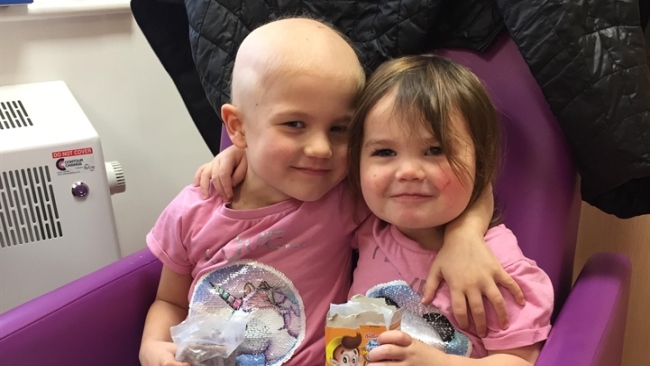 Snowy's dad, Michael, said: "When you are told your child has cancer, your life is shattered into 1 million incomprehensible pieces. And then you simply have to begin what feels like the impossible task of reconstructing that picture of life you had before cancer.
"It has been tougher than anything I ever hoped we would have to face up to as a family.  But we stuck together and I am so proud of my incredible wife and two daughters.
"Snowy herself has never complained about the gruelling treatment and her younger sister, Posy, who is just 3-years-old, has been an emotional rock for her big sister.
"We have been supported by an incredible network of NHS workers, charities, family and friends."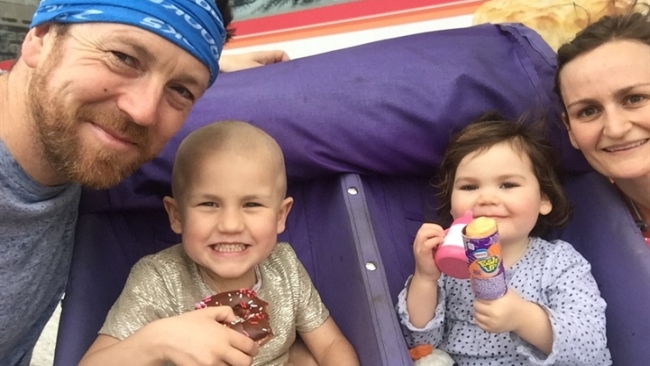 Following the diagnosis Michael and Polly set up a TriEveryDay4Snowy campaign that aims to help families in similar situations and raise money for children's cancer charities.
The campaign grew from Michael doing an Olympic Triathlon for every one of 200 days of Snowy's treatment. He would complete the 1.5km swim, 40km bike and 10km run at times of the day which did not impact on treatment or family time.
This encouraged others to take on their own challenge and soon they had a team of TriEveryDayers who were pushing themselves through a range of physical challenges.
Michael, 39, added: "I love running but I also love swimming and cycling.  So on that first day, I completed an Olympic Triathlon to try and find a better place.
"This meant very long days but it seemed to be getting me through. I was feeling strong and positive.
"Each day, I swim, run and bike.  It was initially for self-preservation, but now it is about a commitment.  A commitment to the families who are in our situation.  A commitment to Snowy, Posy and my incredible wife, Polly."
So far the family managed to raise over £50,000 for The Sussex Snowdrop Trust, Clic Sargent and Sarcoma UK but aims to raise more funds by doing the Simplyhealth Great South Run on 21 October.
Michael continued: "The Great South Run has been our favourite event of the year for some time now.  The city is alive and the crowds are great.  It is a great course with a sting in the tail when you hit the last two miles along the sea front.
"As much as I love race day, it has repeatedly annoyed me as I always miss the 60 minute barrier by a few seconds. This is the year! I know the strength that Snowdrop has shown this year will push me sub one hour."
Snowy's parents will join 20,000 runners at the Simplyhealth Great South Run, which celebrates the iconic sites of Portsmouth across a virtually flat 10 mile course, including the Historic Dockyard and Spinnaker Tower.
The weekend also includes the Simplyhealth Great South 5k and the Simplyhealth Junior and Mini Great South Run, taking place the day before on Saturday 20 October.
For more information about the Simplyhealth Great South Run and to enter, visit: Greatrun.org/South
To find out more about TriEveryDay4Snowy campaign and donate, visit: www.trieveryday4snowy.com