Mum Signs Up For Great South Run Son'S Death Age 21
Every runner has a story, it's time to start yours. To enter the Simplyhealth Great South Run, visit: Greatrun.org/South
A mum will take on the Simplyhealth Great South Run this year in memory of her son who died of Leukaemia when he was just 21.
Lucy Hooker, from Four Marks, near Alton in Hampshire, is set to take on her first ever running challenge after she lost her son Sam in 2016. Sam died in May of that year after bravely fighting Acute Lymphoblastic Leukaemia (ALL) for almost two years.
His diagnosis at just 19-years-old was a huge shock to him and his family, after he complained of back pain before undergoing blood tests.
He spent most of his time in and out of hospital as an inpatient at the C6 Teenage and Young Adult Cancer Ward (TYA) in Southampton General Hospital, having been treated there with chemotherapy and following his relapse in 2015.
Now Lucy will take on the Simplyhealth Great South Run on Sunday 21 October along with her sister Claire to raise money for the Teenage Cancer Trust, who funded the ward.
Lucy, 43, said: "Sam was diagnosed with leukaemia in June 2014, which was a huge shock to us as he had never shown any signs of being ill before, except small back pain that went on for two weeks.
"He had such a bright future ahead of him, he was 19-years-old and at college studying to be a carpenter when his life completely changed.
"He had blood tests and within a day we were told that Sam had Acute Lymphoblastic Leukaemia and we were transferred to Southampton General Hospital.
"Sam spent fifteen and a half weeks there as an inpatient undergoing intensive chemotherapy cycles. He then was in and out of hospital for the next two years and he continued to receive treatment there when he relapsed.
"We honestly could not have wished for better care and everyone there was just amazing, we made friends for life and now refer to them as our TYA family.
"Sam fought so bravely and with such dignity even though he was seriously ill and confined to a wheelchair towards the end, his passing came as a huge shock to us as he had always been up and down and we expected him to improve once again.
"We decided to fundraise to support the Teenage Cancer Trust because we are confident that Sam would not have lived for as long as he did without the support of the C6 TYA ward.
"Some of Sam's friends took part in the Simplyhealth Great South Run for the Teenage Cancer Trust, last year and I went to support them and just knew I had to take it on as my own challenge."
Sam tragically passed away in May 2016, following a relapse in 2015, resulting in more gruelling treatment which affected his immune system and blood cell count.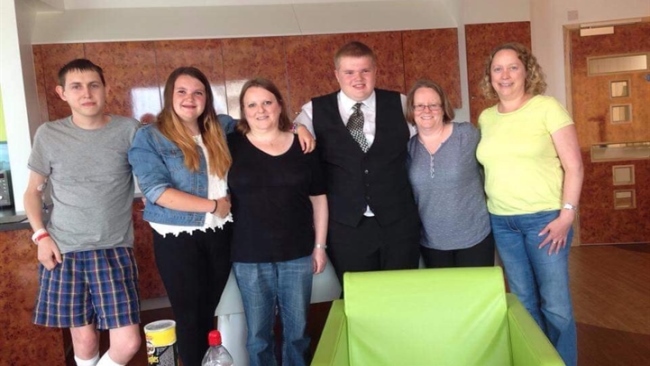 With the family spending so much time on the ward, all of the staff and patients there became close to their hearts.
Lucy, who works as a customer service assistant for the Southern Cooperative, has never taken part in a running event before but is determined to set herself new challenges following the loss of her son.
Last year she watched Sam's friend Tom Harris run the Simplyhealth Great South Run in Portsmouth, despite recovering from a brain injury, which made her determined to tackle the event for Sam.
The event features 20,000 runners who will make the 10-mile challenge their greatest victory across a fast and flat course that starts and finishes on the sea front, overlooking the Solent.
Lucy added: "My sister and I decided to challenge ourselves to get to the finish line of the Simplyhealth Great South Run, no matter how long it takes us.
"One of the things we loved about the ward was that it allows young people to be with other patients who are their own age, as well as en-suite rooms and facilities for their parents if they wanted to stay.
"We met so many others going through the same rollercoaster journey and without the love and support of the staff and our TYA family our journey would have been impossible.
"Sam, along with the rest of the TYA patients who are no longer with us and those that are still fighting will be the inspiration to get us around the course and across that finish line."
To support Lucy and Claire's fundraising, visit: https://www.justgiving.com/fundraising/sams-sloths
To enter the Simplyhealth Great South Run, visit: Greatrun.org/South