Mum To Take On Her First 13.1-Mile Run In Memory Of Son
A mum will take part in the Simplyhealth Great Birmingham Run in memory of her son who died from brain tumour just days before marathon.
When Sandra Barnbrook's son Stuart was diagnosed with an aggressive brain tumour at just 32, she felt her whole world turn upside down. Tragically, just five weeks after the family was told the devastating news, he passed away.
Dad-of-one Stuart Pearson, who worked at Stourbridge company Garden Pleasure, had been training for last year's first Birmingham International Marathon but died on 1 October, days before he was due to join the starting line.
Sandra said: "I said I'd run to the ends of the world for him, but he said 'Mom, do the half marathon, that's enough'. So, I'm doing the Great Birmingham Run for him."
Despite having never run before, she decided to sign up for the Midlands' biggest half marathon on 14 October, as a way of honouring her son's memory.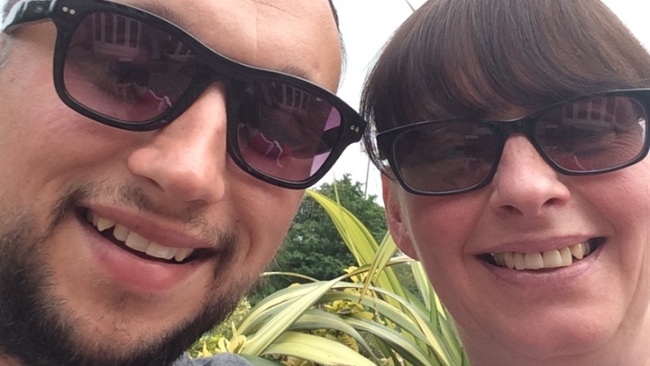 The Simplyhealth Great Birmingham Run returns to its spiritual home of Broad Street for 2018 after organisers The Great Run Company unveiled a new and improved route and an earlier morning start time.
Participants now set off from the city's 'Golden Mile' and run along leafy Highfield Road in Edgbaston before going down 'The Hill' of Lee Bank Middleway; once a challenging incline near the end of the half marathon.
After taking in the sights of Edgbaston, Cannon Hill Park and Bournville, the Great Birmingham Run finishes in front of thousands of cheering spectators on Jennens Road and the Aston University campus.
The popular 13.1-mile run also features the Business Challenge, which invites office teams to compete for fastest-time trophies and helps CSR commitments, raising funds for company charities or foundations, or simply boosting office morale and team spirit in the workplace.
The day 51-year-old Sandra set out in her trainers for her first run it was snowing. But neither her lack of experience nor the weather put her off and instead she discovered a way of starting to deal with her grief.
She said: "I realised I had started to do nothing other than sit around the house. I needed to do something that was going to make me feel better. When I am running I feel completely free; there is nothing else in the world, just me. That time away from everything and being outdoors has helped me focus on what has happened and it has helped me start to deal with my grief."
The emotional benefits of running paid off so much that in no time at all Sandra, from Brierley Hill, was running regular 5ks and over the last couple of months she has completed her first charity 10k. She is taking part in the Simplyhealth Great Birmingham Run to raise funds and awareness for Mary Stevens Hospice and will be cheered on by her husband Andy.
Sandra said: "Stuart put up an amazing and brave battle, and was taken from us far too young. He'd never smoked, he went to the gym and really lived life to the full. It was so, so sad.
"He was cared for by the team at Mary Stevens Hospice for his last five days and we couldn't have got through that time without their support. This is my way of remembering my son and saying thank you to the staff for all their kindness.
"I don't expect for a minute that I will run every step; I know that there will be sections where I will have to walk. I don't care if I am the last person to finish, but I will finish and every step will be for Stuart."
Ruth Longville, from the Mary Stevens Hospice fundraising team praised the efforts of Sandra, and the other runners who will be fundraising for the charity. She said: "Thanks to the sheer determination, dedication and generosity of supporters such as Sandra, our patients and their families will continue to receive the level of care and support that we pride ourselves on being able to provide. For Sandra, knowing that she has contributed towards this is a perfect and fitting tribute to her wonderful son."
Anyone who entered the Simplyhealth Great Birmingham 10k will receive a £10 discount on their entry fee for the Simplyhealth Great Birmingham Run half marathon.