Mum'S Baby'S Premature Birth Inspires South Run Sign Up
To enter the Simplyhealth Great South Run visit: Greatrun.org/South
A woman whose baby was born prematurely at just 25 weeks is set to take on the Simplyhealth Great South Run to raise money for the charity that supported her in the aftermath of the birth.
Sarah Davies, from Fareham in Hampshire, gave birth to her daughter Hope in 2014, who weighed just 2lbs.
Hope spent the first 10 weeks of her life in the neonatal unit in the Queen Alexandra hospital in Portsmouth, where she was put into quarantine and had numerous blood transfusions.
Hope's situation was devastating for her parents Sarah and Paul, who had suffered a pregnancy loss two months before falling pregnant with their daughter.
Despite the odds being stacked against her, Hope was able to return home a month before her original due date.
She came home on oxygen and had regular visits from nurses, but eventually became oxygen free that October.
Hope, who is now four, is now thriving and is preparing to start school later this year and Sarah decided that she wanted to do something to support other families and their babies who go through a similar thing.
During her time in hospital, she learned of the Ickle Pickles charity who provided her with support and guidance during a period of uncertainty.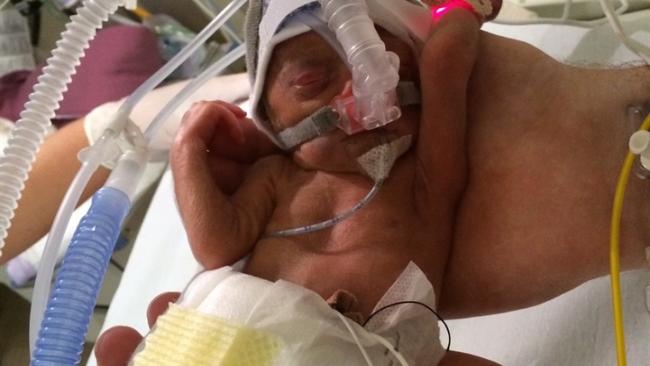 Sarah will take part in the Simplyhealth Great South Run on Sunday 21 October in support of the charity.
Sarah, 33, said: "I suffered a pregnancy loss at two days short of 20 weeks in 2014. After a post-mortem we were still none the wiser and got referred to our consultant to look after us during future pregnancies.
"Two months later we fell pregnant again and I was apprehensive and decided we should call this bump Hope because we were hopeful it would good well.
"Everything was going great until my 20 week scan, this was a milestone for me as I hadn't made it this far previously. "Following the scan I was wheeled into the labour ward and told that there was only an 11 per cent chance that the baby would survive as I was 4.2cm dilated!
"I had a cervical stitch put in and was put on bed rest in the hospital until the baby was born. I managed to hold on for five weeks but at 25 weeks I went into natural labour again and despite the efforts, Hope was born 14 weeks and two days early.
"She weighed just 2lb, which is 907 grams. I saw her for about five seconds before she was whisked away to the neonatal unit.
"This was so hard and we were full of mixed motions, we knew we had a very bumpy road ahead.
"I tried to make myself useful by changing her incubator blankets every day and when allowed buying outfits for her and changing her. This made me feel like a mum being able to have some control on the decisions for my daughter.
"It took two weeks before we were able to hold her and this was the best feeling ever. "After spending months in hospital, we were finally able to bring her home and use all of the things we had bought for her. We've never looked back.
"I learned about the work of Ickle Pickles through our own experience and I try to get involved as much as I can. Without their support Hope may not be here so I decided to run the Simplyhealth Great South Run on their behalf."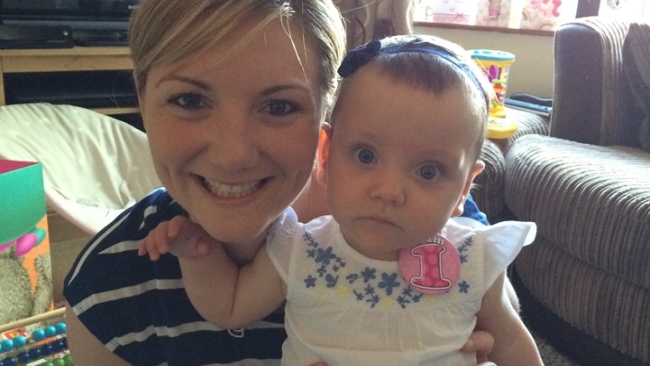 Sarah will join 20,000 others who will make the Simplyhealth Great South Run their greatest victory when they conquer a 10 mile challenge in Portsmouth.
Whatever their pace or motivation, the thousands of participants take in the historic sights across a course that celebrates everything that's great about the city.
Sarah, who works as an accounts manager, added: "Ickle Pickles help to raise money to buy all the equipment used to keep babies alive. The list of how they have helped people like us is endless and I want to do all I can to help others in my situation.
"I am currently running a couple of times a week as part of Fareham Crusaders running club and doing something like this event makes me feel very proud as I want to make a difference.
"I can honestly say that this was the best and one of the worst experiences of our lives but we have our beautiful daughter and a second child too a little boy Michael and have made some forever friends."
To enter the Simplyhealth Great South Run visit: Greatrun.org/South