Natalie To Run Manchester After Getting Kidney From Dad
Entries for the Simplyhealth Junior and Mini Great Manchester Run are open. Enter at: Greatrun.org/Manchester
A schoolgirl who now has three kidneys after she received a lifesaving transplant from her father is to take on a running challenge to raise awareness about organ donation.
Youngster Natalie Elliott, from Wilmslow in Greater Manchester, received a kidney transplant when she was just 10 years old after one of her organs began to fail.
The family were enjoying a fun holiday in America in 2013 when Natalie was admitted to hospital there after having her tooth knocked out.
They were shocked when the doctors revealed after routine blood tests were carried out that she might have kidney problems.
Natalie was diagnosed with a rare chronic kidney disease called Nephronophthisis on her return to the UK and was placed in the care of the Royal Manchester Children's Hospital.
Her Mum Joanna and Dad Chris were told that her only option would be to have a kidney transplant as it would continue to deteriorate rapidly.
Natalie's kidney deteriorated to a functioning level of 20 per cent so both Joanna and Chris underwent a test to see if either were a match for a donor.
Thankfully, Chris was a match for Natalie and in 2015, she received her lifesaving transplant with her Dad's gift. Although one kidney does not function, Natalie is now the proud owner of three kidneys and can live a relatively normal life.
The family then set out on a fundraising mission to raise awareness about the need for organ donation. Natalie, who is now 11, will join in the fundraising this year with her cousins at the Simplyhealth Junior and Mini Great Manchester Run on Sunday 28 May.
Joanna and a team of others will also tackle the 10k at the Simplyhealth Great Manchester Run on the same day, making it a packed day of running for the family.
Joanna, 47, said: " Natalie got her tooth knocked out while we were on holiday so when we went to the hospital there to get it sorted we discovered that she had kidney problems.
"We had an ultrasound scan while we were in America and then on our return to the UK, we found out that Natalie's right kidney was functioning very low.
"It is a hereditary condition that means that although at first Natalie's kidneys were fully functioning, they then begin to deteriorate quite rapidly with age.
"Doctors said our only option would be for Natalie to undergo a transplant.
"By 2014 her kidney had begun to deteriorate rapidly along with her health as it helps with your growth and keeping the blood clean.
"The search began for a donor and Chris was a six out of six match. He was never nervous, he was just anxious for it to work and for the operation to all go to plan.
"It took longer than expected but it worked and Natalie was given her third kidney as none were removed.
"We are so grateful for the opportunity to give Natalie a better chance at life and she has developed into an incredibly active young person."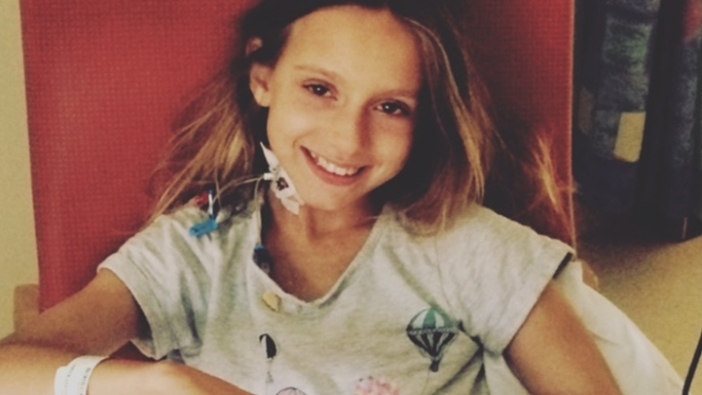 Natalie will join 2,000 other children for the Simplyhealth Junior and Mini Great Manchester Run, which is the North West's biggest children's running event.
Children of all ages and abilities will take on the 1.5k and 2.5k courses in a brand new city centre location which is perfect for parents who are also taking on the 10k the same day.
Natalie will be raising money for Kidneys for Life, a Manchester-based charity that helps research into kidney diseases and helps adults and children have a life changing experience if they require a transplant.
Joanna, who works in finance, added: "Natalie's recovery has been amazing, she has thrived since her transplant and has made such a great improvement in her life.
"She returned to school within weeks and has taken part in the Transplant Games, which is great for awareness.
"The Simplyhealth Junior Great Manchester Run is another way that Natalie has decided to help give other children a life changing experience. The whole day will be a great day for us to fundraise for the charity and we have a huge team taking part."
To support Natalie visit the family's fundraising page.
Entries for the Simplyhealth Junior and Mini Great Manchester Run are open. Enter at: Greatrun.org/Manchester