New Wrong Trousers Fancy Dress At Bristol Family Run
Entries for the Simplyhealth Great Bristol 10k and the Simplyhealth Great Bristol Family Run are open. Enter at: Greatrun.org/Bristol10k
Families taking part in the Simplyhealth Great Bristol Family Run will be able to experience a 'Grand Day Out' with a special twist, as this year the event will offer a 'Wrong Trousers Day' fancy dress theme.
This colourful addition to the run will raise awareness for the local nominated charity, The Grand Appeal, the Bristol Children's Hospital Charity, by supporting their annual fundraising initiative, Wallace & Gromit's Wrong Trousers Day.
Children and their families who are taking on the inclusive mile run are encouraged to don their wildest, wackiest and most wonderful wrong trousers at the popular running event on Sunday 7 May.
Hundreds of families, school friends and young runners are expected to take to the start line near Bristol Harbourside for the event, which takes place after the Simplyhealth Great Bristol 10k.
Runners can parade around in their pyjamas, shimmy along in sequins or have some fun in funky flares. Mums and dads will be able to get in on the fun too!
As well as a finisher's medal for each participant, youngsters will receive a personalised Wallace & Gromit's Wrong Trousers Day race number and there will be on-the-spot prizes for the most extravagant trousers on the day.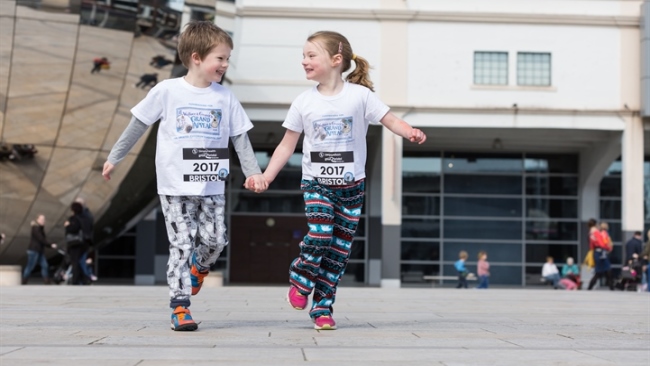 The Grand Appeal hope that encouraging people to wear outlandish and silly trousers at the Simplyhealth Great Bristol Family Run will inspire children to collect sponsorship and raise valuable funds to transform the lives of sick babies and children at Bristol Children's Hospital.
Amber Janney, Events Fundraiser at The Grand Appeal said: "We're delighted to be the official local charity partner for the Simplyhealth Great Family Run for a second year and can't wait to see the start line filled with young fundraisers in their most fabulous wrong trousers!
"We look forward to cheering all the children, parents and grandparents on in this special race, which will be a huge amount of fun for everyone involved."
Children aged three years and over can run, jog or walk with their families at the Simplyhealth Great Bristol Family Run, which is the perfect way to enjoy getting active together.
The mile long course is based around the main event village at the Harbourside, central Bristol, with lots of supporters and spectators guaranteed.
The event forms part of a packed weekend of sport, when over 12,000 runners also take to the Simplyhealth Great Bristol 10k course, which makes the most of Bristol's picturesque backdrop.
Entries for the Simplyhealth Great Bristol 10k and the Simplyhealth Great Bristol Family Run are open. Enter at: Greatrun.org/Bristol10k