Parents Pay Back Children'S Hospital At Birmingham 10K
To enter the Simplyhealth Great Birmingham 10k click here
A kind-hearted couple whose son received heart surgery at Birmingham Children's Hospital will be taking on the Simplyhealth Great Birmingham 10K to say thank you for the hospital's life-saving care.
Born prematurely at 31 weeks, one of Neil and Kezia Curtis' twins, Harry, was diagnosed at 12-weeks-old with Atrial Septal Defect and Ventricular Septal Defect – which meant he had two holes in his heart.
To get him fit and healthy again, just like his identical brother Jack, Harry had open heart surgery at Birmingham Children's Hospital shortly after his diagnosis, to close up the holes in his heart.
Now 15 months old and making incredible progress, his Rugeley parents can't wait to don their running gear on Sunday 30 April and pace for pounds in aid of the hospital's Cardiac Unit.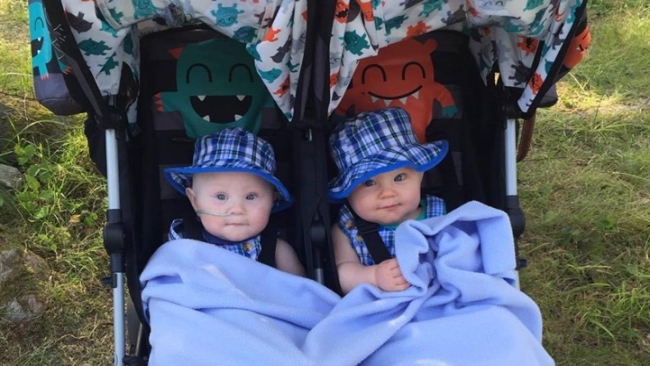 Inexperienced runner, 36-year-old Neil, said: "Both myself and Kezia aren't really runners, but we thought the Great Birmingham 10K would be a great way to help raise some funds for a fantastic hospital, which has done so much for us.
"Harry's surgery has made a phenomenal difference and we can't thank the children's hospital enough for making our son's life amazing. His health has improved dramatically, he's happy all the time and he's nearly even caught up in size with his brother and best friend, Jack!"
Anyone 15 years old and over can join Birmingham Children's Hospital Charity's dynamic duo and take part in this iconic event, which takes in some of Birmingham's most famous sites.
Annie Eytle, Acting Events and Regional Fundraising Manager at Birmingham Children's Hospital Charity, added: "We're truly thankful to Neil and Kezia for deciding to fundraise with their feet and say thank you to our amazing doctors and nurses in this unique way.
"The Great Birmingham 10K is always one of our favourite events, as we witness a sea of red take over the streets of Birmingham. On the day, we'll be cheering on Neil, Kezia and our other incredible supporters, so make sure you sign up to support us too!"
The Great Birmingham Run Series is one of the hospital charity's biggest annual fundraisers and so far, over 300 participants have joined the 10k. To get involved, visit bch.org.uk/content/great-birmingham-run.
The Simplyhealth Great Birmingham 10K is accessible to all levels of ability, whether you walk, jog or run the route.
This year's 10K features the Commonwealth Games challenge, which is aiming to highlight Birmingham's bid to host the Commonwealth Games in 2026.
Runners from as many Commonwealth nations as possible are being sought to represent their countries and make the 10K a truly international event.
Applicants interested in representing their Commonwealth nation or territory should apply via a dedicated email address, commonwealth@greatrun.org and be able to confirm they are a passport holder or born in the relevant Commonwealth nation.
The Simplyhealth Great Birmingham 10K will be televised live on Channel 5 on the 30th April.
To enter the Simplyhealth Great Birmingham 10k click here
To donate to Neil and Kezia's JustGiving page, visit justgiving.com/fundraising/Neil-Curtis5