Paul And Team Ready To Take On Business Challenge Again
BUSINESSES from this year's Simplyhealth Great Manchester Run event are already looking forward to the 2018 date after signing up to Manchester's Greatest Run.
A team from housing association One Manchester took on the Simplyhealth Great Manchester Run Business Challenge, running for charity SPOONS, who provided care and support to transformation manager Paul Lowe and his wife when their son spent 12 days in hospital, recovering from acute septicaemia. The team raised £2,000 for SPOONs on the day.
Paul said of the event: "The run was ace. We all had a great time and considering the events leading up to it the whole city rocked on the day. I couldn't have been happier as we essentially doubled our initial funding target.
"I was both touched and humbled by everyone's efforts to raise funds, especially as the charity was very close to my heart.
"The atmosphere was great and the fact that so many people turned out to watch showed how resilient and supportive Mancunians and the wider community are.
"I will definitely be doing it next year and roping in a few of my friends to run too."
OpenIP Ltd, an IT consultancy and telecoms service, entered a team of seven people to raise money for a charity providing support and accommodation to one of its employees' daughter as she underwent cancer treatment.
10-year-old Mia, daughter of senior technical engineer Alex, has been receiving treatment at the Royal Manchester Children's Hospital since October last year, after a scan for stomach pains and weakness in her legs revealed a mass on her spine.
The team raised more than £1,500 for Ronald McDonald House, who provided Kirsty, Mia's mum, with permanent accommodation in Manchester while Mia underwent treatment.
Natalie Tite, operations manager at OpenIP, said: "It went really well – we all completed the race ranging from 50 minutes to 1 hour 45 minutes all spurred on by the thought of raising money and defiance over the events that happened in Manchester days before.
"We enjoyed the experience so much that the team is already planning to run again next year."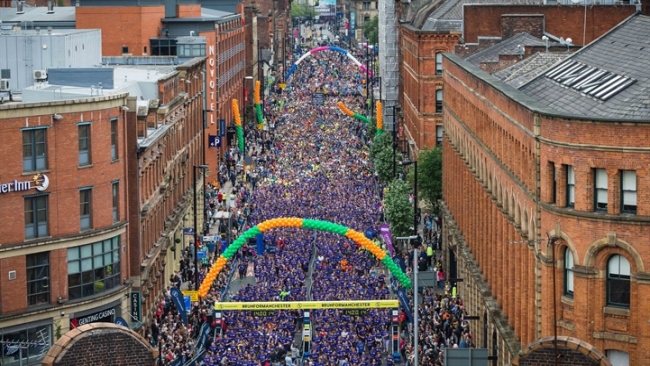 Business Challenge Back For 2018
THE Business Challenge will return for 2018 as part of the Simplyhealth Great Manchester Run events after several Manchester businesses were crowned the city's fastest companies.
More than 150 companies and organisations entered teams of runners to compete for the prize of Manchester's Greatest Businesses and raise hundreds of thousands for local and national charities as they took on the 10K and half marathon distances at the Simplyhealth Great Manchester Run.
In May, the people of Manchester united in a display of solidarity, determination and resolve as the Simplyhealth Great Manchester Run was staged just days after the terrorist attack on the city.
In the 10k, Five Plus Architects Limited won the small business prize, clocking a combined time of 3.01.59. In the medium business category, DNV GL were winners in 2.34.19, while Arup retained the large business prize with 2.30.30.
A team from ITV soap Coronation Street were runners up in the mixed category to a team from Manchester Grammar School.
In the half marathon, RCS Doors were the winners in the small business category with a time of 7.51.05, while Fichtener Consulting Engineers took victory in the medium business category, clocking 6.48.08. Bruntwood were the winners of the large business category in a time of 6.35.40.
The Business Challenge has become an annual fixture in the calendar of Manchester businesses, taking place as part of the mass participation running events which sees more than 30,000 people run, jog or walk their way through city centre streets, and returns to the city on Sunday, 20 May, 2018.
Once again, the Business Challenge will be supported by the Greater Manchester Chamber of Commerce.
Providing support to more than 5,000 businesses in the area, Greater Manchester Chamber is the largest Chamber of Commerce in the UK.
Companies can enter male, female or mixed teams of 4-8 runners to compete for the trophy awarded to the fastest small, medium and large businesses across the categories.
Included will be a special prize category for Greater Manchester Chamber members – the Chamber Challenge, awarded to the fastest member business from each category in the 10k.
There are different prize categories and all businesses that enter 12 or more people into the event will receive a free engraved plaque to present to their fastest runner.
For more information visit greatrun.org/Manchesterbusiness