Plan Launched To Remember Kirsty In Manchester
Family, friends and celebrity supporters of the late Kirsty Howard will celebrate her life at this year's Great Manchester Run.
The Kirsty Club have assembled a star-studded line-up for the 10k run on Sunday, May 22, on what is bound to be a poignant occasion for everyone who knew her.
Brave Kirsty, who died in October 2015 aged 20, wore the No 1 running number with pride as she went round the course to loud cheers from spectators.
Her absence from this year's run will be strongly felt, especially as she symbolised the unique fundraising nature of one of the biggest days in Manchester's sporting calendar.
It is hoped that former Manchester United and England football captain Bryan Robson will represent The Kirsty Club as an honorary starter of the Great Manchester Run. The sporting legend took part in the first Great Manchester Run in 2003.
High profile supporters tackling the 10k course include actors Samia Ghadie, from Coronation Street, and former Corrie stars Richard Fleeshman and Scott Wright; singer Jake Quickenden; BBC Radio Manchester presenter Mike Sweeney and racing drivers Tom Ingram and Oliver Webb.
Kirsty, who was born with her heart back to front, inspired Kirsty's Appeal which 10 years ago reached its target of raising £5m for Francis House Children's Hospice, Didsbury, Greater Manchester, where she received respite care.
The Kirsty Club, formed in 2006, has since raised a further £2.5m and to support their fundraising go to www.thekirstyclub.com.
The Junior Great Manchester Run on Saturday, May 21, will also pay special tribute to Kirsty. Entrants will receive a No 1 for the back of their running tops – the number Kirsty wore since the event began in 2003. That number will then be officially retired as a mark of respect.
Speedworks Motorsport, one of the country's top motor sport teams, are supporting The Kirsty Club at the Great Manchester Run. The Cheshire-based outfit has chosen The Kirsty Club as its nominated charity for 2016.
Director of The Kirsty Club Phil Taylor said: "I am going to miss having my sidekick Kirsty Howard alongside me on the starting line at the 2016 Great Manchester Run. We were together on the starting line since 2003 and I'm delighted that her elder sister Zoe Robinson has agreed to take her place this year and deputise for Kirsty as we celebrate her incredible life."
Brendan Foster, Chairman of The Great Run Company which organises the Great Manchester Run, said: "Kirsty was a great friend of the Great Manchester Run since it was first staged and was one of Manchester's greatest fundraisers. She was an incredibly brave young lady who fought adversity with determination and a smile and we wanted to ensure her life will be celebrated at the event this year.
"It'll be amazing to see all of runners in the mini and junior Great Manchester Run wearing Kirsty's No 1 and fitting to retire the number in her memory after this year's run."
Ex-Coronation Street star and runner for the Kirsty Club team at this year's Great Manchester Run, Richard Fleeshman said:  "I first met Kirsty 13 years ago and I was immediately put under her spell. She was such a captivating person and had an aura around her like I'd never seen before.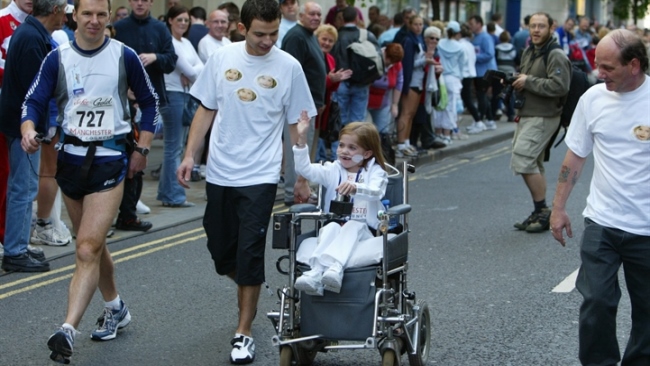 "Her zest for life and sheer determination inspired me and everyone else who was lucky enough to meet her. It's a few years since I've taken part in a Great Manchester Run but following the devastating passing of Kirsty last October and the fact that her team are continuing her legacy to provide help for Francis House Children's Hospice, I decided it was time to get my trainers out again for Sunday May 22, 2016."
Fellow Kirsty Club supporter and Coronation Street cast member Samia Ghadie said:  "I took part in the very first Great Manchester Run in 2003. I had only just recently met Kirsty but we bonded as we shared a similar sense of humour and a few other things in common. I remember her asking me to take part in the run and I also remember looking at Kirsty who was so small and frail and thinking yeah, I can do that, yeah, I will do that.
"I'd never run before but because I kept thinking of her indomitable spirit, I started training and eventually took part. I can honestly say it was a truly wonderful experience and I felt proud to have done it for such a gorgeous young lady, Kirsty Howard."