Rachel To Take On Great North Run In Husband'S Place
A woman whose husband ran the Simplyhealth Great North Run before being diagnosed with Motor Neurone Disease a year later is set to take on the half marathon in his memory after he tragically died from the condition aged just 38.
Rachel Smith, from Halifax, watched as her husband Nick crossed the Simplyhealth Great North Run finish line in 2016, having completed his first half marathon.
Following his success, Nick signed up to take on the event the next year but deferred his place after he began to feel unwell, suffering from voice problems and feeling tired.
After he followed this up with tests, he was given the devastating diagnosis of Motor Neurone Disease, which has no known cure.
Tragically, Nick, father to the couple's two children Hadyn, six, and Georgia, three, passed away in December, 101 days after his diagnosis.
He was a talented rugby league player, joining the Leeds Rhinos Academy and Sheffield Eagles before captaining leading amateur side Siddal alongside a career as a management accountant.
Before Nick was diagnosed, the family didn't know much about MND and after being given the awful news, they struggled with the lack of support that was available in their region.
After her husband's death, Rachel and Nick's brother-in-law Stephen, decided to set up a charity in Nick's name to keep his memory alive, raise awareness of the condition and support the research going into finding a cure.
The Nick Smith Foundation has since gained registered charity status and Rachel decided a fitting tribute would be to run in Nick's place. The event on Sunday 9 September will mark one year to the day of Nick's diagnosis.
Rachel, 37, said: "Nothing will ever be able to take away the pain of Nick's death, the months since his diagnosis and the weeks after he lost his short battle with Motor Neurone Disease were the hardest thing you could imagine.
"We had no idea what Motor Neurone Disease even was when he was diagnosed and didn't know how hugely it would affect our family.
"Nick was fit and active and had always wanted to run a half marathon so we were so proud as we watched him cross the finish line of the Great North Run.
"Anyone who knew him was in no doubt of how fit and active he was. He really wanted to take part in the run again to beat his time.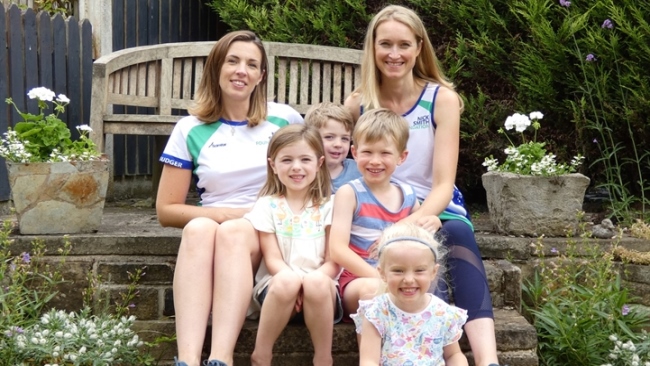 "He spoke so highly of his experience and got a place in the ballot the next year. Then he started to feel unwell and then we got the devastating diagnosis.
"We want to do more to raise awareness about the disease, to support more research into finding a cure and also ensure there is more support for those diagnosed and their families as we felt we had no one to turn to for advice.
"From the day Nick got his diagnosis, time moved far too quickly.
"We never could have imagined that I would be without a husband and my children without their daddy just 101 days later."
Rachel, who works in public health, is set to take on this year's Simplyhealth Great North Run, supported by her friend Sarah.
The world's biggest half marathon features 57,000 participants making the 13.1 mile journey from Newcastle to South Shields every year, whatever their pace or motivation.
Rachel added: "Through the charity I have a new focus as we'd like to look at what support there is for MND families who have young children, what could be done together with families to create memories.
"It really shouldn't be me running the Simplyhealth Great North Run this year, it should be Nick and he should be smashing his previous time as he promised and I know he would do. But instead I have his place to honour him by running in his memory.
"I would in no way class myself as a keen runner but thankfully my friend Sarah will also be running alongside me on what is going to be a physically challenging and really emotional day.
"I will be carrying Nick with me in my heart to get me through the 13.1 miles and I am determined to do my best for him."
To find out more about The Nick Smith Foundation and to support Rachel's fundraising at the event, visit: www.nicksmithfoundation.org.uk
For more information about the Simplyhealth Great North Run, visit: Greatrun.org/North