Reynolds And Reynolds Take On Great Birmingham 10K
A Birmingham-based world-leader in the automotive sector will be swapping horsepower for a more human undertaking when 18 members of staff take on the ENGIE Business Challenge at the Simplyhealth Great Birmingham 10k.
Dozens of corporate and office teams will be among the thousands lining up on the new Colmore Row start-line at this year's Simplyhealth Great Birmingham 10k.
The Midlands' biggest 10K features the ENGIE Business Challenge, which sees Midlands companies of all shapes and sizes compete for fastest-time trophies and bragging rights among corporate competitors.
Among those taking on the 10K on Sunday, May 26 – Bank Holiday Weekend – is the Northfield office of automotive dealership solutions provider Reynolds and Reynolds, which will have 18 runners of all ages and abilities in three separate teams.
Reynolds and Reynolds is a world-leading developer of integrated dealership solutions, providing DMS software alongside retailing solutions including CRM and sales, telephony and websites – all integrated to better manage dealerships.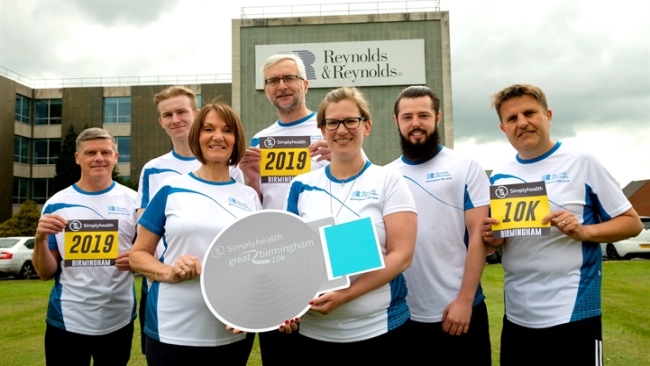 Paul Widdowson, UK Financial Controller, described the 10K as the perfect bonding event for staff from different departments at Reynolds and Reynolds.
"This is the second year that Reynolds and Reynolds has entered the Business Challenge in the Simplyhealth Great Birmingham 10K," he explains.
"Last year we took part for the first time with only a small team but this year we've managed to gather together 18 budding runners so that we can enter three separate teams – an IT team, a Sales team and a Mixed team.
"We do have some sub-50 min 10K runners in our team so I'm confident of great things – and hopefully a few PBs along the way. The idea to enter came from me as I wanted to find a suitable local event that would be open to all and could build team spirit amongst everyone here – and the Birmingham 10k is perfect.
"Like many companies we all come to work and put in many hours for our day jobs, but sadly it's not very often that we get the chance to mix across departments outside of the work environment. This event is the ideal opportunity to do that and I think it really bonds people together for a common goal. Not only that but running is such a great way of improving fitness – both physical and mental – the benefits are many and clear.
"Everyone has their own story to tell and we are all at different levels of experience and ability.
"Some of us are running 10k for the first time, others have run this distance (and further) many times before, but that's one of the beauties of doing this – it really doesn't matter!
"Running is for everyone and whether you are an elite club runner or a complete novice, everyone covers exactly the same course to get to the same finish line."
The Simplyhealth Great Birmingham 10K takes in some of the city centre's most famous landmarks with a new route that goes along Bennetts Hill, New Street and High Street. Runners and walkers will pass the Apple Store, Bullring Bull, Rotunda and Primark store.
"Reynolds and Reynolds has a long and distinguished history as a local company, and we are very proud to be able to take part in an event that showcases our fabulous city so well," adds Paul.
"If it's anything like last year then I know the support from the crowds will be fantastic and the whole day will be another wonderful celebration of Birmingham."
Anyone who enters the Simplyhealth Great Birmingham 10k will receive £10 off their entry fee for the Simplyhealth Great Birmingham Run half marathon, which takes place on Sunday, October 13, 2019. To enter click here