Sara Set For Great South Run In Memory Of Late Husband
Enter the Simplyhealth Great South Run at: Greatrun.org/South
A woman who lost her husband to pancreatic cancer at the age of 45 is set to take on the Simplyhealth Great South Run in his memory.
Sara Cranmer from Southsea in Portsmouth, was left widowed age 39 after her husband Paul died from pancreatic cancer last August.
Paul was huge Portsmouth FC fan who enjoyed playing football every week. He was fit, healthy and active, making his diagnosis a huge shock to him and his family.
Paul and Sara met in 2015 and planned to buy a house and start a family together in Southsea, before he suddenly became jaundiced in February last year while they were holidaying in Goa, India.
After weeks of tests, Paul was given the tragic news that he had pancreatic cancer, although because he was comparatively young, potentially curative treatment was possible.
He underwent a life changing operation at Southampton General Hospital called The Whipple's Procedure and Paul's loved ones were confident that this would be a success.
However, two months into Paul's recovery following the operation, they were then given the devastating news that the cancer had spread.
Paul was given three-to-six months to live and chose to make the most of their time they had left together. Paul and Sara wed in July last year and sadly just over two weeks later on 8 August, Paul passed away.
Following the loss of her husband, Sara suffered with anxiety, post-traumatic stress disorder and depression and decided she wanted to take control and have a positive life focus, so she has signed up to take on the Simplyhealth Great South Run on Sunday 21 October in her husband's memory and to raise awareness about the need for research and funding into treating pancreatic cancer.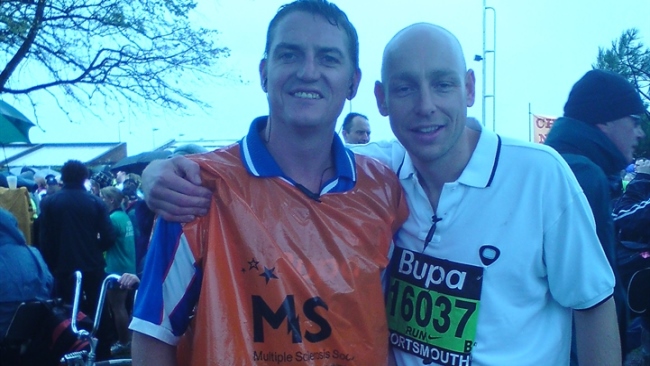 The world's leading 10 mile running event is something that Paul also took part in ten years ago.
Sara, 40, said: "No one should have to lose a loved one to cancer, but it's particularly difficult when your loved one is taken from you at such a young age.
"Paul and I were happily planning to buy a house and start a family together in Southsea when he suddenly became jaundiced in February 2017 whilst we were on holiday.
"He was diagnosed with Pancreatic Cancer. Our world fell apart. It was difficult for us both to comprehend and felt surreal at the time, like some terrible dream. How could this be happening to us?
"He had no symptoms until the jaundice, he felt well and we did not think for a moment that the cancer had an opportunity to spread and become untreatable. It was such a shock because he was strong, fit and otherwise healthy man. Paul even ran the Great South Run himself 10 years ago.
"One of the hardest decisions to make was whether to go ahead with chemotherapy to shrink the secondary tumour on his liver or not.
"Chemotherapy didn't seem worth the pain to us, we realised that his life quality would be pretty poor feeling weak and poorly from this treatment that could potentially extend his life buy only a few months.
So instead of being tied to hospital, we decided to live life for as long as possible.
"We got married on 21st July 2017 in front of all our friends and family, but Paul's health deteriorated very quickly afterwards and he died only 19 days after the wedding.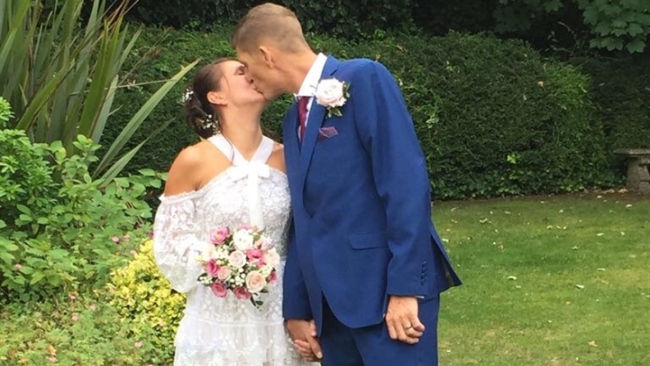 "It left us really shocked as just over two weeks before he had been on the dancefloor all night singing his favourite Oasis songs.
"After this I experienced PTSD, anxiety, panic attacks and depression. Paul's illness happened so quickly and unexpectedly it's taken a long time to process and comprehend. I still find it hard to believe that he was here one minute and suddenly gone the next.
"It's been the most challenging and difficult period of my life so far, but I've realised that I need to take control, look after myself and have a positive life focus. Paul would want me to make the most of every second of life as we know it can be cut short when you're least expecting it.
"I decided to enter the Simplyhealth Great South Run because it has provided me with a motivation to focus on a positive life goal and to raise awareness for Pancreatic Cancer UK."
Sara will join 20,000 people who will take on the 10 mile challenge at the Simplyhealth Great South Run.
The fast and flat route around Portsmouth celebrates everything that's great about the city, including allowing runners to pass through Portmsouth Historic Dockyard. Sara, who is a student and works part time at a winery, is supporting Pancreatic Cancer UK, after they relied on the charity for accurate and up-to-date information.
She also wants to highlight her own personal experience about what it was like to be living and dying of pancreatic cancer and to focus on research and funding. She added:
"There are so many decisions to make and extraordinary situations to deal with when confronted with cancer. We wanted to reach out to others our age who were going through the same thing and talk things through at the time, but it was impossible to find anyone.
"Paul was brave until his last breath, there was never any 'why me?' or complaining about the constant pain he was in.
"Cancer is indiscriminate and could affect anyone at any time. I draw strength from Paul's bravery and heroism. The thought of him motivates me to, although I miss him so terribly!
"I've been training with my dog Toby, a Hungarian Viszla and we usually run along Southsea sea front together. I've already raised £500 for Pancreatic Cancer UK and hope to raise even more."
To support Sara's fundraising, click here.
Enter the Simplyhealth Great South Run at: Greatrun.org/South