Son To Run With Dad After Miraculous Recovery
A teenager and his dad are set to take on the Simplyhealth Great Bristol Half Marathon this autumn to raise money for the hospital that saved his life after he suffered a major head injury while playing in a football match.
Alexander Davis and his Dad Ian, from Bristol, have signed up to run a half marathon on Sunday 23 September for The Grand Appeal Children's Hospital Charity.
Alexander was 15 when he was playing football as a goalkeeper for Cheltenham Town FC U16s in November last year, when he was accidently kicked in the head by the opposition striker.
He was knocked unconscious, sustaining a bleed to the brain and multiple fractures to his forehead and eye socket.
His injuries were described by medics as being like the damage sustained when hitting the windscreen of a car at speed.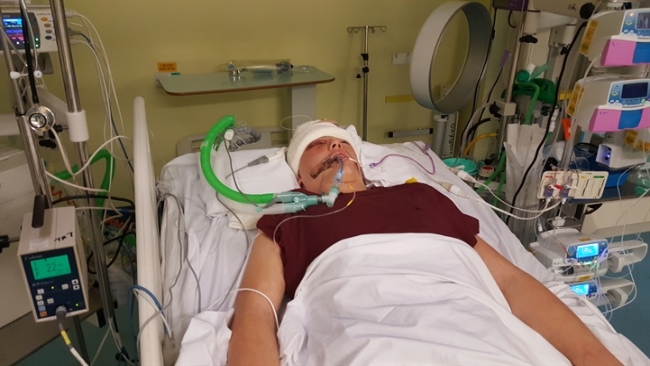 Thankfully, following one week in Intensive Care in Bristol Children's Hospital and a further 11 days on the recovery ward, Alexander made a miraculous recovery and was able to return to school in February and sit his GCSE exams.
After undergoing three operations, one of which lasting seven hours to plug the bleed on the brain, Alex and his dad Ian decided they wanted to fundraise to thank the hospital for all of their efforts.
Ian, 51, said: "Alex is progressing nicely but has been through a lot.
"He is a brave lad, really does just get on with things and wanted to have a focus as well as some goals.
"He sustained multiple fractures to the forehead and eye socket and the forehead fractures pierced the brain causing a bleed that required urgent medical attention.
"He underwent the first of three operations which lasted seven hours and this was to plug the bleed on the brain, clean out the grass and mud around the impact area and piece together the broken skull.
"He was then fitted with a drain in his second operation and had a third operation to repair his eye socket and insert a titanium plate under his eye to raise the eye level to that of the other one.
"Neuro specialists said that they had never seen such an extensive injury from football and likened the damage to that which individuals suffer when hitting the windscreen of a car at speed.
"Specialists at the hospital advised that at this moment he should avoid a return to contact sports which was been very disheartening as Alex loved playing football, had dedicated himself to becoming a professional and was being offered a two year scholarship by Cheltenham.
"Thankfully, he made a miraculous recovery and is doing really well now, awaiting his exam results.
"We both decided to take on the Simplyhealth Great Bristol Half Marathon to thank all of the staff that cared for Alex as he was extremely lucky."
Alex and Ian will join over 10,000 people who will rise to their own challenge at the Simplyhealth Great Bristol Half Marathon.
The thousands of runners will take on the 13.1 mile course through Bristol's awe-inspiring surroundings, including the Avon Gorge and the Clifton Suspension Bridge, before crossing the finish line in the city centre.
Alexander, who is now 16, added: "I wish to run this event because I want to say thank you to the hospital and its staff who cared for me do well.
"In the end I was extremely lucky to get through the ordeal and I am forever thankful to the excellent nurses and doctors who oversaw my treatment.
"Unfortunately, some are not so lucky, so the money raised will help with supporting families during their child's treatment as well as helping fund new equipment, research and vital items for the successful running of the excellent hospital.
"Most importantly, it will help save the lives of young, innocent children too."