Sophie To Run Bristol 10K In Memory Of Younger Brother
To enter the Simplyhealth Great Bristol 10k, visit: Greatrun.org/Bristol10k
A woman will take on her first 10k run this spring in memory of her brother who died age 19 after suffering from a muscle wasting disease, Duchenne Muscular Dystrophy.
Sophie Webber, from Yate in Bristol, lost her brother Mitch last August when he suffered a sudden heart attack as a result of the condition.
Mitch was diagnosed with Duchenne Muscular Dystrophy, the most severe form of MD, when he was eight years old, later than most.
The condition is a muscle wasting disease that gets worse over time. The diagnosis shocked his entire family, with Mitch going to hospital with a broken femur and leaving with a life changing condition.
Sophie was left inspired by Mitch's positive attitude to life that she decided to make it her aim to raise awareness about Muscular Dystrophy.
She decided to sign up to the Simplyhealth Great Bristol 10k, which takes place on Sunday 13 May. The event will be her first ever running challenge.
Sophie, 22, said: "Mitch was diagnosed when he was eight years old and it was a big shock as the reason he was in hospital was for a broken femur and came out with a life changing condition.
"It's a muscle wasting disease and over time the person loses the ability to walk. The condition gradually effects the rest of the body including internal organs.
"My parents always taught Mitch and I to get the best you can out of every situation and that's exactly what he did.
"He was a happy chappy all the time, a laugh to be around, always cracking jokes and making sure he did what he wanted! He was football mad, was even lucky enough to mascot for his favourite team Bristol City and do work experience at the ground.
"Everyone who met him, said how his personality would shine through them. "Mitch suddenly passed away in August 2017 due to his condition and a sudden heart attack.
"It was heart breaking, the biggest shock to the whole family and everyone's lives who he touched. His passing has left a big hole in our hearts and lives and we will forever miss him.
"Mitch never let anyone or anything stop him from doing what he wanted and I want to carry on his legacy that anything is possible when you put your mind to it.
"I really wanted to challenge myself as I couldn't run to the end of the street before without being out of breath, as well as raise awareness about the disease as I too am a carrier of the gene."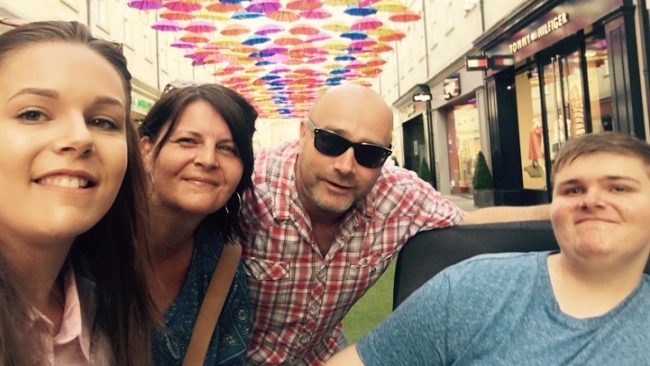 Sophie will join 13,000 others who will conquer a 10k challenge at the Simplyhealth Great Bristol 10k this spring, no matter what their pace or motivation.
Runners will take in the sights of Bristol city centre before heading out along the Avon Gorge, celebrating everything that's great about the city.
Sophie, who works as a bid coordinator, hopes that by running the 10k she can help raise awareness about the impact that Muscular Dystrophy has on families and that with funded research, the gene can be eliminated in the long term.
She is supporting national charity Muscular Dystrophy UK at the event.
She added: "Awareness about this condition is so important because people need to know about this disease and the effects on the individuals and their families.
"It's also important to showcase the great things that charities are doing to fund research and to help make individuals lives who have MD easier. The Neuromuscular Centre in Winsford did amazing things for people like Mitch through support, training and physiotherapy and they rely on the kindness of donations and support to continue this."
To support Sophie's fundraising, visit: http://www.justgiving.com/Sophie-Webber8?utm_id=26
To enter the Simplyhealth Great Bristol 10k, visit: Greatrun.org/Bristol10k