Tash'S Egg-Cellent Challenge For Great South 5K
Enter the Simplyhealth Great South Run at: Greatrun.org/South
One of Portsmouth FC Ladies' players is to take on the Simplyhealth Great South 5k with a twist – by running the event as an egg and spoon race!
Tash Stephens, who plays up front for the team, is running the 5k event, which takes place in Southsea, while balancing an egg on a spoon.
If she drops an egg on her run, which takes place on Saturday 21 October, any person who has sponsored her £5 or more gets to offer her a forfeit.
Tash's egg-celent idea came from the fact that she thought the run would not be enough of a challenge for her to ask for sponsorship, due to the high levels of fitness that her job requires.
Tash, who also works on the National Citizen Service Programme at Pompey in the Community, always wanted to take on the 10-mile event, but fixture clashes meant that she was unable to take part on the Sunday and so decided to enter the 5k instead.
She will be raising money for the Pompey in the Community, the club's official charity, during her 5k egg and spoon challenge. The charity aims to promote education, health and sports development across the city, the Isle of Wight and the rest of Hampshire.
Tash, 23, said: "I always hear incredible stories from runners who take on the Simplyhealth Great South Run every year for Pompey in the Community, what they were overcoming and doing to get themselves in shape and it really inspired me.
"I joined Portsmouth Ladies three seasons ago, when I made the move to Pompey in the Community and I've been heavily involved in recruiting runners for the event to take part on behalf of the charity.
"I always wanted to run the 10 mile but because we play most of our fixtures on a Sunday it wasn't possible, so I decided to enter the 5k event instead.
"I thought that because of my level of fitness I needed to do something different to get sponsors for a 5k, so I decided to do it as an egg and spoon race, where I'd incorporate a foreit system.
"For every egg I drop, a person who sponsors me £5 or more can challenge me to any forfeit they want!
"I previously thought this would be a lot easier than a usual 5K run, however I've only just discovered how mentally challenging it's going to be!
"My concentration isn't great the best of times so I'm not sure how I'll be able to keep it up for the whole 5K without me having to face countless forfeits!"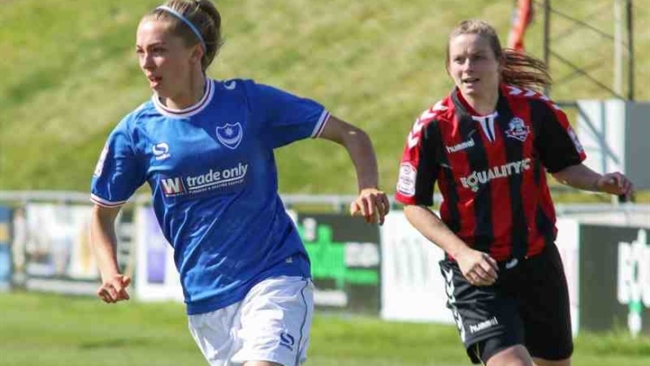 Tash will join 1,000 others for the Simplyhealth Great South 5k, which officially kicks off a packed weekend of sport in Portsmouth.
25,000 people are expected to descend on the city for a festival of sport across the weekend of 21 and 22 October, which culminates in the Simplyhealth Great South Run, the world's leading 10 mile running event.
There will be a team of over 25 runners taking part in the 10-mile event for Pompey in the Community.
Tash has been training with her egg and spoon to make sure she is fully prepared to be surrounded by 1,000 others during her balancing act.
She added: "My mum has somehow managed to find out my 'lucky spoon', which I won several egg and spoon races with in primary school over 12 years ago!
"I've tested the egg and spoon out and allowed plenty of people to try and barge me around a little to simulate event day.
"I think the training has gone a little too well so I need to make sure I don't end up going into the race too confident and end up with egg on my face – literally!"
To support Tash's fundraising, click here.
Enter the Simplyhealth Great South Run at: Greatrun.org/South