Three Months To Go To The Great Birmingham 10K
The Simplyhealth Great Birmingham 10K is one of the highlights in the city's activity calendar, and just one of many events managed by the Great Run Company. Thousands of people of all abilities sign-up to take part, raising funds for good causes or setting personal lifestyle targets.
We can't wait to see you at the start line on Sunday May 6 – just three months after the launch of the city's new and exciting website Birmingham Live, the go to portal to find out everything that is happening in Birmingham.
Here's 10 facts about the 10K to celebrate the launch of BirminghamLive
There's just three months to go!
Yes, that's right; the Midlands' biggest 10K run takes place on Sunday, May 6, during Bank Holiday weekend. But there's still plenty of time to sign up and get in shape. From first-timers to fastest-timers, there are training schedules for everyone at www.greatruntraining.org/
Walk the 10K with friends
Sign-up figures have revealed more people than ever are choosing to walk the Simplyhealth Great Birmingham 10K course with its Walking Wave growing in popularity.
More than 8,000 participants signed up for last year's Simplyhealth Great Birmingham 10k, making it the biggest to date. Some 300 of the participants walked the route and even more are expected to join the Walking Wave at this year's event.
It's the perfect training run for an autumn half marathon, or marathon
About to tackle your first 26.2-miler at the Birmingham International Marathon on Sunday, October 14? Or thinking of signing up for the Simplyhealth Great Birmingham Run on the same day?
The 10K is the perfect training event and anyone who enters the 2018 Great Birmingham 10K will receive a £10 discount off the entry price for either the 2018 Simplyhealth Great Birmingham Run half marathon or the Birmingham International Marathon.
The discount will be applied upon entering the second event so make sure you use the same log in details.
University challenge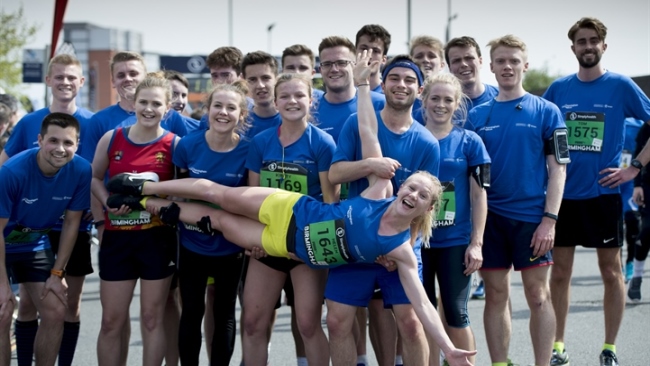 The University of Birmingham is aiming to double the size of its 'UBSport' 10K team of 400 last year to an impressive 800 runners at this year's event.
The offer to join the UBSport team is open to staff, students and anyone with a connection to the University and is an all-inclusive team of walkers or runners of all ages and abilities.
"UBSport and the 10,000 Lives programme is delighted to partner with Great Run for what promises to be a fantastic Great Birmingham 10K this year," said Ali Lee, Participation Development Officer, UBSport.
"With an aim to get 800 participants in the UBSport wave, the University's fundraising efforts will go towards the 10,000 Lives campaign – a project that helps create life-changing education opportunities for young people.
"UBSport look forward to welcoming all runners, walkers, joggers to #TeamUoB – whether it's a first 10k or a 50th, anyone is encouraged to join the wave to support giving young people in Birmingham the chance to access higher education.
Run to the beat… the 10K has music at its heart
Fancy a bit of Run DMC to get you going? The 10K is a celebration of music from the 80s-modern day, and you can set off to the sounds of your favourite era with dedicated start waves and energetic warm-up routines featuring expert trainers to make sure you… Walk This Way!
Runners and walkers will also pass bands on the run with performances to inspire and motivate all the way along the route.
A stylish medal for all finishers
The medal design for the Simplyhealth Great Birmingham 10K 2018 has been revealed, and we think it looks fantastic.
Just think how great it will look when you're showing it off for the all-important post-finish selfie on Sunday, May 6, as you soak up social media glory and take well-deserved pride in your achievements.
Take on a Birmingham City star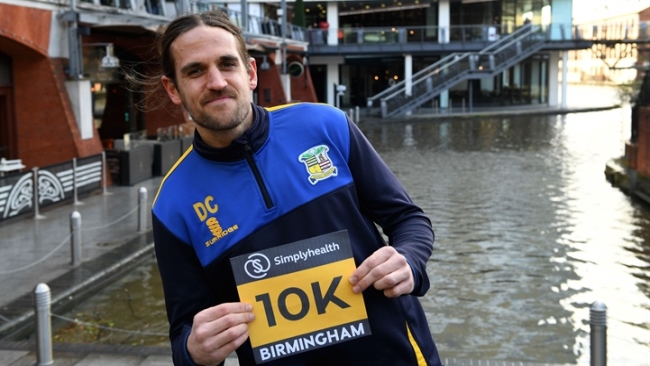 Darren Carter, Solihull Moors' Player/Academy Coach, will be taking on the Simplyhealth Great Birmingham 10K for the first time.
Darren, who famously fired Birmingham City into the Premier League for the first time with the decisive spot-kick in a 2002 play-off final shootout aged just 18, made almost 50 appearances for City and also spent two years with West Bromwich Albion.
"I'm really looking forward to the Simplyhealth Great Birmingham 10K," he said. "I've never run this far in one go before and entering my first running event in my home city will be special."
Your company can get involved
The Simplyhealth Great Birmingham 10K features the ever-popular Business Challenge, which sees Midlands companies of all shapes and sizes compete for fastest-time trophies and bragging rights among your corporate competitors.
Categories are defined by the size of the company, which means smaller businesses can take part alongside the industrial giants.
Why not round-up a work team and enjoy the boost to office spirit and friendly competitiveness that comes with taking part?
Soak up the sights
Birmingham is a city going through lots of change, with some of the biggest regeneration schemes springing up before our eyes.
One of the most famous buildings of recent years is the iconic Selfridges store, with its 15,000 aluminium discs and jelly-like shape making it one of the most photographed structures in the country.
Simplyhealth Great Birmingham 10K participants will pass Selfridges, plus world-famous Edgbaston Stadium and the historic Cannon Hill Park on Sunday, May 6.
Why not sign-up to enjoy some sight-seeing through Birmingham city centre?
Community unites to recognise a marathon legend

Fauja Singh with Blind Dave Heeley at the 2017 Birmingham International Marathon
In honour of Fauja Singh, the 106-year-old 'turbaned tornado' who was honorary starter at last year's Birmingham International Marathon, UK-based charity Zero Hunger with Langar is aiming to inspire 107 runners to take part in the Simplyhealth Great Birmingham 10K this year.
Fauja, who will be 107 at the time of the 2018 10K, took up running when he was in his 80s after moving to London from Punjab in northern India and became the first 100-year-old to complete a marathon.
Zero Hunger with Langar is aiming to raise enough funds to serve thousands of meals to children in Malawi.
"This, we believe, will be the start of an annual homage to the legacy of Fauja Singh for years and generations to come," said Jagjit Singh of Zero Hunger with Langar.