Tina Runs Bristol 10K For Skin Cancer Awareness
Every runner has a story, it's time to start yours. Enter the Simplyhealth Great Bristol 10k at: Greatrun.org/Bristol10k
A woman who credits running for saving her sanity following the death of her older sister from Melanoma now dedicates her time to taking on challenges for the charity formed in her name.
Tina Richardson, from Weston-super-Mare, was left devastated when she lost her sister Mandy to skin cancer in 2011 at just 38-years-old.
Mandy, a mum-of-two, was first diagnosed with malignant melanoma when she was 26, just weeks after giving birth to her first son Kyle.
After several operations and check-ups, five years later she then found a number of lumps and was told that the cancer had returned and was incurable.
Mandy underwent chemotherapy, but a scan showed that it had spread to most of her organs, including her brain.
Her diagnosis devastated all of her family, including her sister Tina and husband Bryan, but she remained strong and was determined to raise awareness about skin cancer while she still could.
Sadly in 2011, Mandy passed away at Weston Hospice. Following her sister's death, Tina found it hard to motivate herself and accept what had happened.
Following advice from a friend, she decided to join a running group to help with her headspace and she now credits them for 'saving her sanity'.
With the group's help, Tina decided to sign up to the Simplyhealth Great Bristol 10k to raise money for the charity formed for her sister, 4UMandyJones.
She will return to the event on Sunday 13 May this year, along with Mandy's eldest son Kyle, 17. Tina, 39, said: "I found Mandy's passing very difficult. She was my big sister, she was always there. I knew she had my back.
"Because she was very positive I found it impossible to believe that incurable meant terminal so even when she was admitted to the hospice as an in-patient I still kept thinking she would get better.
"There were so many people involved in Mandy's care – McMillan, Weston Hospice, our fabulous GP Mr Pimm who all worked seamlessly to keep her going as long as possible.
"Mandy spent a lot of her well time aiming to spread awareness. She was very positive and the only bit she struggled with was when she had radiotherapy on her brain as she knew she would lose her hair.
"After she died I found it very difficult to motivate myself. I was angry, I was sad in turns.
"My good friend Tracey Beck took me in hand and I joined her wonderful running group and it is with these lovely ladies – who I think saved my sanity – that I entered my first Simplyhealth Great Bristol 10K and I've done it each year since.
"I decided to take part because I wanted to support the charity that is for my sister. They work with primary schools and do workshops using a variety of methods to keep safe in the sun.
"Running is a great way of relieving stress and wearing the 4U Mandy Jones running tops on the start line is always emotional but we feel great because it's helping to spread awareness."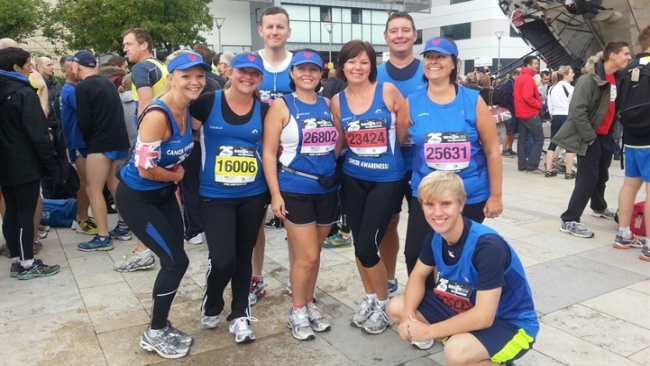 Tina and Kyle have set themselves a 10k challenge where runners will start good and finish greater as they take on a scenic course through the awe-inspiring surroundings of Bristol city.
The 4U Mandy Jones charity aims to educate children about being safe in the sun by visiting schools and holding sessions about protecting their skin.
Tina's youngest children. Lacy, seven, and Tiffany, 10, will also take part in the Simplyhealth Great Bristol Family Run, on a day of running for all ages.
Tina, an assistant store manager, added: "My training is now really underway but it's often quite difficult to fit in with work and taking care of the children but I am determined not to be left too far behind my nephew!"
For more information about the 4U Mandy Jones charity, visit: https://4umandyjones.org/
Every runner has a story, it's time to start yours. Enter the Simplyhealth Great Bristol 10k at: Greatrun.org/Bristol10k