Toddlers Launch Simplyhealth Great North 10K Gateshead
Entries for the Simplyhealth Great North 10k, Simplyhealth Great North Toddler Dash and Family Run are open. Enter at: Greatrun.org/North10k
Inspirational toddlers tested out the track in Gateshead International Stadium today (19 April), to launch the Simplyhealth Great North 10k Gateshead.
The North East's biggest 10k running event returns on Sunday, 9 July, bringing with it the Toddler Dash and Family Run.
The four youngsters gearing up for their first running event were Abe Brough from Ryton, 18-month-old Harriet Mole from Newcastle, Eva Swinbanks from South Shields and Samson Taylor from Durham.
Three-year-old Abe suffered a toddler fracture just before his second birthday, and now he never stops running. He is taking part in the Toddler Dash to raise money for Marie Curie, after they cared for his grandad before he passed away from asbestos-related lung cancer.
Danielle, Abe's mum, said: "Ken and his wife, Miriam, used to look after Abe three times a week and they both played a massive part in Abe's development and personality.
"The Marie Curie nurses were amazing in Ken's final days and it seems only fitting that Abe should do the Toddler Dash in memory of such a wonderful influence in his life."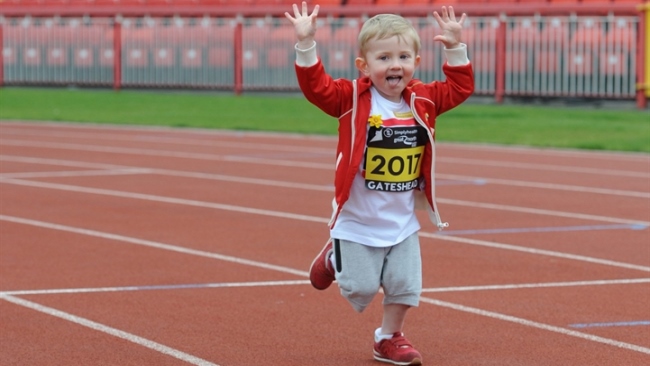 Abe Brough
The Simplyhealth Great North Toddler Dash will see up to 100 children up to the age of three completing 70 metres on the athletics track, and the Family Run will take in a one mile route around the stadium.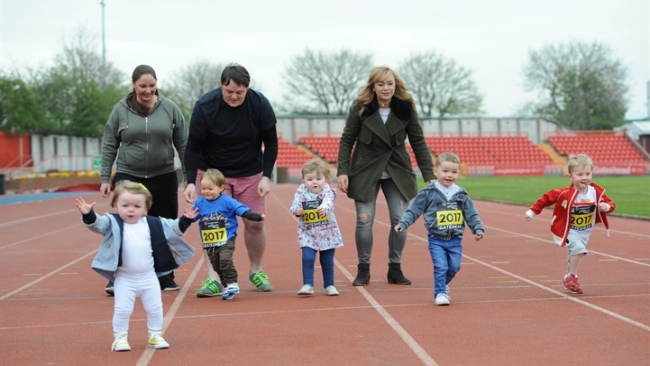 Harriet Mole, Samson Taylor, Eva Swinbanks, Finlay Symington and Abe Brough
Two-year-old Eva Swinbanks and Harriet Mole are also taking part in the event in July. Eva is raising money for DDH UK, a hip dysplasia charity, after she was diagnosed with developmental dysplasia of the hip at 21 months, and spent 12 weeks in a spica cast.
Samson Taylor, who will soon celebrate his second birthday, was born 8 weeks prematurely with a heart, oesophagus and trachea defect. He needed surgery before he was a day old and spent the first two months of his life in hospital.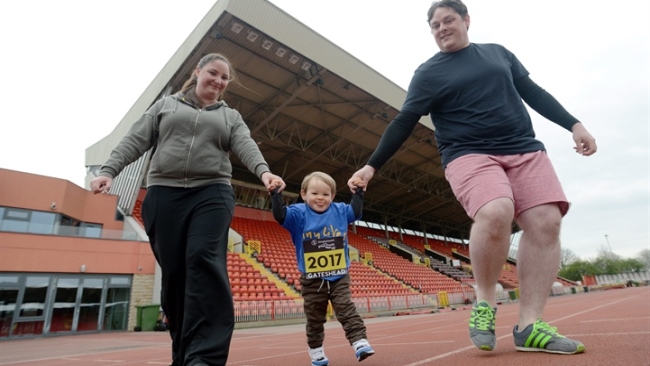 SamsonTaylor
The Simplyhealth Great North 10k Gateshead is now in its ninth year, and will pass iconic landmarks on the Quayside including Sage Gateshead, BALTIC Centre for Contemporary Art and the Gateshead Millennium Bridge.
Five-thousand runners will cross the finish line on the track inside the stadium, with their family and friends cheering from the stands.
David Hart, communications director at The Great Run Company, said: "The Simplyhealth Great North 10k Gateshead has grown into an event suitable for the whole family, with the introduction of the Toddler Dash and Family Run last year.
"It's also the sister event to the Simplyhealth Great North Run, and perfect training for the big one in September.
"We can't wait to welcome over 5,000 people to Gateshead International Stadium, all running for a different cause, even the tiny runners."
Gateshead Council's Cabinet Member for Culture, Sport and Leisure, Councillor Linda Green, said: "Gateshead has a long established reputation for hosting major sporting events and we are delighted that the Great North 10k Gateshead is taking place again this year.
"The Great North 10k Family Run and the Great North 10k Toddler Dash will also be an inspiration for anyone thinking of getting active as a way of improving their fitness.
"This is a great route which will see competitors taking in some of Gateshead's most iconic sights along the way and finishing on the same track that sporting greats have competed on at Gateshead International Stadium."
Entries for the Simplyhealth Great North 10k, Simplyhealth Great North Toddler Dash and Family Run are open. Enter at: Greatrun.org/North10k