Tv Presenters To Start Manchester Junior & Mini Events
For more information and to enter the Junior and Mini Great Manchester Run visit greatrun.org/manchester
Two popular children's TV presenters are to be honorary starters at the Junior and Mini Great Manchester Run along with two inspirational runners who have signed up for the North West's biggest children's running event.
Channel 5's Milkshake! presenter Olivia Birchenough will fire the starting gun on the Mini Great Manchester Run on Saturday 21st May at the Etihad Campus during a weekend packed of sport.
She will then cheer on young runners who are supporting the Royal Manchester Children's Hospital Charity, the event's official nominated charity, before taking part in the Great Manchester Run the following day on Sunday 22nd May.
Olivia said: "I'm delighted to be an honorary race starter at this year's Mini Great Manchester Run. I can't wait to cheer along all the young runners who are taking part on the day.
"I recently visited Royal Manchester Children's Hospital and was amazed by the positivity of the patients, despite the challenges they face on a daily basis.
"To show my support I've signed up to run the Great Manchester Run, which takes place the day after the Junior and Mini Run, so I'm looking forward to a fab weekend of running in support of the Children's Hospital."
Brave youngsters Josh Cubbin and Ella Chadwick, who are also honorary starters and have both received treatment at the Royal Manchester Children's Hospital, will join Olivia at the start line.
Josh, from Wigan, was diagnosed with stage three burkitt lymphoma when he was just three years old.
He underwent five cycles of aggressive of chemotherapy that left him very unwell, but is now in remission and is doing well.
Josh, now five, spent four months in the children's hospital and has thrown himself into fundraising for the charity to give something back to the ward that helped him during his diagnosis and treatment.
Josh's mum Jane said: "That day when Josh got his diagnosis, our lives changed forever. He was an inpatient for four months and there were nights that we thought he would not make the next day.
"To see Josh start and run the Mini Great Manchester Run will be an emotional experience as we look back and see how far he has come, we have the Royal Manchester Children's Hospital to thank for how well he is doing now.
"He is so full of life and such a happy little boy. It's his first time taking part and he is really excited to be a part of such a wonderful day."
Brave Ella, from Rochdale, is returning to the Mini Great Manchester Run for the second time and has set her sights on crossing the finish line without the use of her walking frame.
The youngster survived forty gruelling operations in her first six years before having a life saving kidney from her Grandma.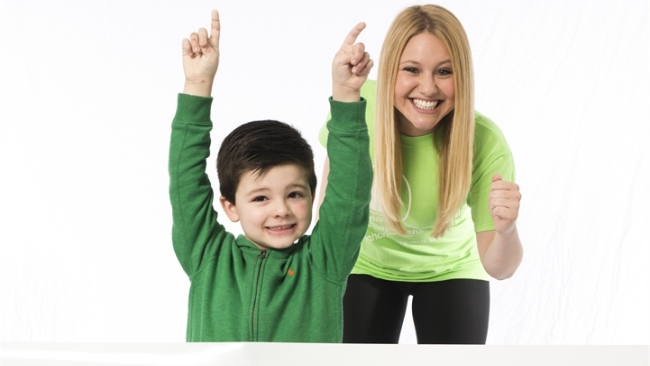 Blue Peter presenter Lindsey Russell will then fire the claxon on the Junior Great Manchester Run, before taking part in the 10k the next day.
Lindsey, Blue Peter's 36th presenter, has been a part of the iconic children's entertainment programme for almost three years.
She said: I am so excited to be part of the Junior and Mini Great Manchester Run. Running and sport is such an important part of life for everyone.
"I'm crossing my fingers for some good UK weather so we can all have a fun time getting active outdoors! Bring it on and to anyone who's running: GO, GO, GO!"
The North West biggest and most popular children's running event returns to Etihad Campus on Saturday 21 May where thousands of youngsters can run, walk or jog through the iconic venue.
The Junior and Mini Great Manchester Run, open to children of all abilities between 3 – 15 years old. All Junior and Mini runners will receive their very own running t-shirt, a goodie-filled finisher's pack and that all-important medal.
Enter now at: Greatrun.org/Manchester