University Signs Up For Great Birmingham 10K
Hundreds of city students will be on the start line with their lecturers at this year's Simplyhealth Great Birmingham 10K as part of the first ever University of Birmingham running team to take part in the annual event.
The University of Birmingham runners will be given their own special start section at the 10K run on Sunday, April 30, along with a special edition UBSport t-shirt to wear for the event, which attracts more than 7,000 people from across the Midlands.
The invitation to join the University team is open to all students, staff and community.
The University's sports department is creating a selection of bespoke training plans for runners – or walkers – of all abilities and ages, to take part in the 10K.
UBSport also has its 'Cool Runnings' club, which welcomes runners of all abilities and holds weekly training sessions at various locations across the Edgbaston campus.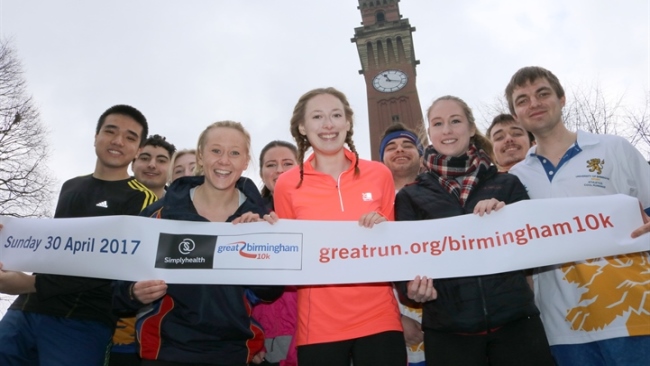 There is also a dedicated facebook group for 10K updates and training tips at: Great Birmingham 10k- Team University of Birmingham.
This year's Great Birmingham 10k will be powered by music and entertainment across the course.
Starting at Jennens Road in the city centre, the 10K takes in city sights such as Selfridges and Edgbaston Stadium before a city centre finish in front of thousands of cheering spectators.
Helen Coy, Participation Development Manager at the University of Birmingham Sport, said: "This is a great opportunity for everyone on campus to come together and be part of something amazing.
"The Great Birmingham 10K inspires so many people to get active and challenge themselves. It's great to be a part of it this year and I can't wait to see everyone cross the finish line!"
Zak Viney, President of the University of Birmingham Cool Runnings Club, which has more than 250 members, said: "We're a very inclusive club and have members who are freshers to a mature student in her 40s. We're incredibly diverse.
"Anyone thinking a 5K is their limit can achieve a 10K. Just pick up one of the university's training plans and go for it."
Not involved with University life? You can still sign up the Simplyhealth Great Birmingham 10k here