Vanessa Flying The Flag For Grenada At Great North Run
WHEN the Great North Run announced its project to recruit a representative from every country in the world, a runner in Newcastle was at the front of the queue.
Vanessa Nair will represent Grenada – one of the 193 UN member states – at the world's biggest half-marathon on September 11 between Newcastle and South Shields, wearing a custom-made outfit carrying the colours of the country's flags.
"I am currently working on getting a custom-made top for race day," said Vanessa, who lived in the town of Grand Anse before moving to England ten years ago. "I also plan on wearing a yellow tutu and the Grenada flag on my back for the entire 13.1 miles. The colours of the flag represent red for courage, green for vegetation, yellow for warmth.
"I am extremely happy for the opportunity given to complete in the Great North Run. It was always something I wanted to do but never knew how.
"I look forward to crossing the finish line and knowing that I've just completed the world's greatest half marathon.
"It is amazing the support I am getting from Grenada. Everyone is really proud of me. They are particularly proud that I am putting Grenada on the map and letting everyone know how beautiful Grenada really is. Everyone here is really supportive too."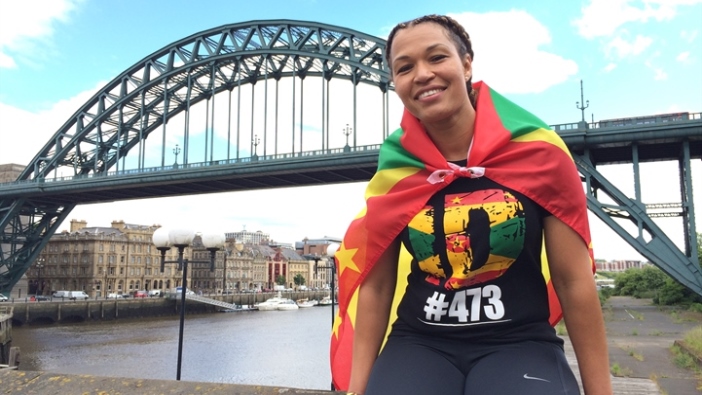 RUN WITH THE WORLD AT THE GREAT NORTH RUN
We want the 2016 Great North Run to be the first running event to boast a participant from every country in the world – and we need you to help us achieve it.
After becoming the first running event of its kind to welcome our millionth finisher over the finish line in 2014, we are now aiming for another first – to recruit at least one runner born in every member state of the United Nations – a total of 193 countries – to take part in the iconic event from Newcastle to South Shields, in September.
Do you know an Andorran in Acton? A postman from Palau? A teacher from Togo? Or is there a Madagascan residing in Manchester?
Email us at international@greatrun.org or tweet us using #GNRWorldRun