Viv'S Great Run For Warley Woods Community Trust
The Trust Manager at Warley Woods will run at Simplyhealth Great Birmingham Run to raise money for a local charity – Warley Woods Community Trust, the only large urban park in the UK that is managed by its local community.
51-year-old Viv Cole from Stourport on Severn is very proud to be running for a local charity after a physical transformation and losing 3.5 stone.
She started a weight loss journey after realising she was overweight and seeing the impact it was having on her health in October 2017. Viv started with walking in the park and then challenged herself to start running again which she enjoyed many years ago. She joined C25k club and fell back in love with running. Now she is training with two clubs – the Warley Woods Pacers and her home team, Tri-energy. Viv registered for a half marathon to keep her motivated and is looking forward to running for her charity.
Warley Woods is a public park in the Warley district of Smethwick, in Sandwell consisting of 100 acres of woodland, parkland and a golf course. It is a slice of the countryside but in an urban area – people get to feel that they are well away from city life, but it is just outside their doors.
The park is now managed by Warley Woods Community Trust, a voluntary organisation and charity. It has hundreds of volunteers, organises many activities and is a real community hub.
Warley Woods Park has been awarded Green Flag status for the last 10 years and won a Royal Forestry Award for Excellence in 2017. It has been also voted one of the UK's favourite parks three times.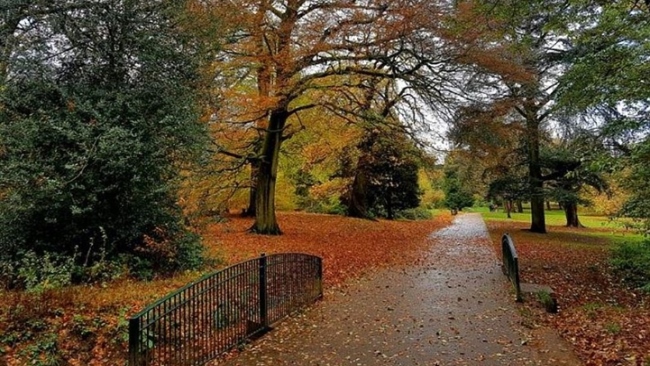 It proves that the community can successfully manage a large park, develop their knowledge, expertise and raise the funds needed.
As Trust Manager Viv looks after the day to day running of the site, park development and sustainability. She also looks after communications and volunteers and has even been known to dress up as their mascot, Barclay Bear. Viv's work has been recognised and she was nominated and awarded as a Green Flag Award Employee of the year in 2016.
Warley Woods is also celebrating an anniversary. This year marks the bicentenary of the death of Humphry Repton who designed the parkland that was once surrounding the historic house. There are lots of national celebrations marking this and the park is organising a theatrical performance, a public lecture and an exhibition. Viv even called her run the Repton Run, as she would like to use the funds she raise to help replace some of the aging wooden memorial benches in the parkland designed by Repton.
Viv is very excited and proud to represent Warley Woods at the Simplyhealth Great Birmingham Run on 14 October 2018 and will be supported by her colleagues.
She said: "I can shout it out loudly and proudly – I am a runner. Everyone can see the physical transformation that exercising has helped me achieve and raising funds for my special place, which is so much more than a work place. It is an inspirational place supported by wonderful people and it will make me so proud to complete the run for myself and them.
"In October last year, I realised that being overweight had really started to impact on my health. I was starting to struggle with things like stairs – needing the handrail, my knees were hurting and one of my hip joints and I hated how I looked.
"I decided to use all my organisational and planning skills and apply them to myself as a weight loss project I was going to complete – not just get half way, or almost there as in the past.
"About 15 years ago I had enjoyed running and was heading towards a half marathon as a goal, but I got injured and stopped 'temporarily' but never went back. I had assumed with my increased age and poor fitness that my running days were over.
"It feels amazing and liberating to have my body working again and I am probably the fittest I have ever been in my life.
"It is just inspiring to go to work every day and work within a very small staff team, but be surrounded by a community that really cares and will go the extra mile themselves.
"I'm really excited as I feel that this really is something I can achieve now and I will be so proud to do it for myself and for Warley Woods."
The Simplyhealth Great Birmingham Run will start on Broad Street before taking runners to handsome Highfield Road in Edgbaston and down the infamous hill of Lee Bank Middleway, once a challenging incline near the end of the half marathon. Participants will then do a lap of Cannon Hill Park and world-famous Edgbaston Stadium before turning back to the city centre after they reach beautiful Bournville. The run finishes before thousands of cheering spectators on Jennens Road and the Aston University Campus Charity Village.
Anyone who entered the Simplyhealth Great Birmingham 10k will receive a £10 discount on their entry fee for the Simplyhealth Great Birmingham Run. To enter click here.