Woman Recruits Virtual Runners To Help On 1000Km Run
Entries for the Simplyhealth Great North 10k and the Simplyhealth Great North 10k Family Events are open: Greatrun.org/North10k
A woman who has a form of Multiple Sclerosis is set to take on a mammoth 1000km running challenge and will be joined by each of her sponsors through the entire journey.
Lucy Pritchard, 33, from Gosforth in Newcastle, was diagnosed with Relapsing Remitting MS in 2015, a disease that means her immune system attacks the nerves in her brain and spinal cord.
After receiving help and advice from the MS Trust, Lucy decided to take on a series of runs that would help show that her life is not defined by the disease.
But Lucy's running challenge has a twist because anyone that sponsors her becomes a virtual running partner that accompanies her on each of the legs of her journey.
Each time she takes on a run as part of the challenge, one of Lucy's sponsors will be randomly selected to be a virtual runner with her, and can even join her on the distance if they wish.
Lucy will take on the equivalent of 47.39 Simplyhealth Great North Run's in just one year and 10% of the total will be completed when she takes on the Simplyhealth Great North 10k Gateshead.
The event takes place on Sunday 9 July and is the North East's biggest 10k running event.
Lucy said: "When I was diagnosed with the condition, I was really shocked. "Once it sunk in, I decided I didn't want to sit back and wait to see what happened. My family and I read a lot about all of the treatments available and it felt a little bit overwhelming.
"When it all got too much, the MS Trust was the place we always returned to.
"They gave us unbiased, clear information that was easy to understand.
"I want to show people that a diagnosis of MS does not mean the end of your world, it's been the complete opposite for me, so I decided to start a challenge for the MS Trust where I would take on a mix of runs.
"I asked for sponsors and decided that each time I go out running, I will be joined by a randomly selected virtual running partner from that list.
"They can also run the distance with me, but some of my sponsors have been people like my four year old niece so it's not always the case!
"It's a huge running challenge for me so there's no way I could do it alone and it's really motivating to know you have friends and supporters behind you along the way."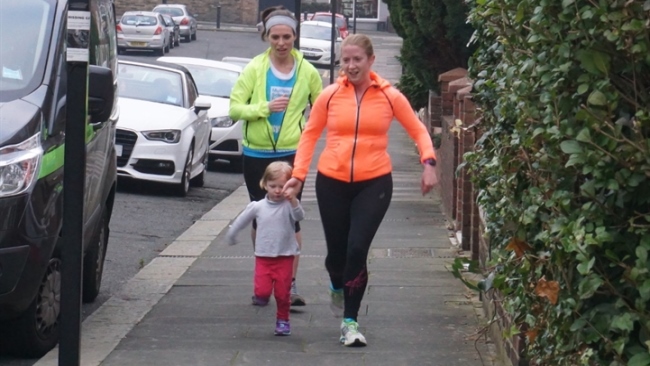 Lucy, who works in student recruitment, was referred to the Newcastle Royal Victoria Infirmary for treatment four months after her diagnosis.
From then she has received pioneering Lemtrada treatment that has helped to control the condition and allow her to live a healthy and active life.
As part of her challenge, Lucy will take to the streets of Gateshead with over 5,000 others for the Simplyhealth Great North 10k Gateshead.
The event features a scenic tour of the NewcastleGateshead Quayside where runners pass the iconic sights of the Sage Gateshead and the Gateshead Millennium Bridge before crossing the finish line on the track of Gateshead International Stadium.
Lucy already has over 80 sponsors who are potential running buddies and has raised £1,500 for the worthy cause so far.
She added: "I will be logging all my runs on my running log because on each run, I will be running live with my virtual running partner and sometimes a real life running buddy!
"Each week I will be randomly drawing out the names of two of my support team who will be my virtual running buddies for that week.
"I will be doing this for the Simplyhealth Great North 10k too as part of my challenge. I post an update and pictures of each run and I promise I'll be smiling even if the weather is rubbish."
To support Lucy on her run for the MS Trust, or to become her virtual running partner, visit her fundraising page.
Entries for the Simplyhealth Great North 10k and the Simplyhealth Great North 10k Family Events are open: Greatrun.org/North10k