2018 Simplyhealth Great East Run Open For Entries
Entries for the Simplyhealth Great East Run are now open at: Greatrun.org/East
The Simplyhealth Great East Run will return to Ipswich in 2018 on Sunday 16 September and entries are now open.
The hugely popular event, which sold out within months of opening, will offer 3,500 places, 500 more than last year due to incredible demand.
The half marathon event will start and finish in Ipswich town centre and will follow the same popular route as last year. 3,500 participants will line up on Russell Road and take on the 13.1-mile course which heads out into the scenic Suffolk countryside.
Runners also have the unique opportunity to finish inside Ipswich Town Football Club's practice pitch area.
Together with their key partners, Suffolk County Council, Ipswich Borough Council and Ipswich JAFFA Running Club, the Great Run Company brought the UK's biggest series of mass participation running events to East Anglia for the first time in 2017.
Organisers and their partners took the already established Ipswich Half Marathon event to the next level with a closed road course, taking in some of the region's most iconic sights.
Alex Jackson, of the Great Run Company, said: "We're really excited to be able to bring the Simplyhealth Great East Run back to Ipswich for a second year and to allow an even bigger number of runners to be a part of a fantastic half marathon in Suffolk.
"The event received an unprecedented level of demand for entries last year, with the extra places we added selling out in just one day so I would encourage anyone who wishes to sign up to do so as soon as they can."
Participants of the Simplyhealth Great East Run will pass the prestigious Willis building designed by Lord Foster before heading towards the town's vibrant waterfront.
The route then goes past Felaw Maltings on the way out and back along Wherstead Road, where participants will pass twice under the iconic Orwell Bridge.
On returning to Ipswich town centre, runners pass over the Wet Dock lock gates and continue along the waterfront for a second time before crossing the finish line in Ipswich Town FC's complex.
Participants of last year's Simplyhealth Great East Run raised just under £1million for charity, with a huge number of fundraisers, first time runners and entrants of all ages taking part.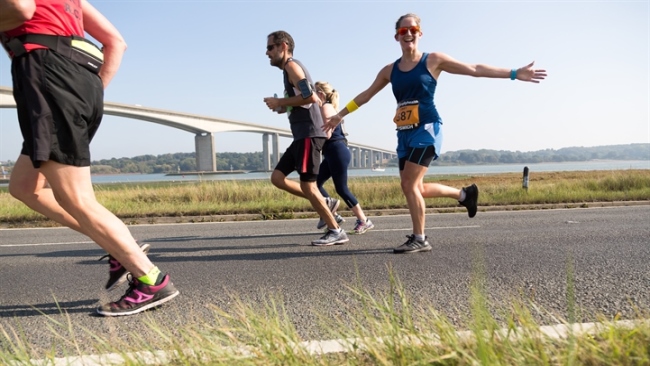 There was also a competitive club runner field in attendance.
Alison Beech, chair of Ipswich Jaffa Running Club, said: "Ipswich Jaffa Running Club is delighted to be again partnering with GRC to deliver the 2018 Simplyhealth Great East Run.
"We are excited to be building on the success of last year's race and look forward to helping to grow the event to even bigger and better things."
Partners are confident that the success of the Simplyhealth Great East Run will continue to raise East Anglia's profile as a tourism destination for both runners and spectators across the U.K into 2018 and beyond.
The event is also part of Suffolk County Council's aim to be the most active county in England. Councillor Tony Goldson, Cabinet Member for Health at Suffolk County Council, said:
"After the success of last year's event I am looking forward to seeing even more runners of all ages and abilities lining up to complete the Simplyhealth Great East Run on 16 September.
"The carnival atmosphere created along the route last year by the thousands of spectators who came out to support and encourage the participants was fantastic and I have no doubt that many will have been inspired to take part themselves this year.
"Mass participation events of this nature raise thousands of pounds for good causes, whilst inspiring more people to get active and supporting our ambition of making Suffolk England's most active county."
Ipswich Borough Council Deputy Leader Bryony Rudkin said: "We are all looking forward to an even bigger and better event this year. "The organisers have built on the solid foundations of the Ipswich half-marathon and are now attracting a regional profile for the Simplyhealth Great East Run."
Entries for the Simplyhealth Great East Run are now open at: Greatrun.org/East