3,000 Lace Up Ahead Of Inaugural Great East Run
The very first Simplyhealth Great East Run will take place this weekend on Sunday 24 September, with 3,000 runners set to tackle the half marathon distance in Ipswich, Suffolk.
The 13.1-mile course will welcome participants of all abilities from around East Anglia and across the country, as they descend on the town to take on the newest event in the UK-wide Great Run Series.
Together with its key partners Suffolk County Council, Ipswich Borough Council and Ipswich JAFFA Running Club, the event features a closed road course that takes runners through the town centre before heading past some of Suffolk's most iconic sights.
Many of the runners taking part in the sold-out event include a competitive club runner field, avid fundraisers and those who are taking on their very first half marathon distance.
The event's Elite Athlete Ambassador, middle distance runner Andy Vernon and Ipswich JAFFA Running Club have supported four local participants to go from beginner runners to completing their first half marathon on Sunday.
Andy, who is a European silver medallist and was part of Team GB in the 2016 Olympics, has offered advice and training tips to the group through Skype calls and weekly online chats.
Today (SEPT 22) Andy visited a host of schools across the region to celebrate their commitment to encourage physical activity into the children's daily lives, including Kyson Primary School and Northgate High School.
Andy met the group he has trained ahead of the Simplyhealth Great East Run at St Matthew's Primary School in Ipswich, where they joined a group of children who were taking on the Daily Mile.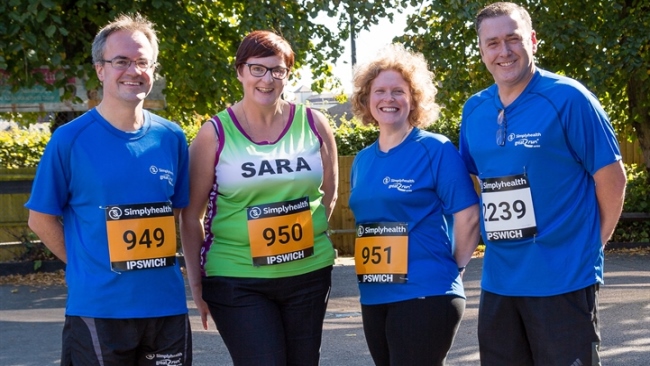 Sara Spreadbridge from Westbourne in Ipswich started running after losing three stone in weight last year. After achieving something she never thought was possible, Sara searched for a new and exciting challenge. The event will be her first half marathon and she is raising funds for St Elizabeth's Hospice in Ipswich.
Faith Archer from Hadleigh found exercising difficult as a busy working mum-of-two. She had little confidence and had no goal to aim towards so made a New Year's Resolution to run a half marathon. With the help of the JAFFA programme, Faith took exercise in her stride and has transformed into a confident runner ready to take on the goal she set herself.
Tony Holland from Rushmere in Ipswich lost three stone and wanted to take up running to help with his weight loss journey. He has struggled through injury and has managed to lose further weight thanks to training three times a week. He will be lining up on the start line this Sunday four stone lighter.
Jeff Allum from Brunswick in Ipswich signed up to the Simplyhealth Great East Run to set an example to the children he coaches at his local rugby club. Jeff was a keen runner when he was younger but over the years his diet and fitness decreased. He now runs four times a week and says completing the half marathon will be his 'proudest achievement.'
The group started training in February by attending free weekly Great Run Local sessions at Needham Lake, before joining the bespoke JAFFA sessions when they reached a 5km distance.
Alison Beech, Chair of Ipswich JAFFA, said: "Ipswich JAFFA is delighted to have supported the four runners, helping them with training plans and advice as well as welcoming them to our club sessions.
"They have worked very hard and we can't wait to cheer them over the finish line. "We are proud to be one of the event's partners and our race director Carl Ashton has worked tirelessly with his team of volunteers to facilitate Great Run bringing such a prestigious event to Ipswich.
"We look forward to watching it grow and develop over the coming years and would like to wish all this year's participants a successful and enjoyable event."
Richard Ward, Director of Propositions at Simplyhealth, the event's title sponsor, said: "We're looking forward to the very first Simplyhealth Great East Run and it's fantastic to hear that so many people want to get involved.
"Sara, Faith, Tony and Jeff embody everything that Simplyhealth stands for and we hope their stories help to inspire many others to take those first steps in improving their health and wellbeing and become one of the #millionsmoving."
Suffolk County Council's Head of Office on Russell Road provides the backdrop where runners will line up before the starting gun is fired by the event's honorary starter, Ipswich Town FC's Under 18s manager Alan Lee.
Runners will then pass the prestigious Willis building designed by Lord Foster before heading towards the town's vibrant waterfront and through Holywells Park.
The route then goes past Felaw Maltings on the way out and back along Wherstead Road, where participants will pass twice under the iconic Orwell Bridge.
On returning to Ipswich town centre, runners will pass over the Wet Dock lock gates and continue along the waterfront for a second time, before crossing the finish line on the practice pitch inside Ipswich Town's Portman Road Stadium.
Runners can then meet up with friends and family and enjoy the vibrant event village inside the stadium.
The event, which sold out within months of opening after unprecedented demand, is part of Suffolk County Council's initiative to become the most active county in England.
Councillor Tony Goldson, Cabinet Member for Health at Suffolk County Council, said: "We are delighted to be working in partnership with the Great Run Company and other local partners to establish a Great Run event in Suffolk and the east region.
"Mass participation events of this nature are proven to help inspire people to get active and I have no doubt that this will be the case for those young people who have met Andy today and completed their Daily Mile with him.
"I look forward to seeing the event develop and grow over the coming years and helping Suffolk to become England's most active county."
Organisers are also confident that the event will continue to raise East Anglia's profile as a tourism destination for both runners and spectators across the UK.
Councillor Bryony Rudkin, Ipswich Borough Council Deputy Leader, said: "We are delighted this event is coming to Ipswich and Suffolk and wish the organisers every success with their new venture."
For more information about the Simplyhealth Great East Run, including road closures and transport information, visit: Greatrun.org/East