Half Marathon Challenge Returns At Great East Run
To be a part of the Half Marathon Challenge at the Simplyhealth Great East Run, email their your name, age, location and reason why you should be chosen to: eastrunchallenge@greatrun.org
Five people from across East Anglia have an exciting opportunity to join a training team to go from beginners to completing their first half marathon at the Simplyhealth Great East Run.
The half marathon challenge, which was launched last year, returns in 2018 and offers those with compelling stories the chance to have free VIP entry to the sold-out event on Sunday 16 September, as well as bespoke training sessions over the next four months leading up to event day.
The five runners will be supported by the Simplyhealth Great East Run's 2018 elite athlete ambassador Lily Partridge, through a combination of Skype calls and group sessions where they offer expert running advice and guidance.
Lily is fresh from a hugely successful London Marathon debut, where was the top British female across the line, finishing in eighth overall.
The Aldershot, Farnham and District AC runner, who also came 15th in the European Cross in December and second in the 2017 Simplyhealth Great South Run, takes over the helm of elite athlete ambassador for the half marathon from club mate Andy Vernon.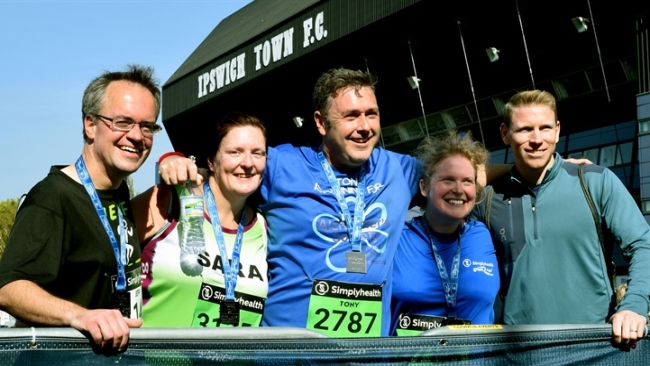 The lucky winners will also be given training t-shirts and hospitality at the event, which takes place in Ipswich, Suffolk. They will also have bespoke training from Great Run and their partner Ipswich Jaffa Running Club, including weekly support from Jaffa's specialist running coaches.
Anyone who wishes to apply to be a part of the Simplyhealth Great East Run Half Marathon Challenge team should email their full name, age, location and reason why they should be chosen to: eastrunchallenge@greatrun.org
Applications will close on Tuesday 8 May and the successful applicants will be informed by Thursday 10 May.
The Simplyhealth Great East Run features 3,500 runners taking on a scenic course that makes the most of Suffolk's picturesque backdrop.
Entries for the half marathon sold out in April after opening earlier in the year.
The event starts and finishes in Ipswich town centre, with the route going past Felaw Maltings on the way out and back along Wherstead Road, where participants will pass under the iconic Orwell Bridge before heading up to the village of Freston.
On returning to Ipswich town centre, runners pass over the Wet Dock lock gates and continue along the waterfront for a second time before crossing the finish line in Ipswich Town FC's football complex.
For more information about the Simplyhealth Great East Run, visit: Greatrun.org/East