Month To Go Before Thousands Line-Up For Birmingham 10K
It is less than a month to go before the city centre comes alive with music and movement at the Simplyhealth Great Birmingham 10K 2018.
Almost 7,000 participants of all ages and abilities have already signed up for one of the Midlands' biggest days out, but don't worry if you haven't joined them yet as a limited number of places are still available.
The Simplyhealth Great Birmingham 10K is the event that runs to the beat, with lively warm-ups and start waves for 80s, 90s, 00s and today's music.
The 10K starts on Jennens Road in the city centre before passing the Selfridges building, Cannon Hill Park and Edgbaston Stadium with bands and performers keeping the music and motivation going all the way along the route.
The Simplyhealth Great Birmingham 10K features a Walking Wave which is growing in popularity as people sign up for their first event or reach new lifestyle goals.
Last year's Simplyhealth Great Birmingham 10K raised over £1.4 million for local and national good causes, with runners and walkers challenging themselves to new lifestyle goals or fundraise for charity.
Who's taking part?
Donna and Daniel Kerr
Among those taking part in this year's 10K is extraordinary Kingstanding couple Donna and Daniel Kerr.
Donna is attempting to jog around the 6.2-mile route while pushing husband Daniel, a wheelchair user who suffers from Huntington's Disease.
And there will be emotional scenes at the finish line as Donna is planning to help Daniel, who turns 50 this summer, onto his feet and support him in walking the final few yards in front of family and friends.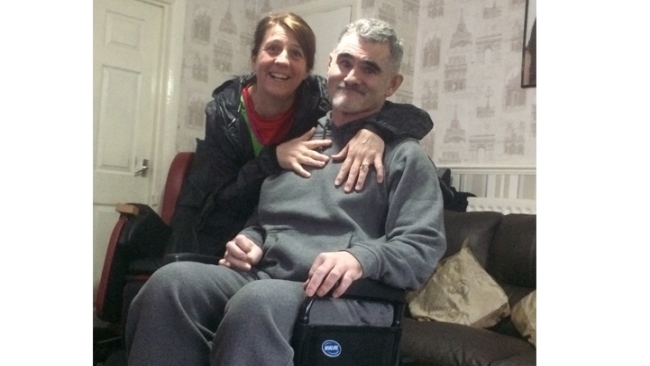 Coach Carter
Solihull Moors' Player/Academy Coach Darren Carter will be taking on the Simplyhealth Great Birmingham 10K for the first time.
"I've never run this far in one go before and entering my first running event in my home city will be special," he said.
Darren, who famously fired Birmingham City into the Premier League for the first time with the decisive spot-kick in a 2002 play-off final shootout aged just 18, made almost 50 appearances for City and also spent two years with West Bromwich Albion.
"Entering running events is something I've always thought about. Because of my playing career, I've never really been able to consider it before, but the Simplyhealth Great Birmingham 10K falls outside of our season, which is great," he added.
University Challenge
The University of Birmingham will be out in force at the 10K, with more than 300 runners and walkers of all abilities already signed up for the UBSport team.
Not to be outdone, Birmingham City University is promoting an active lifestyle among its staff and students and aiming to have a team of hundreds taking part on Sunday, May 6.
Business briefing
The Business Challenge invites teams from the Midlands corporate world to compete for fastest-time trophies at the 10K with the times of the four fastest finishers from each company collated to pick winning times.
Over 60 teams took part in last year's Great Birmingham Run half marathon and 10K Business Challenges, from a variety of business sectors and sizes across the Midlands.
Professional services giant PwC will have a team of 200 participants at the 10K to bid for trophies in the Challenge and have been given support and encouragement with tailored training plans and running advice from Great Run Company experts.
A Falklands first
The Great Run events are well-known for attracting participants of all ages and abilities from all corners of the globe.
Not to be outdone in the Air Miles challenge is city law student Krysteen Ormond who is expected to be the only participant at this year's Simplyhealth Great Birmingham 10K who comes from the Falkland Islands.
Krysteen is studying Legal Practice at the University of Law in Hockley and will return to the islands, 8,000 miles from the UK, to practice law full time after she graduates in the summer.
Help for the homeless
Carly Jones, the Chief Executive of Birmingham charity SIFA Fireside has signed up for the Simplyhealth Great Birmingham 10K to help raise awareness and funds for city homelessness issues.
Digbeth-based SIFA Fireside is a drop-in centre offering advice, practical help and a resettlement service for homeless and isolated people aged 25+ with mental health issues.
Carly describes being a member of the SIFA Fireside team 'a real privilege'.
"I am taking part in the run because I want our clients, staff, volunteers and supporters to know I am behind them all the way," said Carly.
To enter the Simplyhealth Great Birmingham 10K clcik here
For more information on the Simplyhealth Great Birmingham 10k Business Challenge click here