Nine Reasons To Run The Great Birmingham 10K
The Simplyhealth Great Birmingham 10K is one of the highlights in the city's activity calendar, and just one of many events managed by the Great Run Company. Thousands of people of all abilities sign-up to take part, raising funds for good causes or setting personal lifestyle targets.
We can't wait to see you on the start line on Sunday, May 26 – Bank Holiday Weekend. In the meantime, here's nine facts you need to know about this hugely-popular event.
There's just under three months to go!
Yes, that's right; the Midlands' biggest 10K run takes place on Sunday, May 26, during Bank Holiday weekend. But there's still plenty of time to sign up and get in shape. From first-timers to fastest-timers, there are training schedules for everyone at greatrun.org/training
Walk the 10K with friends
More people than ever are choosing to walk the Simplyhealth Great Birmingham 10K course with its Walking Wave growing in popularity.
More than 8,000 participants signed up for last year's Simplyhealth Great Birmingham 10k, making it the biggest to date. Some 350 of the participants walked the route and even more are expected to join the Walking Wave at this year's event.
It's the perfect training run for an autumn half marathon
Thinking of signing up for the Simplyhealth Great Birmingham Run on Sunday, October 13?
The 10K is the perfect training event and anyone who enters the 2019 Great Birmingham 10K will receive a £10 discount off the entry price for the 2019 Simplyhealth Great Birmingham Run half marathon (or vice versa for anyone already signed up to the half marathon).
The discount will be applied upon entering the second event so make sure you use the same log in details.
A whole new university challenge
The University of Birmingham, Aston University and Birmingham City University will have hundreds of runners and walkers wearing their colours with pride after the academic institutions pledged to get staff and students active this year.
The invitation is open to alumni of Aston University and the University of Birmingham too, so why not show your support for your alma mater and join them on the day?
Visit www2.aston.ac.uk/teamaston to join Team Aston or visit sportandfitness.bham.ac.uk/great-birmingham-10k for the University of Birmingham.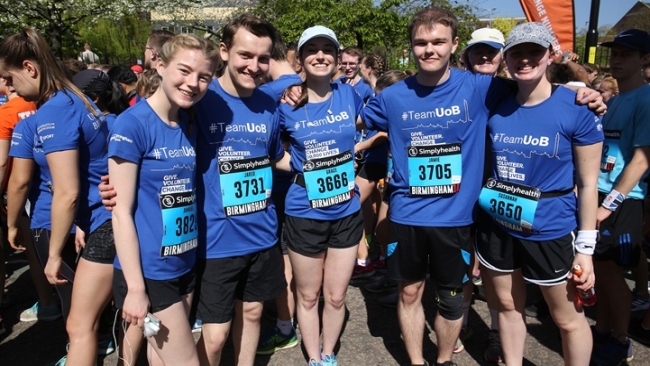 University of Birmingham runners at the 2019 Simplyhealth Great Birmingham 10k
Support a charity close to your heart
Hundreds of local and national charities benefit from the incredible fundraising efforts of participants at the annual Great Birmingham 10K or Great Birmingham Run half marathon.
Why not pledge to raise a few pounds, while shedding a few pounds, at this year's 10K, for a cause close to your heart?
Last year's Great Birmingham 10K and Great Birmingham Run helped raise an estimated £2 million for local and national good causes.
A stylish medal for all finishers
The medal design for the Simplyhealth Great Birmingham 10K 2019 has been revealed.
Just think how great it will look when you're showing it off for the all-important post-finish selfie on Sunday, May 26, as you soak up social media glory and take well-deserved pride in your achievements.
Run alongside a future astronaut!
It's one small step for man…!
Yes, that's right, in what we believe to be a first for the Great Birmingham 10K, an aspiring astronaut will be among the thousands taking on the challenge.
Ben Cartwright, from Halesowen, is hoping to sign up for the European Space Agency's astronaut selection process when it next opens for applications.
The 23-year-old graduated with Master's degree in Electronic Engineering and Computer Science at Aston University and now lives in Didcot, near Oxford.
Ben now has ambitions to take his career to new heights and is on a mission to travel further than any other Midlander has before by signing up for the European Space Agency's astronaut programme.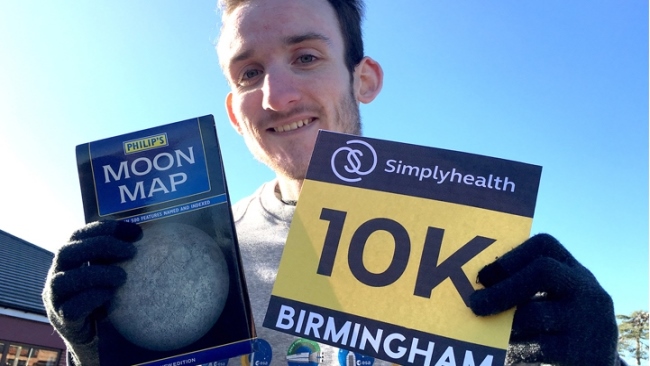 Your company can get involved
The Simplyhealth Great Birmingham 10K features the ever-popular Business Challenge, which sees Midlands companies of all shapes and sizes compete for fastest-time trophies and bragging rights among your corporate competitors.
Categories are defined by the size of the company, which means smaller businesses can take part alongside the industrial giants.
Professional services giant PwC were out in force for the 2018 Great Birmingham 10K with a team of more than 200 taking part in the Business Challenge to raise funds for the PwC Foundation.
Why not round-up a work team and enjoy the boost to office spirit and friendly competitiveness that comes with taking part? Visit greatrun.org/birmingham10kbusiness to find out more.
You'll have a great day out
While we can't guarantee a day of glorious sunshine this year, anyone who took on the 10K last year will remember what a beautiful day it was with clear blue skies throughout.
We're keeping our fingers crossed for more of the same this year, and can't wait to see you on Sunday, May 26!