Thousands Take Part In Very First Great East Run
Thousands of runners pounded the streets of Ipswich and its picturesque surroundings on Sunday for the inaugural Simplyhealth Great East Run.
3,000 participants of all abilities took on a great day of sport in Suffolk, a success which has organisers hope will lead to the event becoming a huge fixture in the region's calendar.
The iconic 13.1 mile course offered participants a scenic route around Ipswich town centre, as well as taking in some of the county's most iconic sights.
Fun runners and charity fundraisers were joined by a competitive club runner field, which featured some of the best runners from around East Anglia.
The event's honorary starters, ex-Ipswich Town FC Player Alan Lee and the event's athlete ambassador, Team GB Olympian Andy Vernon set off the fast paced runners and masses at 10.00am.
In the men's race, Ryan Prout from Thrift Green Trotters, finished first in a time of 1:12:23, ahead of Robert Chenery from Ipswich JAFFA RC who crossed the line in 1:15:04. They were followed by Run Fast's Stephen Skinner in third with a time of 1:16:07.
Ryan said: "It felt so amazing to cross the finish line in front of the stadium of my football team, doing that has been something that I've been looking forward to for months.
"To finish first is great, it was a tough and challenging course but the crowd's support all the way along was fantastic."
Odette Robson from St Edmund Pacers took first place in the women's field in a time of 1:23:31 followed by Ipswich JAFFA's Laura Thomas in 1:25:43 and Alice Heather-Hayes from Hadleigh Harriers in 1:26:39.
Odette said: "The weather was great but the wind was very welcome. It was very exciting and the spectators had your back every step of the way."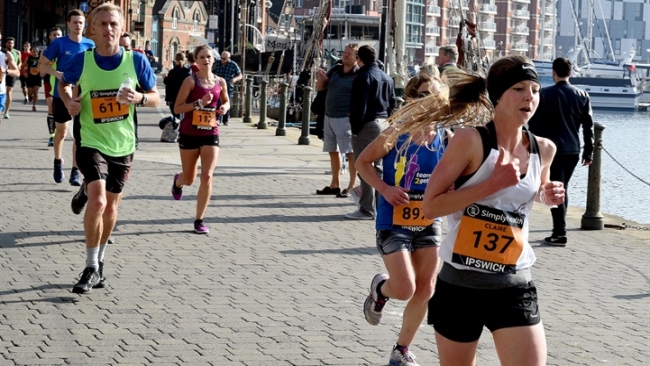 The event, which sold out within months of opening, started outside Suffolk County Council's Head of Office on Russell Road.
Runners passed the prestigious Willis building designed by Lord Foster before heading towards the town's vibrant waterfront and through Holywells Park.
The route then travelled past Felaw Maltings on the way out and back along Wherstead Road, under the iconic Orwell Bridge. On returning to Ipswich town centre, participants then went over the Wet Dock lock gates before crossing the finish line on the practice pitch inside Ipswich Town's Portman Road Stadium.
Philippa Morrow, project manager of the Simplyhealth Great East Run, said: "It's been a fantastic day at the Simplyhealth Great East Run and we'd like to say a huge congratulations to the thousands of people who took part.
"We would also like to say a big thank you to our key local partners who have helped to deliver a fantastic event and the hundreds of local volunteers who gave the runners an unforgettable running experience.
"We saw unprecedented demand for the Simplyhealth Great East Run this year and I would encourage anyone who wishes to enter the 2018 event to do so as soon as it opens to avoid missing out!"
Richard Ward, Director of Propositions at Simplyhealth, the event's headline sponsor, said: "We're so pleased that the Simplyhealth Great Run Series now includes the East region.
"We want to get millions of people moving through our partnership with the series and whether you ran, walked or jogged today it's an achievement to be proud of. We're looking forward to being back next year!"
The event was staged in partnership with Suffolk County Council, Ipswich Borough Council and the Ipswich JAFFA Running Club.
The event is part of Suffolk's ambition to become England's most active county.
Councillor Tony Goldson, Cabinet Member for Health at Suffolk County Council, said: "Today was another milestone in our ambition to make Suffolk the most active county in England and we are delighted that we have been able to further extend our partnership with the Great Run company and help bring this event to Ipswich and Suffolk.
"You only have to see the sense of achievement felt by those who cross the finish line and complete their challenge to understand the impact and contribution that events such as these can have on health and wellbeing.
"Suffolk is now well established as a partner of choice for major sporting and mass participation events and I can only see the Simplyhealth Great East run going from strength to strength in future years."
The Simplyhealth Great East Run joined the Great Run series this year, following many successful years as the Ipswich Half Marathon, ran by Ipswich JAFFA Running Club.
The reminder service for the 2018 Simplyhealth Great East Run is now open.
Visit Greatrun.org/East and sign up to be the first to know when the date of next year's event is announced and when entries open.